Iced oatmeal cookies are soft and chewy on the inside, and crispy and crunchy on the outside. Tender oats are paired with sugar, vanilla, and cinnamon to bring you the perfect combination of flavors and textures. Topped with sweet homemade icing — they're delicious!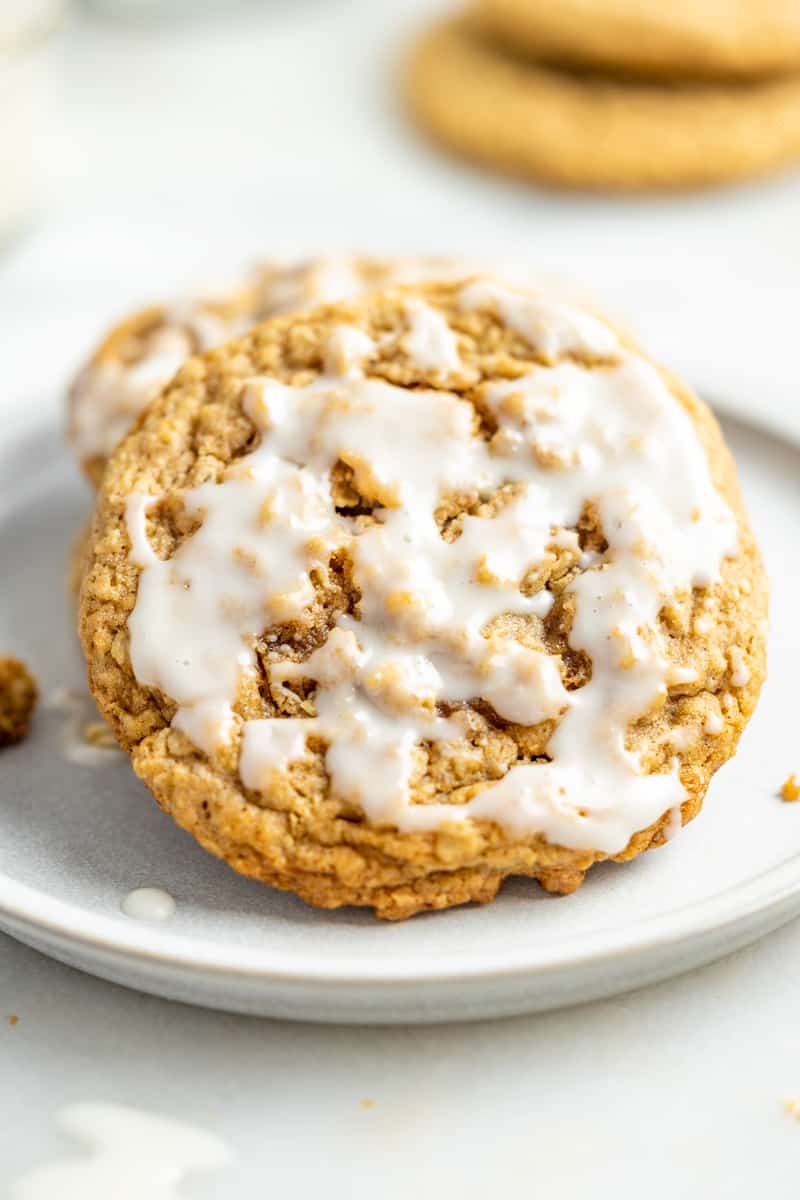 We love recreating homemade recipes that we grew up with. These iced oatmeal cookies are for sure a classic — we remember eating both store-bought and homemade when we were kids. The combination of vanilla, oats, and cinnamon results in a wonderfully addictive cookie. Frosted oatmeal cookies were always one of our favorite after-school snacks, to be enjoyed with or without a cold glass of milk for dunking. You may also consider bringing them along as dessert to your next get-together. Your friends and loved ones likely have fun memories of this traditional cookie too! They feature all of the goodness of a soft and chewy oatmeal cookie, plus the sweetness of easy-to-make homemade icing. It doesn't get much better than that!
Why Are My Cookies Tough?
Be careful not to overmix the batter for your oatmeal iced cookies. This will make the gluten in the flour overdevelop, which can result in hard or tough cookies. Follow the mixing instructions on the recipe card below and you shouldn't run into any issues.
How Do You Keep Oatmeal Cookies Soft?
One of the best parts of iced oatmeal cookies is their soft and chewy center. Make sure to bake them at 350 degrees F for the best results — anything higher will cause them to harden in the same way overmixing can.
Can I Use Quick Oats Instead of Rolled Oats?
Definitely! Feel free to use both quick oats and rolled oats interchangeably for recipes like oatmeal iced cookies. If you do have rolled oats on hand, you may want to run them through the food processor a few times for better texture.
Are Quaker Oats The Same As Quick Oats?
Make sure to read the label of whatever oats you go with carefully. Quaker brand oats have many different types to choose from! We like using quick oats as they are cut into smaller pieces, which means that they will bake up, well, more quickly.
Troubleshooting: Thin Icing
If you end up with too-thin icing for your frosted oatmeal cookies, you can add more powdered sugar to the mixture. Add a bit, 1-2 tablespoons at a time, until you reach your desired consistency.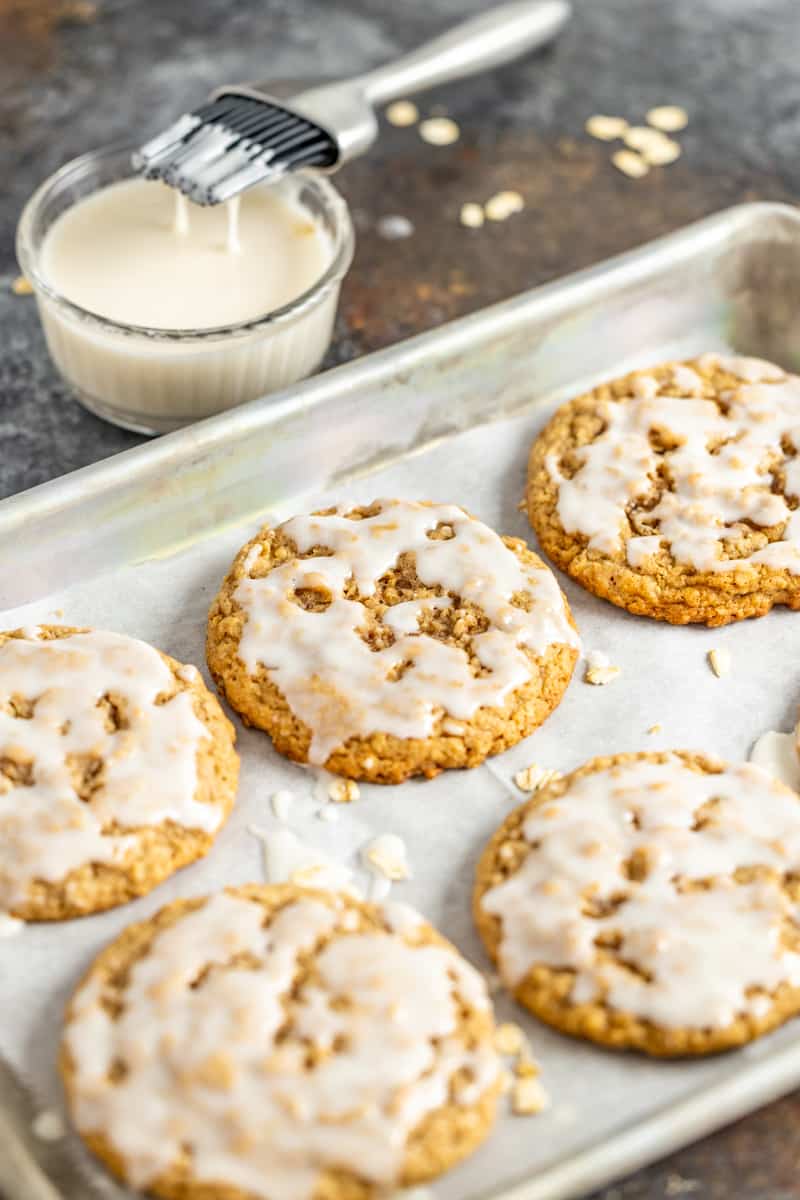 Freezer Instructions:
You can either freeze the dough for your iced oatmeal cookies, or you can bake them first and then store them in the freezer for later:
To freeze the dough: Form cookie dough balls and place them on a parchment-lined baking sheet, then freeze. Once they are completely frozen (about an hour or two), place them in an airtight freezer-safe bag and store them in the freezer for up to 2 months. When ready to bake, place the cookie dough balls on a prepared baking sheet and allow them to thaw as the oven preheats. Bake for 12-15 minutes and follow the icing instructions as indicated on the recipe card below.
To freeze already-baked cookies: Once your oatmeal iced cookies are completely cooled, place them in an airtight freezer-safe container. We recommend placing a sheet of parchment paper between each layer. They will keep for up to 3 months. Allow them to thaw in the fridge overnight before serving! You can also heat them up in the microwave at 30-second increments if you like your cookies warm. Or, bake in the oven for 5 minutes at 350 degrees F.
Storage Instructions:
Store any leftover frosted oatmeal cookies in an airtight container at room temperature. They will keep for up to 1 week.
If you like this recipe, you may be interested in these other delicious cookie recipes: