This Healthy Lemon Garlic Salmon is easy to make and ready in under 15 minutes. It's healthy, low calorie, and only uses a handful of ingredients!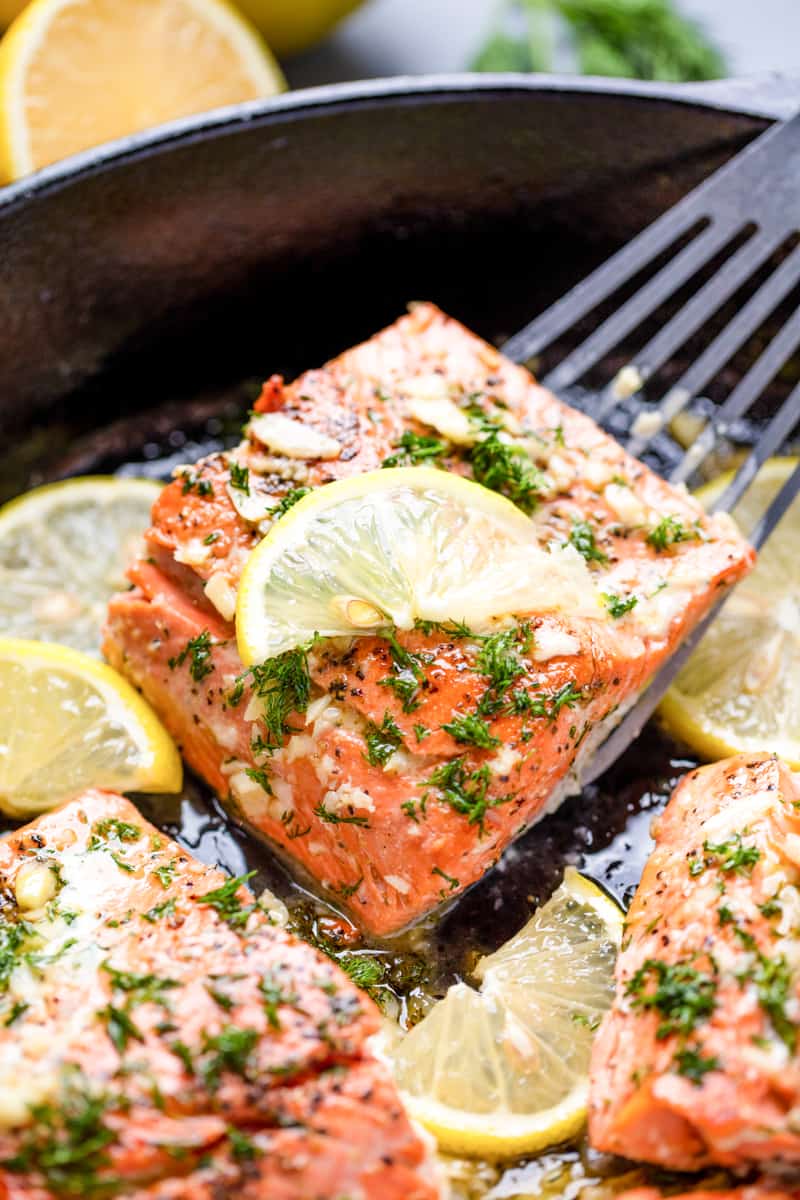 Looking for a healthy salmon recipe that still tastes good? I've taken my famous 5 ingredient baked salmon and turned it into a healthy skillet salmon recipe that's easy to make and tastes amazing. Eating salmon can be part of a healthy diet. The fish is nutrient dense and is an excellent source of high-quality protein. One of the healthiest things about Salmon is its amount of the essential omega-3. Omega 3's not only help prevent and manage heart disease, but they could also help lower blood pressure, reduce triglycerides, and reduce the change of a heart attack among other things.
How do you make moist salmon?

There are some tricks to get super moist salmon. To start do not overcook it! Once your salmon reaches an internal temperature of 145 degrees F. and it flakes easily with a fork it is cooked. If you are using a good quality salmon that is fresh, a better internal temperature to aim for is 125-130 degrees. Searing your salmon, as this recipe calls for, will also help keep the moister in the salmon giving you restaurant quality salmon at home.
What temperature does salmon need to be cooked to?

The USDA recommends that fish needs to be cooked to an internal temperature of 145 degrees F. However, some say that salmon is overdone at this point. For a medium to medium-well cook on your salmon, remove the salmon from the skillet when it reaches 125-130 degrees F and let it rest for 5 minutes.
PRO TIP: Ask to smell your salmon before purchasing when purchasing salmon from a fish counter or fish market. The salmon shouldn't have a fishy smell. A fishy ocean-like smell indicates that the salmon is not fresh and may have been sitting there for a while. Fish should always smell clean and fresh. Generally you want to cook it the same day. If using frozen fish, consume the fish as soon as possible after it thaws for maximum freshness and minimum fishiness.
If you like this recipe, you may be interested in these other salmon recipes:
Watch the video below where Rachel will walk you through every step of this recipe. Sometimes it helps to have a visual, and we've always got you covered with our cooking show. You can find the complete collection of recipes on YouTube, Facebook Watch, or our Facebook Page, or right here on our website with their corresponding recipes.