Funeral Potatoes are cheesy, creamy, with a delicious crunchy topping. This comfort food is a classic casserole dish you should bring to your next get together!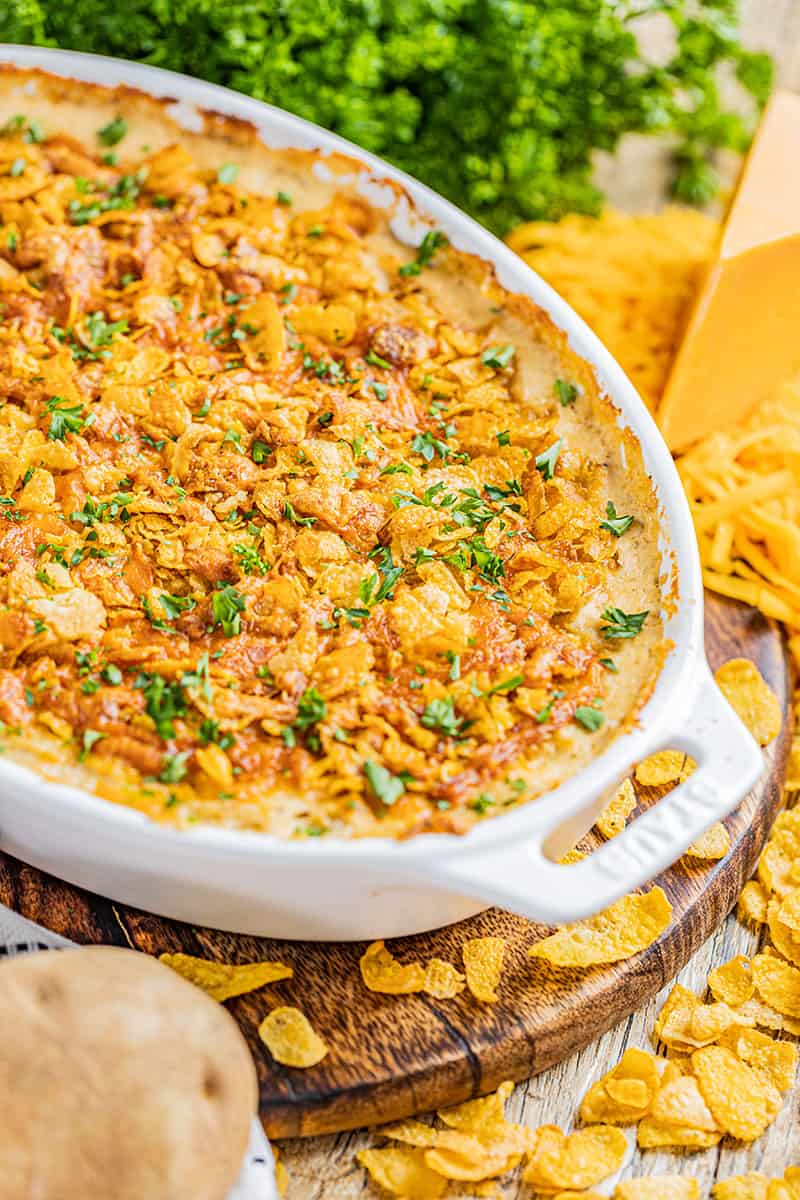 All jokes aside, you have not lived until you have tried funeral potatoes. In the Midwest, this casserole dish is commonly brought to parties, family gatherings, and funerals alike. Food truly is the ultimate comforter, and in good times and in bad we rely on some amazing food to enhance the good, and help get us through the bad. Funeral potatoes do just that with its potatoey, cheesy, creamy goodness. It is one of those foods that is unexpectedly delicious. Unfortunately for everyone around you, once you try it you are unapologetically going back for more than your fair share. Don't worry, we won't hold it against you. They're just that good.
Potato options:
We love making this casserole from scratch, but sometimes we just don't want to take the time to grate all of those potatoes. If you are in a pinch, you can always use frozen grated potatoes. Simply thaw them in the microwave to speed up the prep time.
Dairy Free Options:
Unfortunately, there are just some dishes that are difficult to make dairy free. Due to the large amount of dairy products in this dish, we do not recommend trying to make it dairy free.
Cornflake Substitute:
Cornflakes is the traditional topping for funeral potatoes, but not everyone is a fan of cornflakes. You can always substitute with crushed crackers instead.
How to make Funeral Potatoes for a crowd:
If you need to feed a large group of people, you can easily double or triple this recipe.
Make Ahead Instructions:
You will want to bake this in the oven immediately before serving, but you can prepare the recipe ahead of time through adding the shredded cheese. Once you've added the cheese, cover the dish with plastic wrap and refrigerate for up to 24 hours in advance. When you're ready to bake you can add the cornflake topping and melted butter.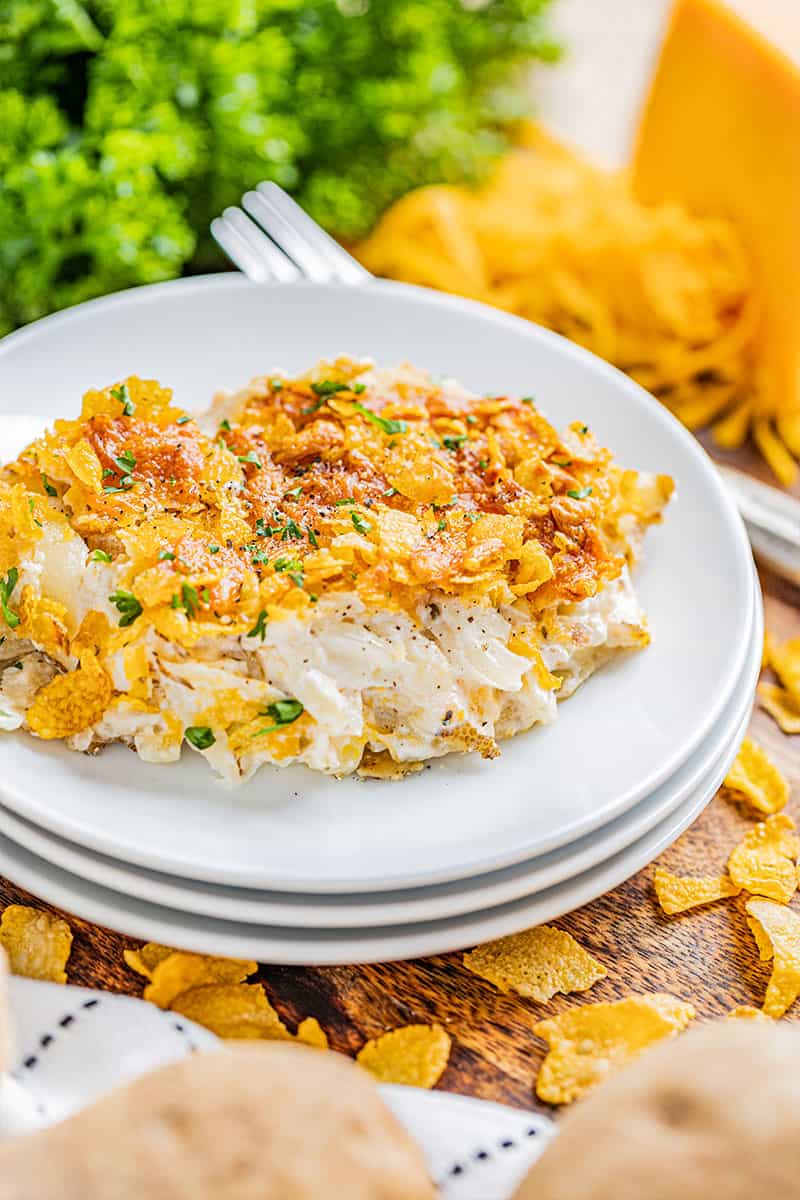 Storage and Reheating Instructions:
Store any leftovers in an airtight container in the refrigerator for up to 4 days. Reheat single serving portions in the microwave in 30 second increments until warmed through.
If you like this recipe, you may be interested in these other delicious casserole recipes:
Traditional Funeral Potatoes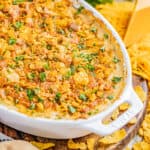 Funeral Potatoes are cheesy, creamy, with a delicious crunchy topping. This comfort food is a classic casserole dish you should bring to your next get together!
Ingredients
Sauce
1/4

cup

salted butter

1/4

cup

all-purpose flour

1

cup

chicken broth

1

cup

heavy cream

1

cup

sour cream

2

teaspoons

parsley

1

teaspoon

hot sauce

1

teaspoon

black pepper

1

teaspoon

salt
Potato Casserole
1

tablespoon

garlic powder

6

large russet potatoes

peeled and grated

1

medium onion

finely diced

1 1/2

cups

shredded sharp cheddar cheese

divided

1

cup

crushed corn flakes

2

tablespoons

butter

melted
Instructions
Sauce
In a sauce pan, add in the butter and melt over medium heat. Once melted, add in the onion and saute until it starts to brown. Sprinkle in the flour and continuously stir until well combined and the mixture turns a deep golden color.

Add chicken broth, heavy cream, and sour cream. Stir until all ingredients are smooth and lower the heat to a simmer for a few minutes. Add in garlic, parsley, hot sauce, salt, and black pepper. Remove from heat.
Potato Casserole
Preheat oven to 350 degrees Fahrenheit. Lightly grease a 9×13 or 3-quart baking dish.

Use a grater or food processor to grate your potatoes. Rinse the grated potatoes in a colander and squeeze out any excess moisture. Move them into a large mixing bowl.

In the large mixing bowl, combine grated potatoes and sauce mixture. Stir gently. Add in 1/2 cup cheese.

Spread out into the prepared baking dish. Sprinkle remaining cheddar cheese and crushed corn flakes on top. Drizzle melted butter on top.

Bake in the preheated oven for about 1 hour, until potatoes are tender. Serve hot.
Nutrition
Calories:
407
kcal
|
Carbohydrates:
46
g
|
Protein:
12
g
|
Fat:
20
g
|
Saturated Fat:
13
g
|
Cholesterol:
72
mg
|
Sodium:
407
mg
|
Potassium:
1080
mg
|
Fiber:
3
g
|
Sugar:
2
g
|
Vitamin A:
753
IU
|
Vitamin C:
15
mg
|
Calcium:
220
mg
|
Iron:
2
mg