Follow our easy, step-by-step instructions to make the best frittata of your life. We're giving you a basic recipe plus three flavor variations so you can customize it and mix and match your favorite add-ins. This is a classic, all-around favorite breakfast food!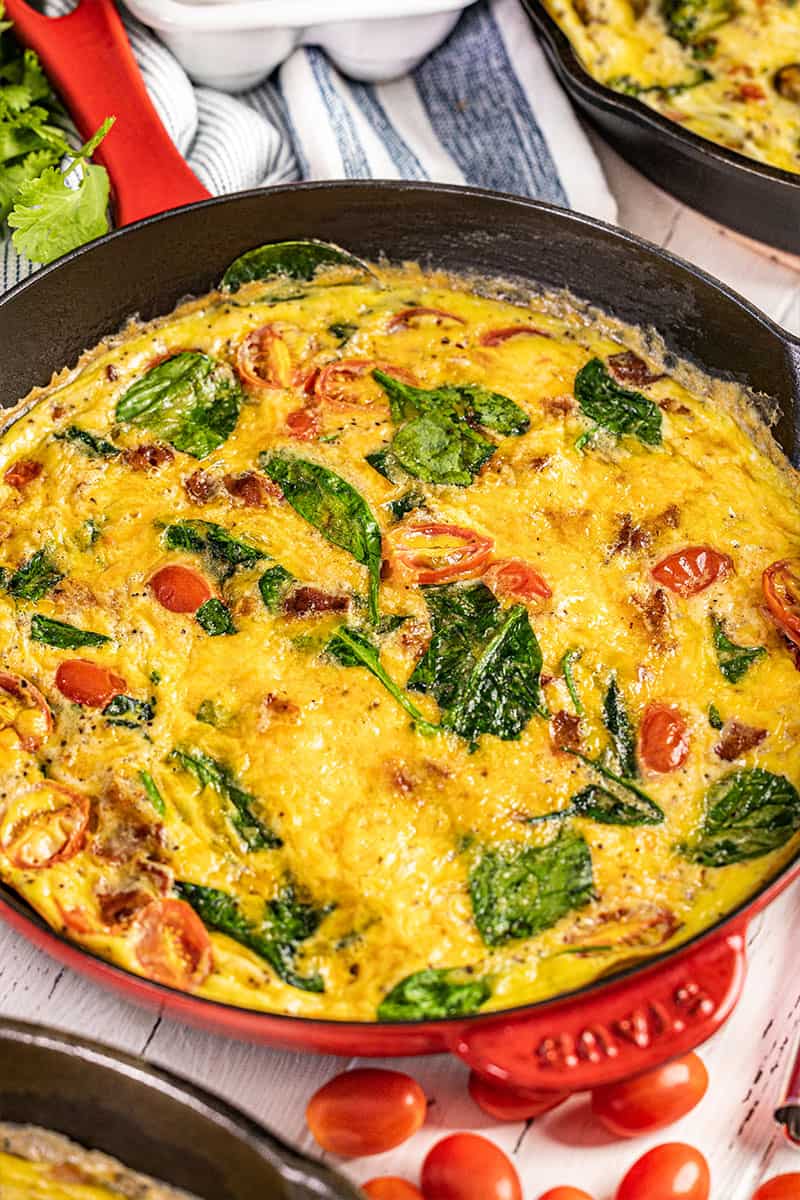 The frittata is a classic breakfast favorite that's perfect for serving at everything from everyday breakfasts to holidays to special occasion breakfasts or brunches. This recipe features a basic cheese frittata recipe along with three variations. You can customize any of the variations or mix and match your favorite add-ins to create your own custom versions. 

While we are big fans of quiche and omelets, the frittata is always first choice. An omelet just doesn't hold as many add-ins as we like, and quiche with that buttery crust can feel too heavy. A frittata really is just like a quiche, but by leaving out the crust, it makes frittatas a protein and fat powerhouse, perfect for our gluten-free friends and family. Keep it vegetarian using your favorite veggies and mushrooms, or load it with bacon if you love the meat! No matter what you add to it, you're going to love it!
Frittatas and omelets and quiche, oh my! What is the difference?
It's all just eggs and cheese, right? Wrong. While omelets are cooked on the stovetop, featuring eggs folded over your preferred filling, frittatas are actually only started on the stovetop before being moved to the oven to finish cooking. Frittata is just quiche's crustless cousin, making it a great option for anyone who is gluten-free, but it also has a different egg-to-fat ratio which creates a different texture. Frittatas are also great to feed a crowd, rather than working away over the stovetop making individual omelets. All are delicious and serve different needs. 
Distribution Tip:
No one wants a giant clump of veggies in one bite, and nothing in the next. So you want to make sure any add-ins are evenly distributed in your pan or baking dish before pouring in that egg mixture.
Heavy Cream:
You really want all of that fat in the frittata, so you definitely want to use cream and not half and half or milk.
Cheese Options:
You can use just about any good melting cheese in a frittata. Some of our favorites include cheddar, mozzarella, gruyere, pepper jack, Monterey jack, Swiss, and provolone. We call for specific cheeses in each flavor variation, but feel free to experiment with your favorites!
Basic Frittata Recipe Add Ins:
There are SO many options for add-ins. Follow our flavor variations, or come up with your own. Keep it vegetarian, or load it with bacon. The sky's the limit!
Pan Options:
Cast iron is the best for cooking frittatas. You can sauté your add-ins on the stovetop, pour in the egg mixture, and then pop that right into the oven. If you do not have a cast iron pan, you can always sauté your add-ins in a regular skillet, and then transfer that to a 9×9 or a 9″ deep dish pie plate before pouring the egg mixture over and baking in the oven. Either method will work, but we prefer only needing to clean one pan and sticking with cast iron!
For a 12-inch skillet, double this recipe and add 5 to 10 minutes to the cooking time.
Make Ahead Instructions:
We love how easy it is to whip this up ahead of time. Simply follow the instructions to bake your frittata, and then let it cool before covering it with plastic wrap and storing in the fridge up to 48 hours ahead of time. Remove plastic wrap and reheat in an oven preheated to 350 degrees Fahrenheit until warmed through.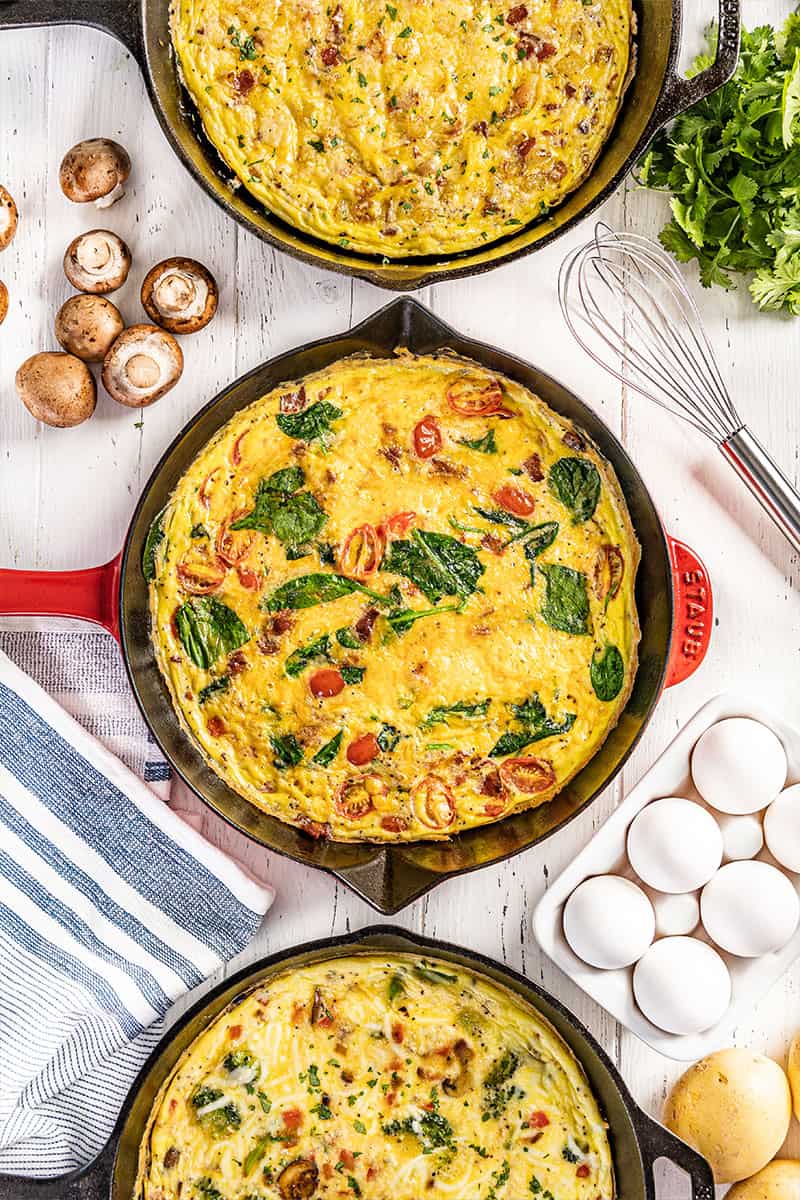 Storage and Reheating Instructions:
Store any leftovers in an airtight container, or wrapped in plastic wrap, in the fridge for up to 4 days. Reheat individual slices in the microwave in 30-second increments, or as a whole in an oven preheated to 350 degrees Fahrenheit, until warmed through. 
If you like this recipe, you may be interested in these other delicious brunch recipes: