Fluffy Swedish Pancakes come together in minutes making it a fun breakfast or brunch item that the whole family will love. Dust them with a little powdered sugar and serve with fresh fruit, jam, and whipped cream!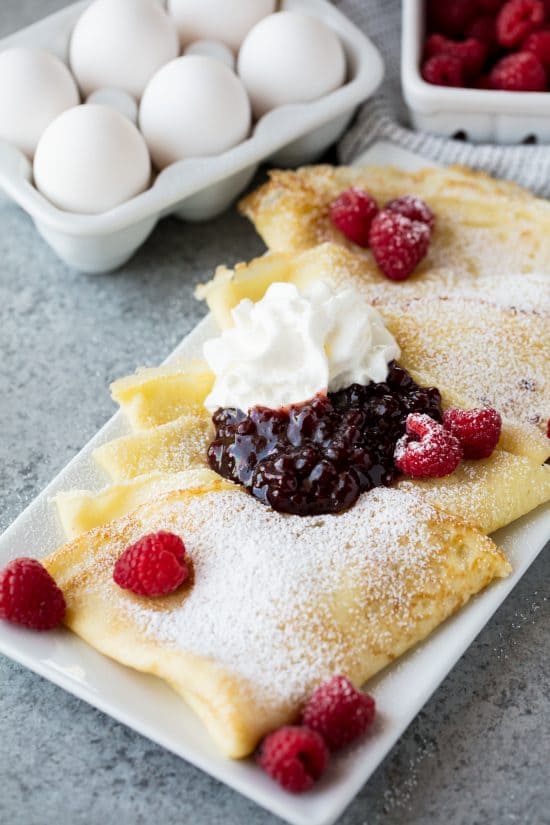 This post is sponsored by Princess Cruises. All opinions expressed are my own.
This recipe is inspired by our recent Scandinavian Cruise with Princess Cruises aboard the Regal Princess. We took an incredible 11-day cruise around the Baltic Sea and have been sharing recipes inspired by the trip, as well as glimpses of the whole adventure. Be sure to view the rest of the recipes inspired by the trip: Cinnamon Roll Twist Bread, Baklava Cinnamon Rolls, Easy Norwegian Waffles, and Key West Cooler Mocktail.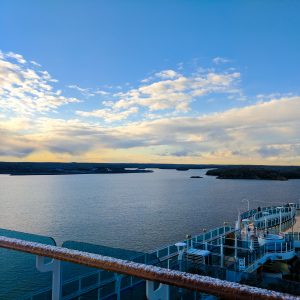 Our last port before returning to Copenhagen was in Sweden. Our ship was too large to port right in Stockholm, so we ended up in the quaint town of Nynashamn. I am so glad we did! One of my favorite things about the trip was waking up and looking out the balcony of my stateroom and seeing each country for the first time. Nynashamn was the most stunning view we woke up to. It was breathtakingly gorgeous! We had sailed through a spring snow storm during the night. The trees were dusted with frost and the water was crystal clear.
We departed the ship bright and early so that we could get some breakfast in Nynashamn before heading into Stockholm to spend the day. I'm so glad we did! The town of Nynashamn was so charming I just wanted to sing a Disney song during our entire stroll. We ended up in a small cafe where we were served fluffy, fresh, delicious Swedish pancakes. They were topped with whipped cream and powdered sugar and served with two different kinds of jams, one being lingonberry jam of course. I knew immediately that I'd need to re-create this at home so I could enjoy it anytime I wanted.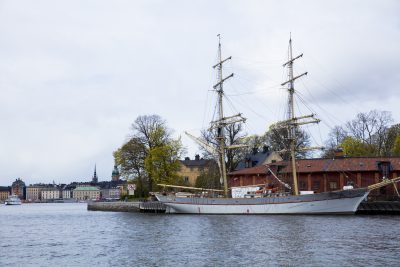 I always say that recipes are one of the best souvenirs. I have a love affair with food and bites of food can take me back to places and flood my brain with memories. I'll never be able to eat Swedish pancakes again without thinking of the crisp, cool air as we walked through pockets of trees along the path that led into the Nynashamn town square, holding my husband's hand the entire way. It's bliss I tell you!
Our time in Sweden was gorgeous, and chilly! We even had an afternoon snow storm. We ate all sorts of deliciousness during the day including Swedish meatballs, plenty of pastries and breads, and the most delicious little chocolate cookies that I wish I could go back for!
There are so many great excursions to choose from in Sweden, and I highly recommend choosing one that includes a visit to the Vasa Museum. It's an old warship that they pulled from the bottom of the ocean and built a building around it. It's pretty incredible! You also can't go wrong with an excursion that includes a boat tour. The scenery in Sweden is so beautiful it seems fake. Anything you can do to experience the scenery will be time well spent.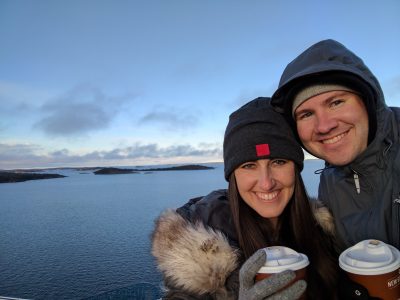 We were so in love with the Swedish landscape, that we absolutely had to watch our ship sail away from the top deck. That might be one of my favorite things to do on cruises. Hardly anyone did it, but it was a special moment for us. In Sweden we had another dusting of snow right before sailing off so we grabbed some hot chocolate from The International Cafe and headed up to the top. I am in love with Sweden. It is so stunningly gorgeous it will take your breath away.
I can't recommend this cruise enough. It was the absolute trip of a lifetime and I get a bit misty eyed thinking about how grateful I am I got the chance to take it. You simply must add a Scandinavian Cruise to your bucket list. You will never regret it!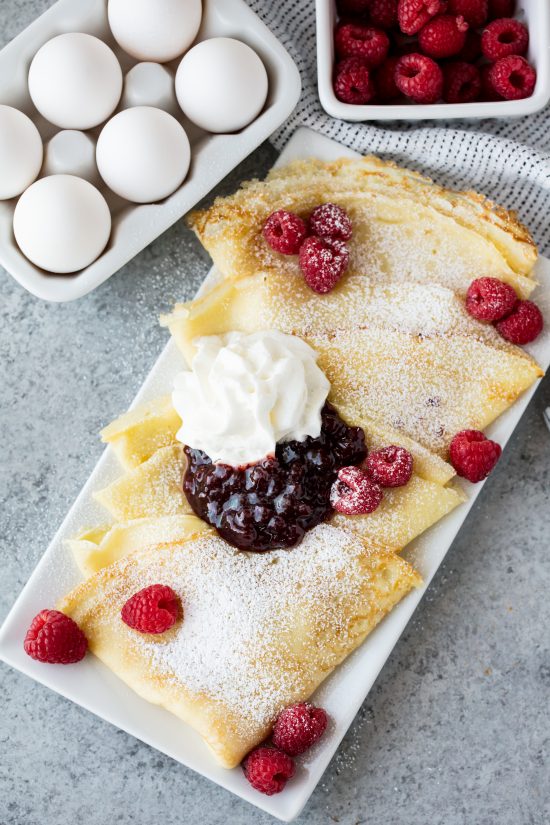 These Swedish Pancakes are super easy to make and super fluffy. The key is to use a hand mixer to mix it all your ingredients together. This will add in a lot of air and keep your pancakes nice and fluffy. Also, don't let the batter sit around for too long before cooking. You want to make sure that fluffiness stays in there, so it may also help to whip the batter for 30 seconds before cooking each one so your batter doesn't go flat.
Swedish pancakes are best when served warm and fresh. Dust them with a bit of powdered sugar and then you can add your favorite jams and fresh fruit. In the pictures I used raspberries and lingonberry jam. When we were in Sweden, they served them with powdered sugar, lingonberry jam, and strawberry jam. These are also great served up with some fresh peaches as well for some summertime enjoyment. And of course, I love adding a bit of freshly whipped cream.