Baklava Cinnamon Rolls have all the flavors you love from traditional baklava wrapped up in a soft and gooey cinnamon roll. You'll love that pistachio nut filling and the lemon honey glaze.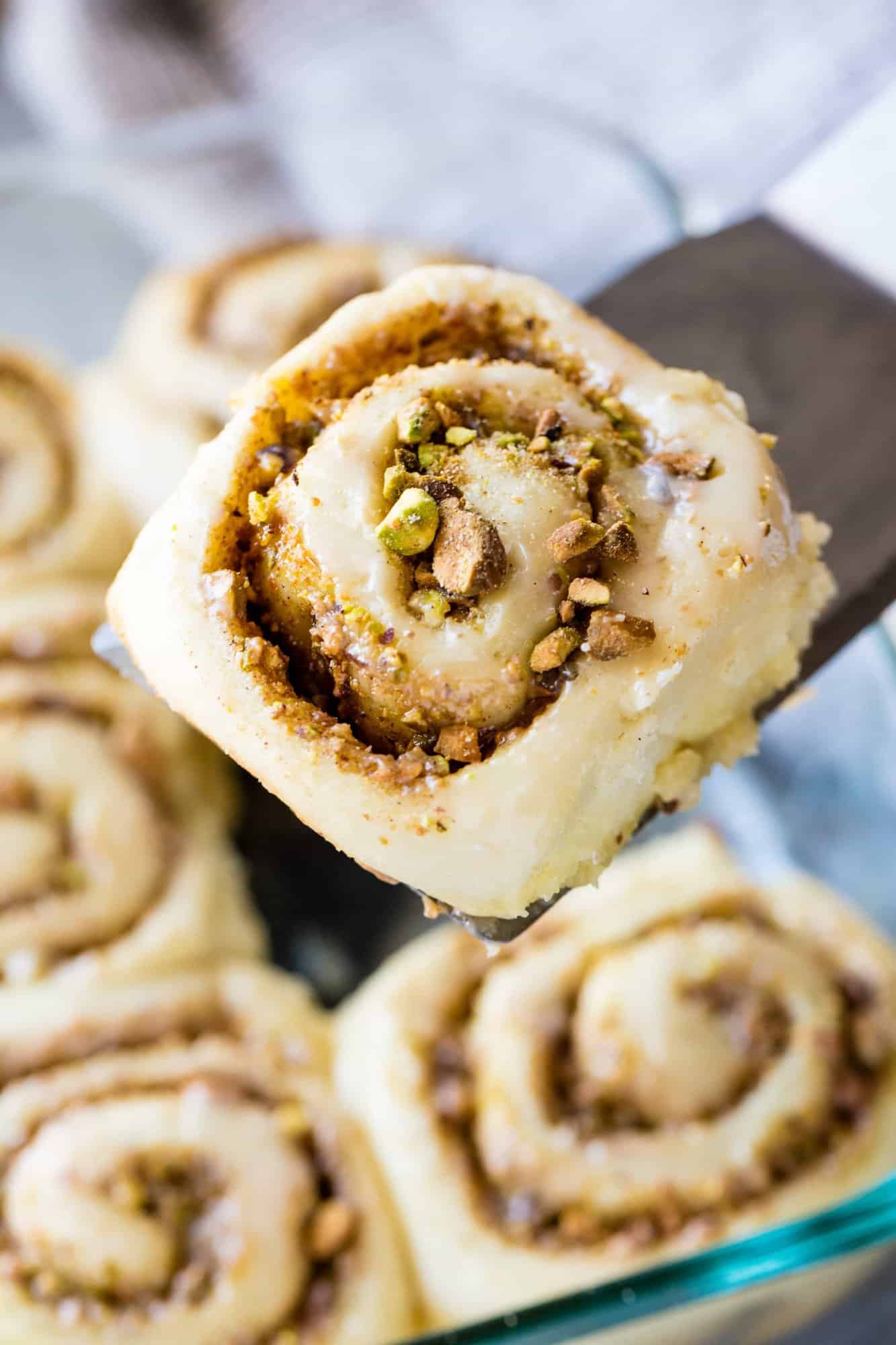 This post is sponsored by Princess Cruises. All opinions expressed are my own.
On my recent trip aboard the Regal Princess, I got to spend a couple of days in St. Petersburg, Russia. Princess Cruises has this amazing idea called "more ashore" where you get to stay overnight in awesome destinations like St. Petersburg. Because, hello, when else do you get to go to Russia? Our time in St. Petersburg was incredible. We chose the most ultimate excursion package they offered which took us around to all of the highlights of St. Petersburg. I was blown away by how much we were able to fit in those two days!
Our first day in St. Petersburg was spent touring palaces and churches. St. Petersburg is full of the most amazing buildings. This city is such a treasure. The grand palaces are a stark contrast to the communist era buildings in the city, but the juxtaposition is so fascinating to me and helps visually tell the story of the history of this great city. We happened to visit just before Victory Day, celebrating the liberation of St. Petersburg during WWII. We got to see all sorts of military vehicles, personnel, ships, and submarines. Let me tell you, it was quite the sight!
The highlight of our time in Russia has got to be the tour and dinner we had in Catherine's Palace. We're talking about 100 people or less in one of the most spectacular palaces in the world. We were greeted by a band, toured the palace, and then had a private concert from a string quartet in a grand ballroom. Afterwards we went to one of the wings for a four course dinner. The entire time I kept thinking, "is this really my life?" If you've ever dreamt of pretending you were a real life princess for a night, you HAVE to go on this trip! You can only get this experience through Princess Cruises because they are awesome like that. It was seriously a once in a lifetime experience! I can't recommend it enough!
Our second day in Russia started off with a canal cruise. What a gorgeous way to see the city! Our cruise was followed by a visit to the Hermitage museum, the second largest in the world. Because we were with Princess Cruises we got to visit 2 hours prior to their regular opening time which was amazing, as the museum gets quite crowded. After our museum tour we saw even more of the stunning Russian churches and had lunch in a local restaurant. This little restaurant is exactly what inspired this recipe. We were served some kind of baklava inspired dessert there made of puff pastry, rather than layered with phyllo dough. It immediately made me think of making baklava inspired cinnamon rolls.
These rolls are a totally different twist on cinnamon rolls. I've used my famous traditional cinnamon roll dough, and combined it with a traditional baklava filling. It's topped off with a honey lemon glaze and it is just divine! Experience the amazing flavors of baklava in a whole new way! I love being inspired by recipes from around the world!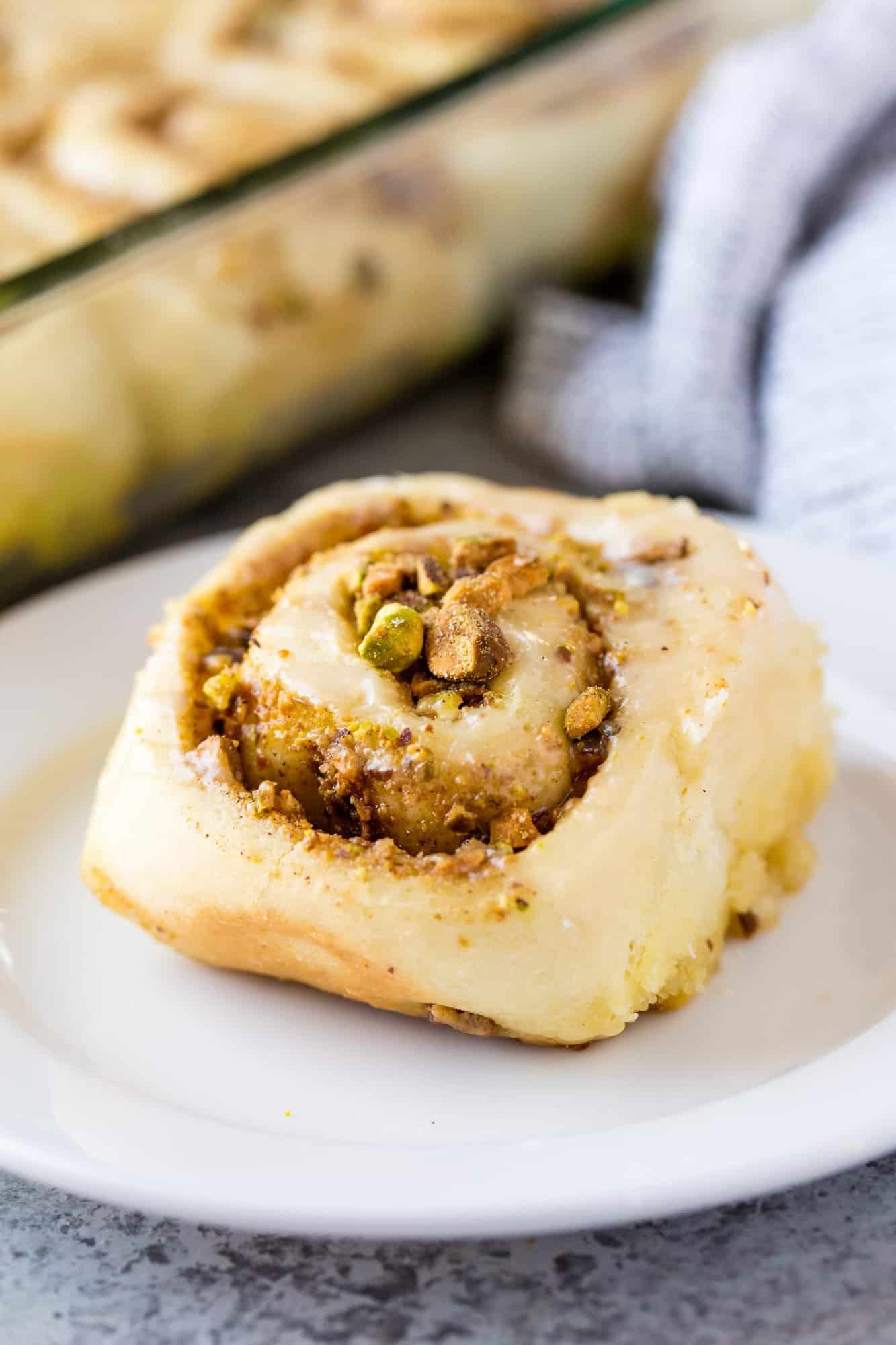 At the end of our tour around Russia I was understandably exhausted! It was so nice to be able to come back to the ship each day and be waited on hand and foot. Princess sure does know how to treat you like royalty! And let me tell you, if you do this trip….be sure to book an appointment at the spa onboard ship after your time in Russia. They really know how to pamper you!
Be sure to check out the other recipes inspired by my cruise around the Baltic Sea with Princess Cruises. So far I've shared Key West Cooler Mocktails which was my favorite drink aboard ship, and Norwegian Waffles inspired by our first stop in Oslo, Norway. You should check out the full itinerary for this trip and add it to your bucket list. It truly is the vacation of a lifetime! I seriously kept pinching myself wondering if the whole thing was just too good to be true! I can't imagine a better way to see all of the highlights of Scandinavia!