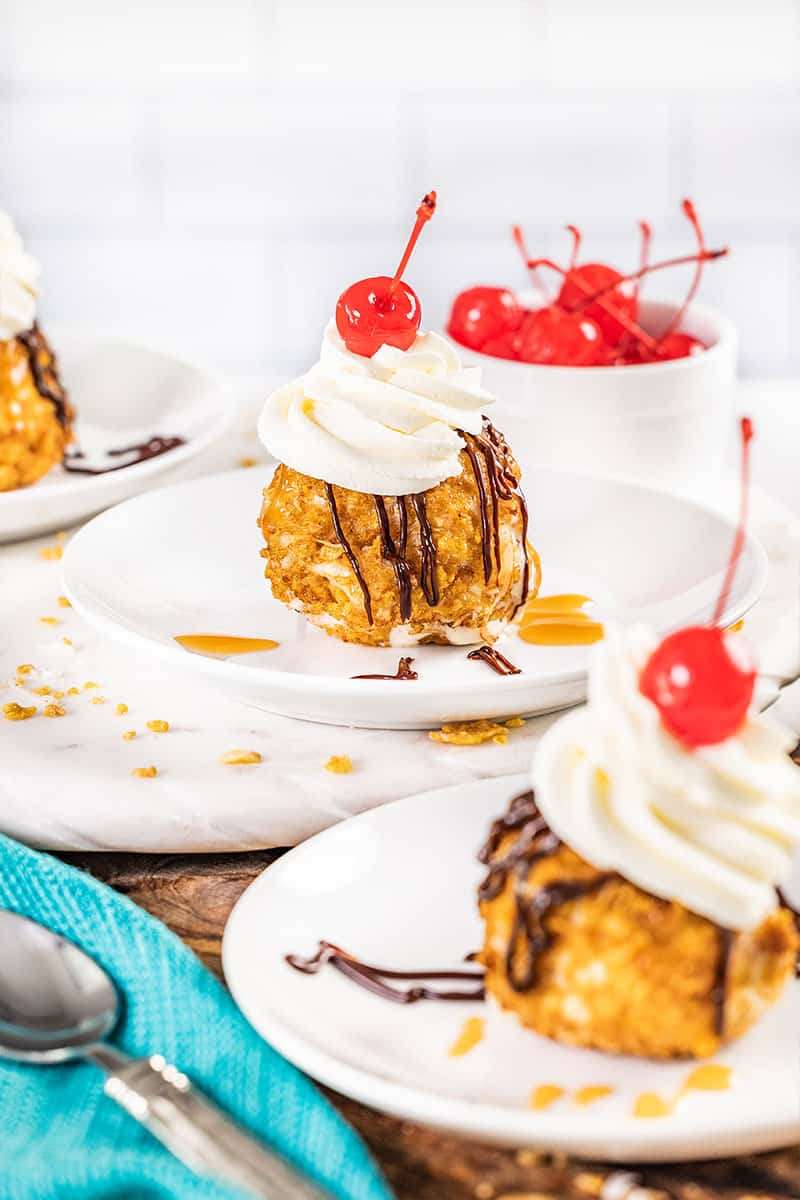 The most delicious oxymoron out there! Enjoy cold and creamy vanilla ice cream that's been coated in a crunchy crust and then fried. It's a unique dessert that is sure to please.
Fried ice cream is one of our go-to restaurant desserts to order when we go out. The first time we saw it on the menu, we'll admit that we had to ask ourselves, what is fried ice cream?! Well, folks, it's exactly what it sounds like! Although ice cream melts (of course) it is possible to deep fry it — with a little bit of prep work, that is. You're going to want to serve fried ice cream while the outside is still hot and crispy and the inside is cold and creamy. This is one of those desserts that will surely impress your guests. It also works as a fun weeknight treat for the family! There are also so many ways to make these sweet treats unique to your own specific taste preferences. Once you try it, you'll never believe how you lived without knowing this special way to prepare a classic dessert.
What is Fried Ice Cream?
Fried ice cream is a popular dessert mostly seen in restaurants. It usually features a ball of vanilla ice cream that has been rolled in some sort of batter that is then deep-fried. Legend has it a Philadelphia-based company coined the term back in the late 19th century!
Where Does This Dish Originate From?
There is much debate about where this deep-fried dessert originates from! Some believe that it is a Chinese dessert, and there is evidence that shows it was eaten in China back in the 1800s. Others believe that it is a Mexican dish, as it is sometimes seen in Mexican restaurants.
How Does The Ice Cream Not Melt?
You may also be scratching your head over the fact that it's even possible to fry an ice-cold dessert. You'll notice on the recipe card below that this recipe calls for you to double freeze the ice cream balls before you fry them. The added time in the freezer really helps firm them up. Plus, you only have to deep fry them for about 20 seconds, so they aren't exposed to heat for a very long time.
Crunchy Crust Options
Here's where you can get creative. Our crunchy crust calls for corn flakes, a bit of cinnamon, and coconut flakes. The coconut is optional, but we love the added texture it brings to the mix. If there are no nut allergies in your house, you can also feel free to add some crushed-up nuts like almonds or pecans. In any case, when you crush your corn flakes make sure to leave a few larger pieces as this also helps add to the crunch you'll love!
Ice Cream Options
Our ice cream treat recipe (along with most recipes out there) calls for vanilla ice cream. Here's another opportunity to make this recipe all your own! You may want to also try:
Chocolate
Pistachio
Chocolate chip
Strawberry
…or your favorite flavor! The choice is yours.
Do I Have to Deep Fry My Fried Ice Cream?
If you want to avoid deep frying, there is another way to prepare this special dessert! You'll have to combine some salted butter, cereal, coconut flakes, and cinnamon in a skillet to cook. Then, once that mixture has cooled you can roll the ice cream in it for a treat that hasn't been fried at all. See the recipe card below for specific instructions.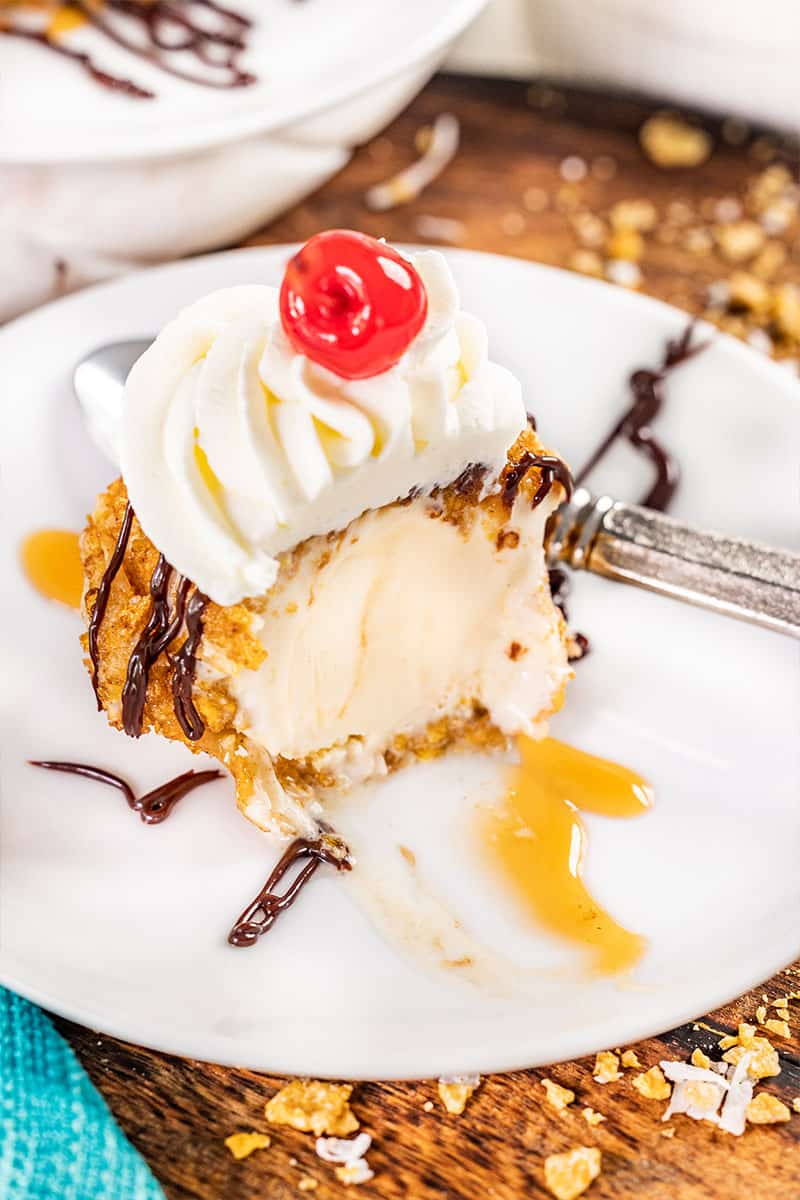 Make-Ahead Instructions
These specially prepared ice cream balls are great to make in advance! If you do want to make them several days beforehand, we recommend wrapping them in plastic wrap before placing them in the freezer. This will help keep out any odors or tastes that may be lingering in your freezer. You should fry the ice cream balls within one week for the best results.
Storage Instructions
This dessert dish is best eaten fresh, especially to get that amazing contrast of hot and cold. That said, if you do have leftovers, wrap them tightly in plastic wrap and place them in the freezer. When you're ready to enjoy them, you can deep fry them once more for the same results. They will keep in the freezer for about a week.
Watch the video below where Caytlin will walk you through every step of this recipe. Sometimes it helps to have a visual, and we've always got you covered with our cooking show. You can find the complete collection of recipes on YouTube, Facebook Watch, or our Facebook Page, or right here on our website with their corresponding recipes.