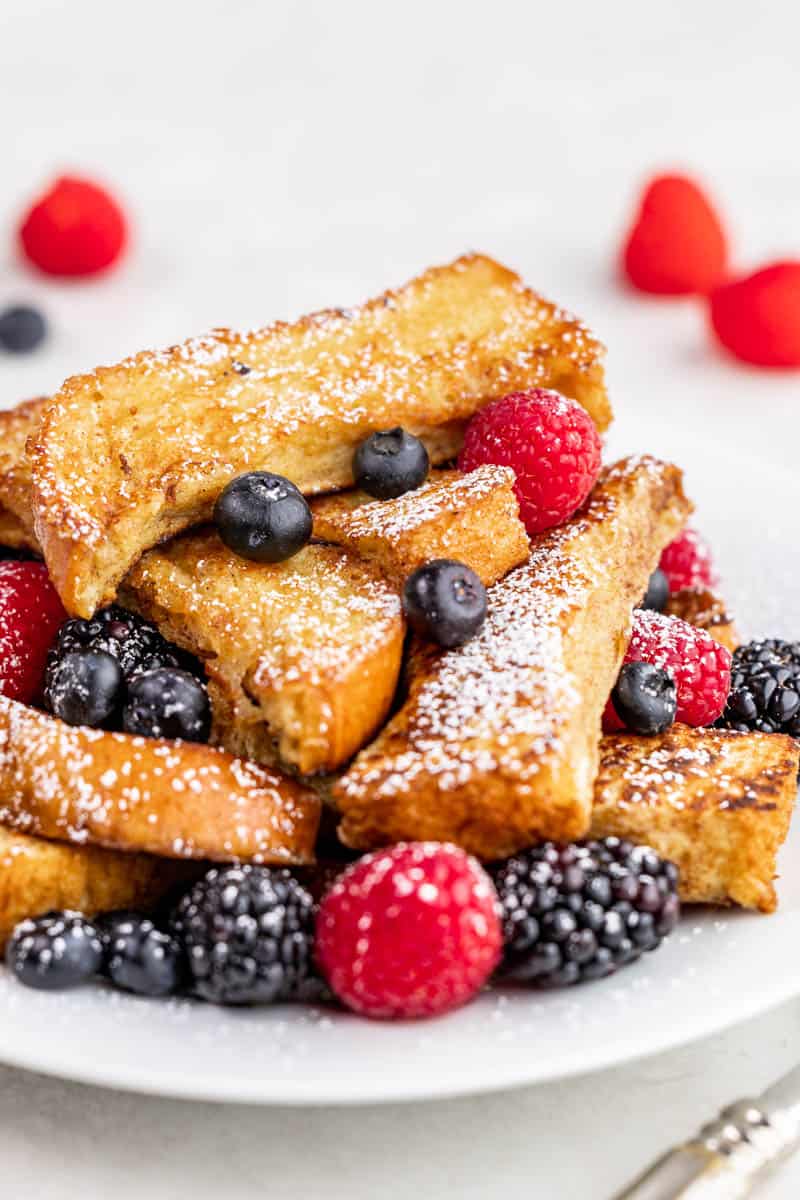 Brighten up your mornings with these sumptuous French toast sticks. This dish is not only easy to prepare, but also offers a delightful blend of flavors and textures that will make every breakfast memorable.
Introducing these delightful French toast sticks, the perfect harmony of taste and convenience, designed to upgrade your breakfast experience. These scrumptious delights are ideal for both hectic mornings when you're pressed for time and leisurely weekend brunches where you can savor every bite. The recipe is not only simple but also easily customizable, giving you the freedom to create your own tasty variations by experimenting with an array of breads and toppings. Boasting a crisp exterior and a fluffy interior, our French toast sticks are guaranteed to become a family favorite that will leave everyone craving more. Plus, with a range of dipping sauces and accompaniments to choose from, you can cater to everyone's unique tastes. Give this versatile and crowd-pleasing recipe a try, and transform your breakfast game with a dish that's both simple to prepare and irresistibly delicious.
Choosing the Perfect Bread
Selecting the right type of bread for your French toast sticks is crucial. Here are a few options to consider:
Brioche: A rich, buttery bread that creates a luxurious, melt-in-your-mouth texture.
Challah: A slightly sweet, eggy bread that adds depth of flavor and a tender texture.
Texas Toast: A thick-sliced white bread that provides a sturdy base for a classic French toast experience.
Sourdough: A tangy option for those who prefer a less sweet breakfast treat. The choice of bread will ultimately depend on your personal preference and the flavor profile you'd like to achieve.
Whole Wheat Bread: A a healthy alternative, but it may result in a denser texture.
Dairy Free Substitutions
Replace milk with almond milk, soy milk, or your preferred dairy-free milk alternative.
Use a dairy-free butter substitute for frying, such as Earth Balance.
Serving Suggestions
Serve French toast sticks with maple syrup or honey for dipping. You can also offer a variety of fruit preserves or a dusting of powdered sugar for an extra touch of sweetness. For a complete breakfast, pair with eggs, bacon, or a side of berries and assorted fruit.
Storage & Reheating Instructions
Store any leftovers in an airtight container in the refrigerator for up to 3 days.
To Freeze: Allow the French toast to cool completely on a wire rack before transferring it to a parchment paper-lined baking sheet. You can stack the French toast with a sheet of parchment paper between each layer. Freeze until solid, and then transfer the French toast to a resealable plastic freezer bag for long-term storage.
To Reheat: Microwave each slice on high for approximately 1 minute, or until warmed through. Alternatively, toast the slices in a toaster to heat them through and achieve a crispy exterior.
Related Recipes
If you like this recipe, you may be interested in these other delicious French Toast recipes:
Watch the Video
Watch the video below where Caytlin will walk you through every step of this recipe. Sometimes it helps to have a visual, and we've always got you covered with our cooking show. You can find the complete collection of recipes on YouTube, Facebook Watch, or our Facebook Page, or right here on our website with their corresponding recipes.