Enjoy delicious steak fajitas, made completely from scratch in just 20 minutes! Using tender flank steak, you can make an amazing and easy weeknight dinner the whole family will love.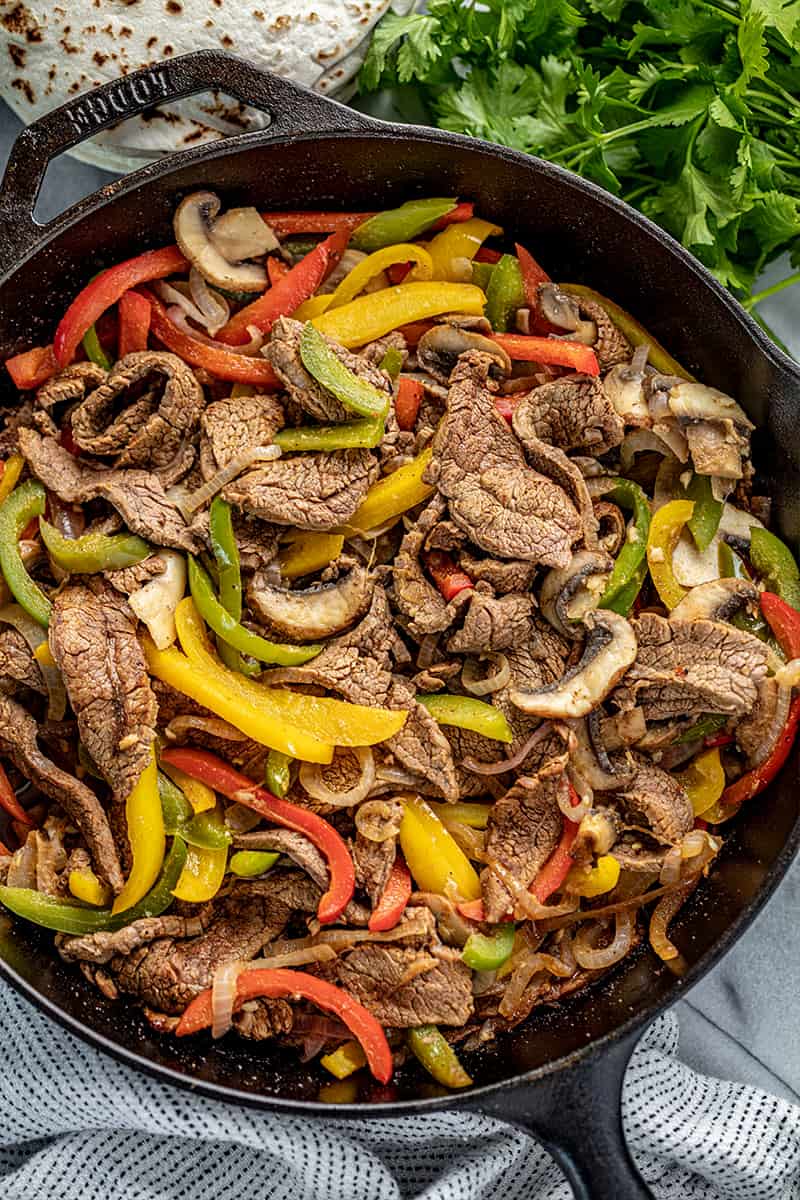 It's fajita time! Time to wow your family with an easy, all-from-scratch recipe for savory fajitas. A tender, marinated flank steak is cut into thin strips to top a crispy tortilla along with perfectly seasoned, sautéed pepper and onion. The trick to making great fajitas is the meat. Be sure to select the right kind of steak—we prefer flank steak. Follow our pro tip by slicing the meat against the grain! This recipe is so easy and so delicious—it will leave you wondering why you don't have fajitas all the time!
Can I grill my steak?

The instructions for this recipe call for cooking the sliced steak on a skillet to make it easier to prepare. You can grill the steak on a barbecue if you prefer, but you'll need to keep the entire steak whole, and slice after grilling. Just remember to not overcook it. The fajitas turn out best when the steak is prepared to medium doneness, or an internal temperature of 130-135 degrees Fahrenheit.

What cut of steak is best for steak fajitas? Does skirt steak work? What about sirloin steak?

You can use most cuts of steak to make steak fajitas, but the more traditional options are to use either flank steak or skirt steak. Sirloin steak is well suited for marinating and is a more budget conscious steak option.

What should I serve with steak fajitas?

Sour cream and avocados or guacamole are great toppers for fajitas. Fajitas are a complete meal all by themselves, but for additional side dishes try Mexican Rice or Mexican Street Corn Salad.

PRO TIP: Cut against the grain!

Cutting the steak against the grain is important! Look at your flank steak. See how there are lines running across it? Don't cut the meat parallel to those lines! You will end up with tough, chewy pieces of meat. Cutting against the grain breaks up that tissue and allows for a more tender strip of steak that melts in your mouth. CUT AGAINST THE GRAIN!
If you like these fajitas and want to try more like them or see great foods to pair with them, here are some Mexican food recipes that you might like:
Watch the video below where Rachel will walk you through every step of this recipe. Sometimes it helps to have a visual, and we've always got you covered with our cooking show. You can find the complete collection of recipes on YouTube, Facebook Watch, or our Facebook Page, or right here on our website with their corresponding recipes.