Skip the take-out and make this Easy Thai Beef Salad that tastes just like it came from a restaurant. It's ready in just 15 minutes!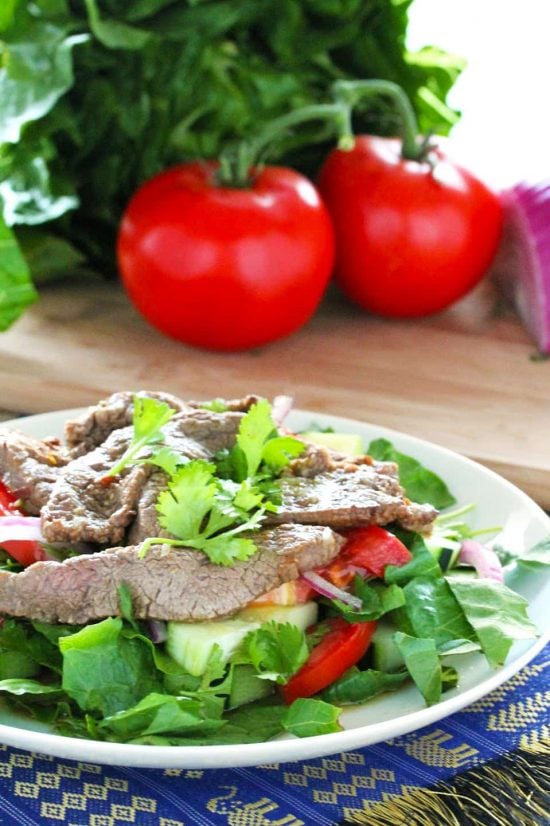 One of my favorite things to order at Thai restaurants is the Thai Beef Salad. There's something about the crisp vegetables mixed with the marinated beef and that delicious zippy dressing it is bathed in. Since I'm all about making restaurant quality meals at home, I would be a total jerkface if I didn't share this recipe with you.
FISH SAUCE: It is super easy to make and you can find all the ingredients in your regular grocery store. The only "scary" ingredient in here is the fish sauce. I would never eat fish sauce plain, but when mixed with the right ingredients, it creates a beautiful flavor that is far from "fishy." If you've ever eaten Southeast Asian food like Thai or Vietnamese (think Pho) then you've definitely eaten fish sauce. It gives it that distinct Southeast Asian taste and feel that you can't quite put your finger on. Trust me on this one. You can find it in the Asian section of your grocery store. It should be near the soy sauce. It's one of my favorite salads ever. I've even made a video with this one to show you just how easy it is.
Tips: You can add more crushed red pepper flakes to this recipe to make it more spicy, or add in a finely diced jalapeno or thai red chile (if you can find one). Another option is to marinate the flank steak whole and cook it whole before slicing if you are looking for medium-rare beef. Other tips: be generous with the cilantro and think of it as more of a salad component rather than a garnish, as well as be generous with the dressing. It packs a flavorful punch!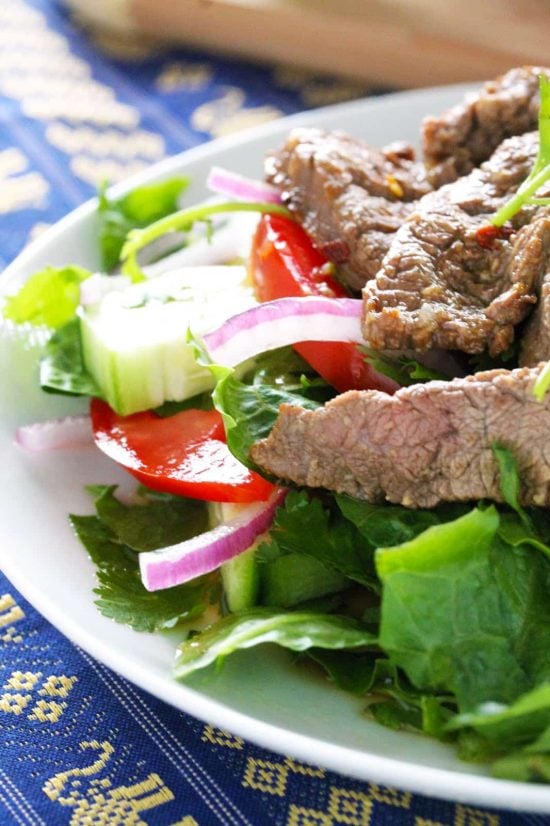 If you like this recipe you may be interested in these ones too:
Watch the video
to see just how easy it is to make this recipe. I've got great tips and tricks in there, including a visual on slicing beef against the grain. I have a whole
YouTube Channel
with hundreds of episodes of my very own cooking show where I show you how to easily make restaurant quality recipes at home. Check it out!