Dutch Oven Chili hits the spot when you want a taste of the outdoors! Whether you're camping, hunting, having a backyard campfire, or just want chili from a dutch over, this recipe won't disappoint.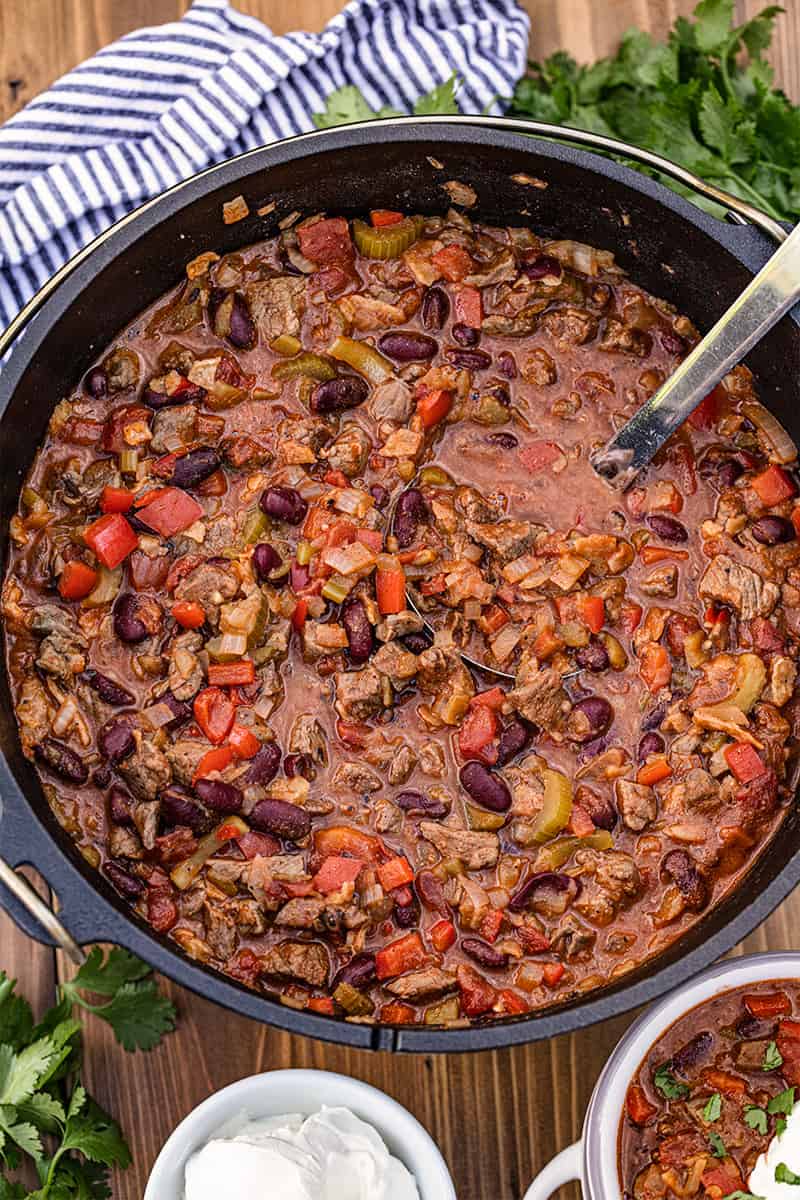 This Dutch Oven Chili is hearty and delicious. Browned beef, onions, spices, kidney beans and diced tomatoes and chilis come together and simmer for an amazing campfire treat. The flavor and texture of this chili make it a fantastic meal on its own, or you can serve it with side dishes like chips, biscuits or baked potatoes.
CAMPING PREPARATION TIPS:
Cooking outdoors can be a challenge for a number of reasons. You can make it a little easier by preparing some of the ingredients in advance. Here are some ideas:
You can have your meat cut and stored in an airtight container.
You can combine all of the dry spices together in a ziplock bag and place it with your dry foods. You can make sure that your cilantro is rinsed and the ends cut off.
You can have your kidney beans rinsed and stored in an airtight container up to two days in advance.
You can have your onion, celery and bell pepper rinsed, cut and stored in an airtight container. By having these steps done, making the chili while you're outdoors or camping will be much easier.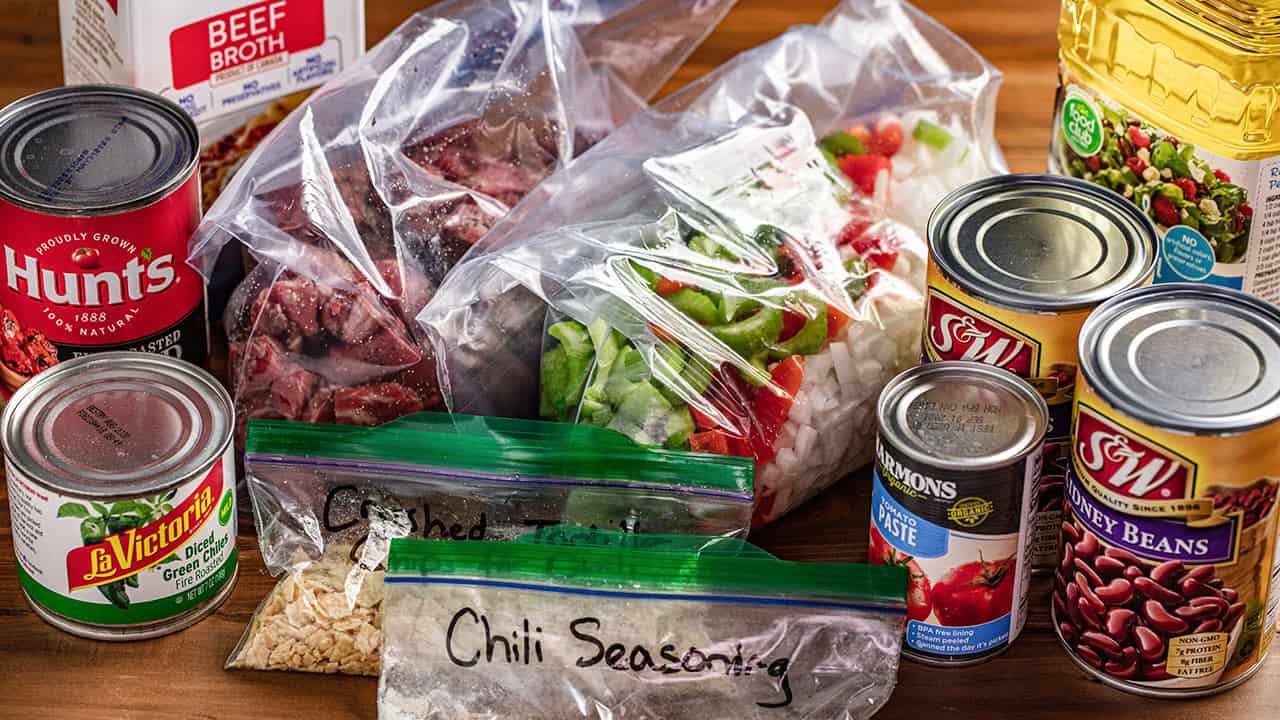 Dutch Oven cooking with charcoal briquettes:
Dutch Oven cooking is a classic cooking method to use while camping. If you've never done it before, it can seem intimidating. In reality, dutch oven cooking with charcoal briquettes is really quite simple if you follow a few easy steps.
CHARCOAL PREPARATION: First, you'll want to prepare your charcoals. You can do this easily using a charcoal starter. Simply place some crumbled newspaper in the bottom and fill the starter with charcoal briquettes. Then light the newspaper and allow the charcoals to burn for 15 minutes. If you don't have a charcoal starter, you can stack your charcoal into a pyramid-like structure instead and light in a similar fashion using newspaper, or lighter fluid.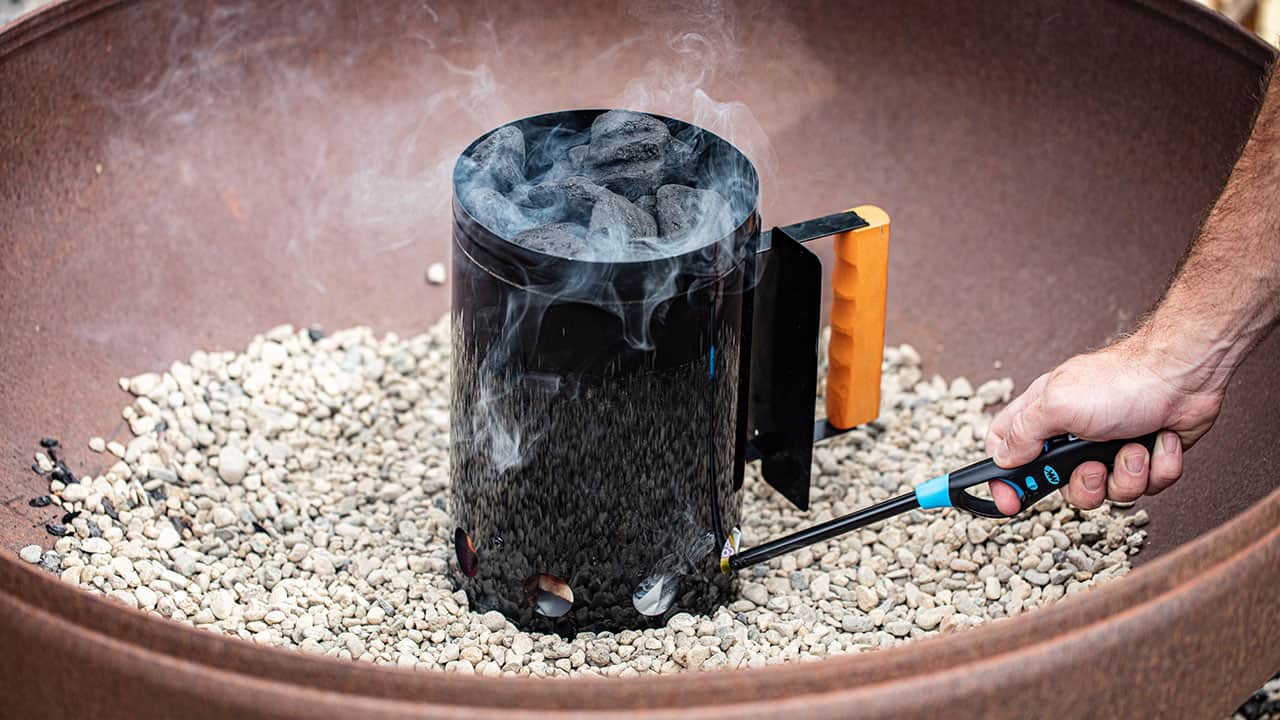 USING CHARCOAL FOR COOKING: Once the charcoal is prepared, you'll use tongs to transfer each briquette to a fire safe location to set up your cooking method.
CHARCOAL STOVE: If you want to replicate an indoor stovetop, you'll want to apply heat to only the bottom of your cast iron dutch oven. This will allow you to saute meat or vegetables, boil water, or any other cooking method you'd use on a regular stovetop. Depending on the temperature outside, you may want to keep a lid handy to help the cast iron retain heat. With the lid on, steam will be trapped inside so keep that in mind so you don't inadvertently steam meats or vegetables.
CHARCOAL OVEN: By placing charcoal on both the bottom of your cast iron dutch oven as well as the lid, you create an outdoor oven. Just as it's important to keep the door shut on your indoor oven, it's equally important to keep the lid on your outdoor dutch oven. Lifting the lid frequently will drop the temperature inside the dutch oven significantly and prevent your food from baking properly.
CHARCOAL BROILER: Broiling is a top down heating method where intense heat is applied from above. To broil in a cast iron dutch oven, you'll want to apply charcoal briquettes on the lid only.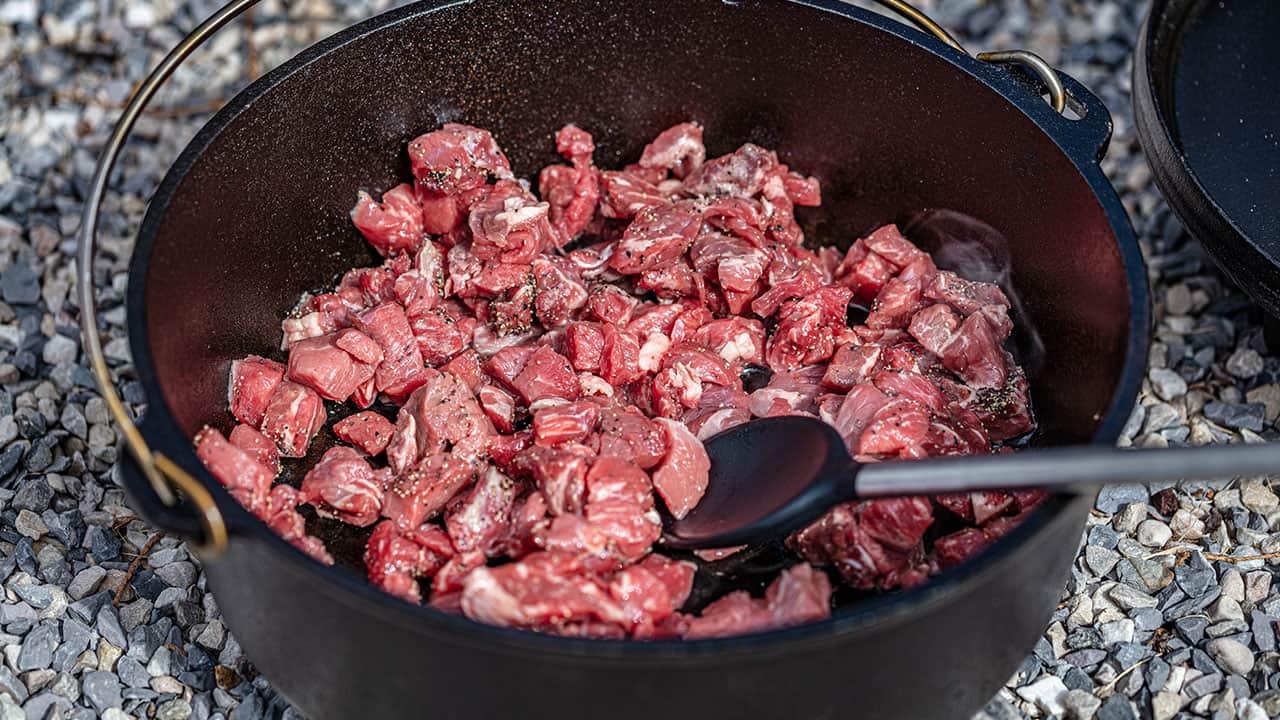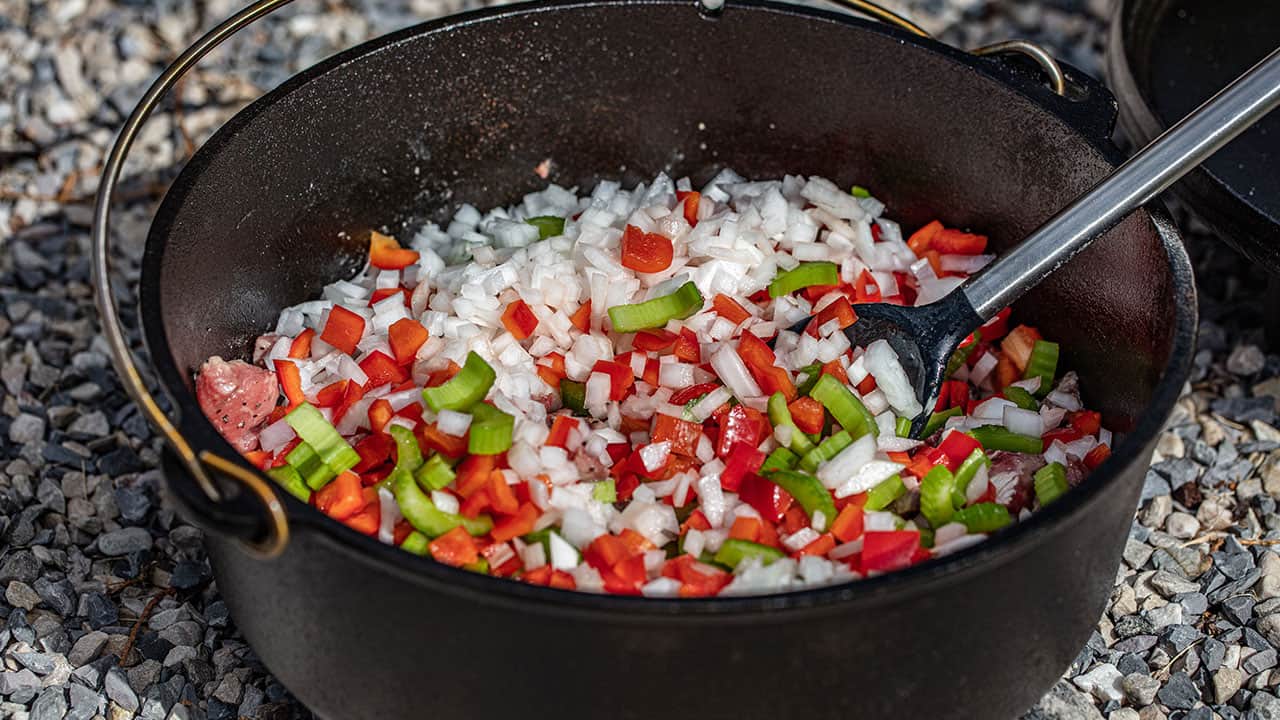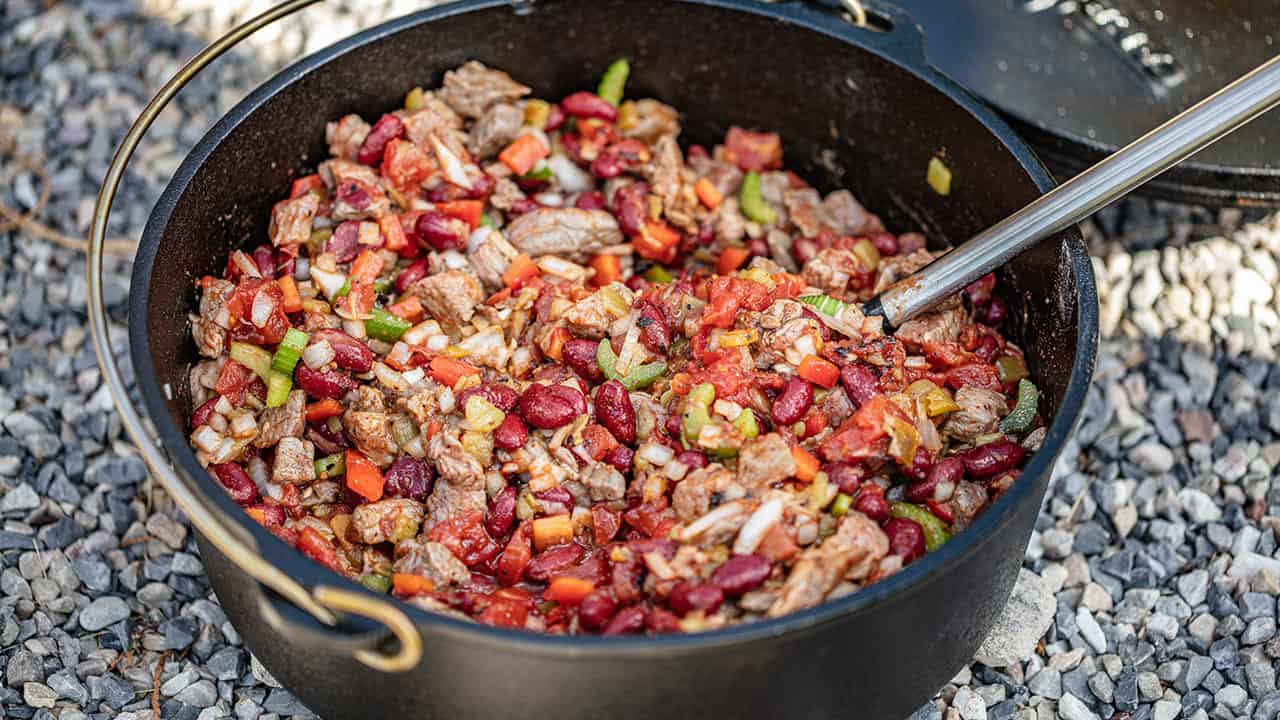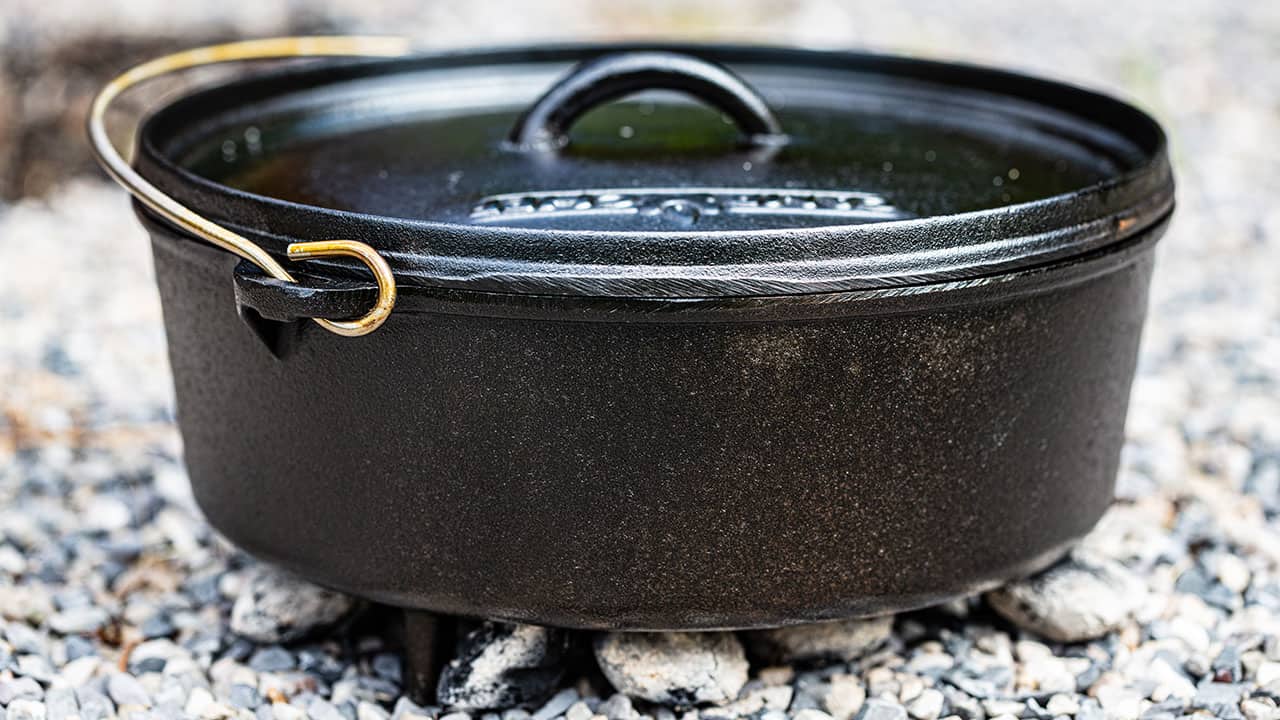 How many charcoal briquettes to use in dutch oven cooking:
How many charcoal briquettes you need in dutch oven cooking will depend on the size of your dutch oven and the desired temperature you want to cook at. A good all purpose cast iron dutch oven is 12 inches in diameter, but they are also sold in other sizes as well.
CHARCOAL PLACEMENT: The placement of your charcoal briquettes will depend on what cooking style you are trying to use, the size of your cast iron dutch oven, and the temperature you are trying to achieve. Use the handy cooking guide below to adjust any dutch oven recipe to your dutch oven size and recipe.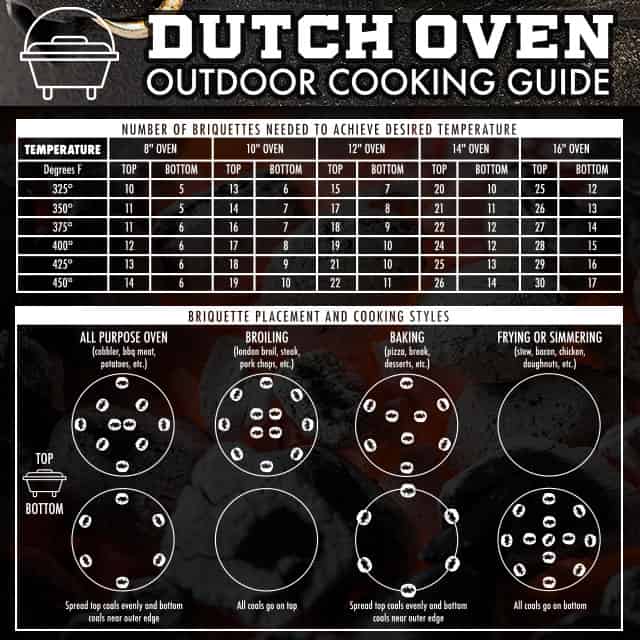 Is this recipe spicy? How can I make it spicy?
No. This recipe is on the mild side for sure. If you like your chili with a little heat, you can add red pepper flakes for convenience, or a finely diced jalapeno. My preferred method of adjusting the heat is to bring a jar of jalapenos as a topper so individuals can adjust to their own desired spiciness.
What goes best with dutch oven chili?
Some great toppings for chili are sour cream, chips, chives, shredded cheese and jarred jalapenos. Potatoes are great to serve with chili and they use the same toppings—in fact, the chili is also a great topping for a baked potato. You can make baked potatoes in advance, if you like, and leave them in the tin foil. Then, place them in the coals to warm them up while your chili is cooking.
STOVETOP INSTRUCTIONS: This chili can be prepared, in a dutch oven, in your home. Follow the same instructions, but instead use the stovetop as your heat source. Once simmering, reduce the heat to low and continue to simmer, covered.
If you like this recipe, you will love my dutch oven peach cobbler and these others might interest you as well: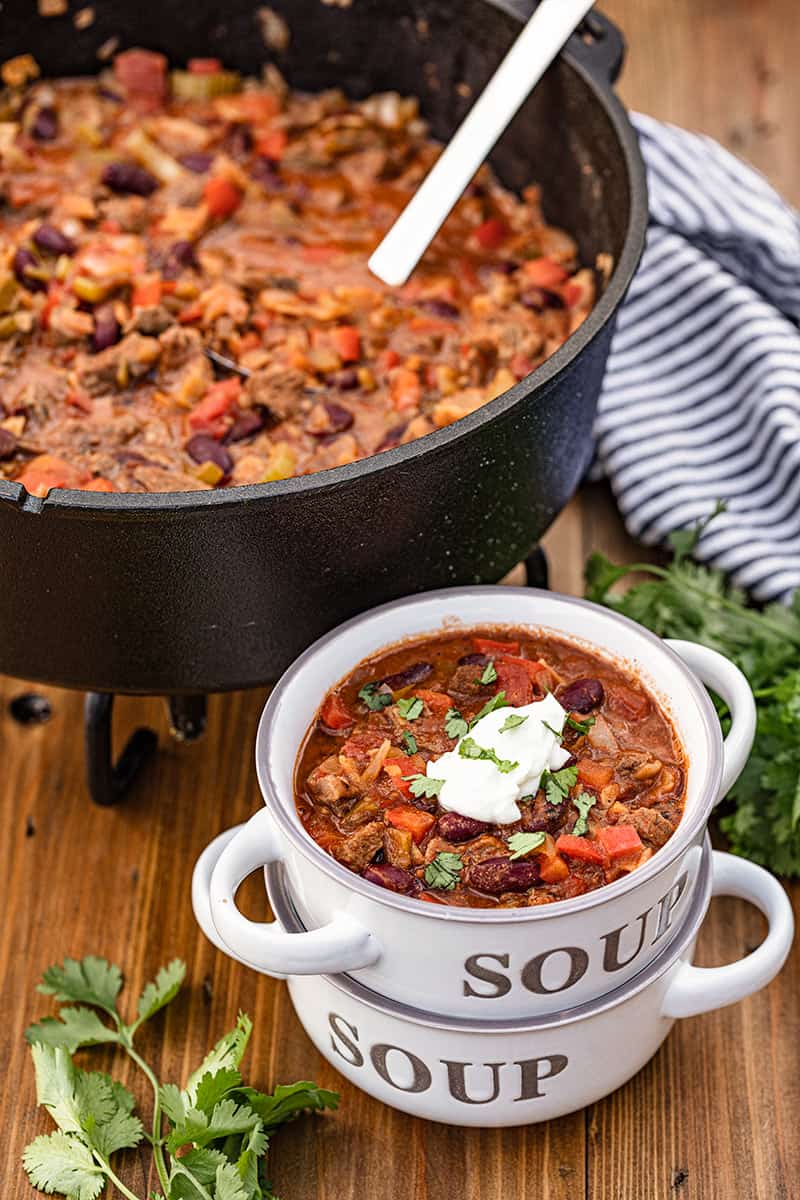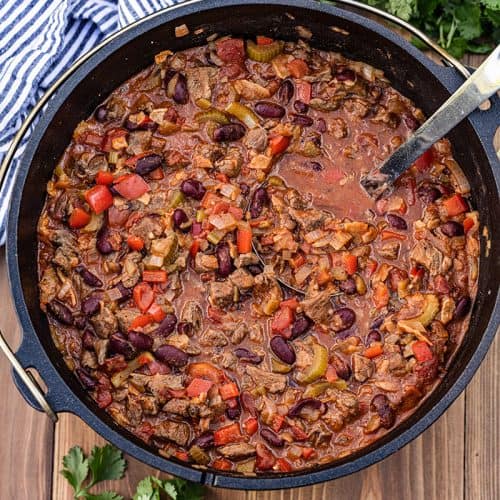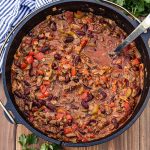 Dutch Oven Chili hits the spot when you want a taste of the outdoors! Whether you're camping, hunting, having a backyard campfire, or just want chili from a dutch over, this recipe won't disappoint.
Ingredients
2 

pounds 

beef chuck roast

cut into 1 inch cubes

1 

teaspoon 

salt

1 

teaspoon 

black pepper

2 

tablespoons 

vegetable oil

1

small

white onion

diced

1

large

red bell pepper

diced

3

ribs

celery

sliced

2

tablespoons

tomato paste

1

tablespoon

chili powder

2

teaspoons

ground cumin

2

teaspoons

paprika

1

teaspoon

garlic powder

1

cup

beef broth

30

ounces

red kidney beans

rinsed

15

ounces

diced tomatoes

7

ounces

green chilies

1/2 

cup 

finely crushed tortilla chips
For Serving
1

cup

shredded cheddar cheese

1/4

cup

freshly chopped cilantro

1/2

cup

sour cream
Instructions
Place a 12-inch (6 quart) cast iron dutch oven over 15 briquettes to preheat, about 5 minutes. Season the beef with salt and pepper. Once dutch oven is preheated, add in the oil and sear the beef until browned. Add in the onion, red bell pepper, celery, and tomato paste and saute 5-7 minutes, until vegetables are soft.

Add in chili powder, cumin, paprika, and garlic powder and let cook 60-90 seconds.

Stir in beef broth, kidney beans, diced tomatoes, and green chilies. Place the lid on and let cook for 60 minutes.

Remove the lid and stir in the crushed tortilla chips.  Let rest for 10 minutes, uncovered, to thicken.  Serve plain or topped with shredded cheddar cheese and/or a dollop of sour cream and freshly chopped cilantro.
Nutrition
Serving:
1.5
cups
|
Calories:
486
kcal
|
Carbohydrates:
43
g
|
Protein:
34
g
|
Fat:
21
g
|
Saturated Fat:
9
g
|
Cholesterol:
78
mg
|
Sodium:
657
mg
|
Potassium:
1141
mg
|
Fiber:
12
g
|
Sugar:
5
g
|
Vitamin A:
1395
IU
|
Vitamin C:
37.4
mg
|
Calcium:
115
mg
|
Iron:
7.3
mg