This Crispy Coconut Chicken has the most satisfying crunchy exterior. Eat them plain or dip in a homemade tangy sweet chili dipping sauce. Oven, stovetop, and air fryer instructions included!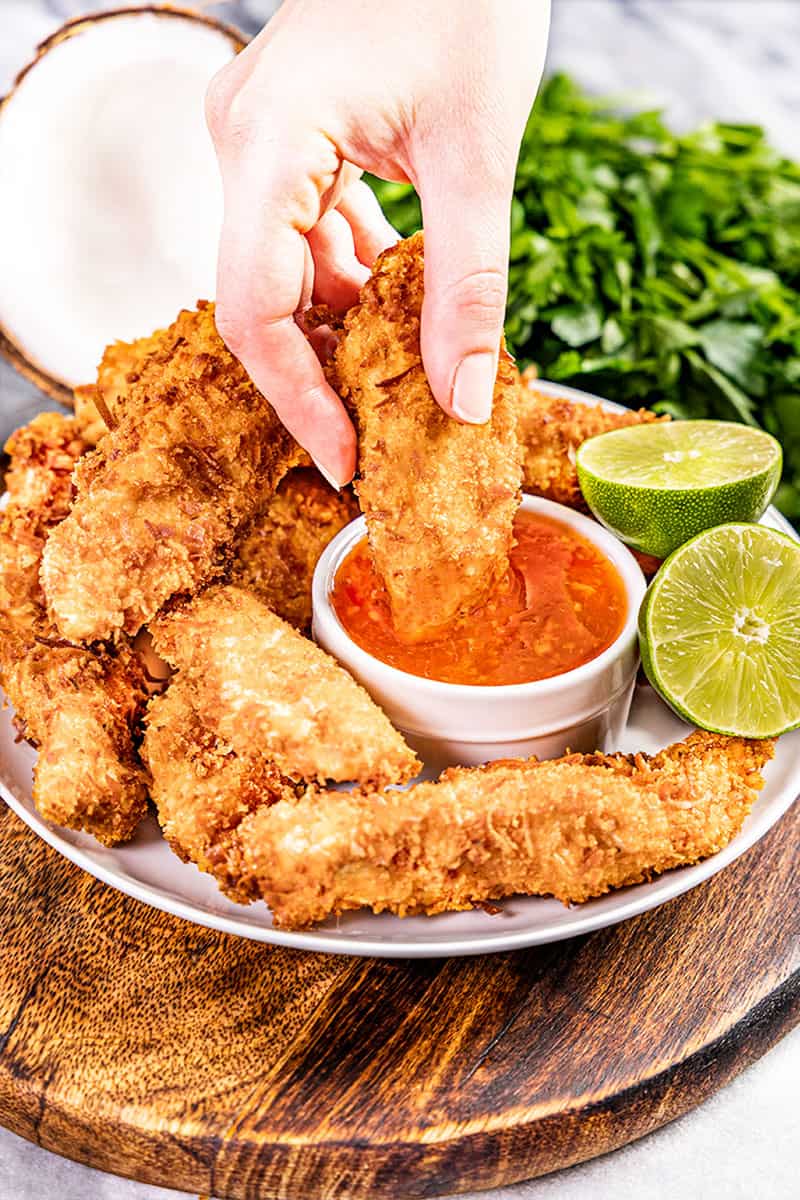 We are all about adding that coconut-y sweetness wherever possible. We have found so many different amazing ways to bring that flavor to desserts, and we are now bringing that coconut love into our dinners. In this recipe, the savory meets the sweet and is finished with an extremely satisfying crunchy exterior. We really could eat these as is, but when there is an opportunity to add a tangy dipping sauce, we always take it. No matter what your cooking preference is, we've got you covered with both oven and air fryer instructions. Trust us, you do not want to miss this one.
Sweetened vs. Unsweetened Coconut Flakes:
We tested both types of coconut flakes for this recipe, and you really can't go wrong with either! We prefer the added sweetness and crunch that sweetened coconut flakes bring, but you can always use unsweetened if preferred.
Egg Substitute:
The egg in this recipe helps to bind the flour on the chicken to the Panko and coconut mixture. If needed, you can substitute with heavy cream or melted butter. Make sure to coat your chicken completely so the Panko will stick.
Gluten Free Options:
If you would like to make this recipe gluten free, you will need to substitute cornstarch for the all-purpose flour, and use your favorite gluten-free breadcrumbs. Be sure to check labels carefully on the Asian chili garlic sauce as well.
Can I double Crispy Coconut Chicken:
You absolutely can! Make however much chicken you need for your family, and simply double all of the ingredients except for the frying oil.
Frying Tip:
Make sure to scoop out any Panko/coconut crumbs from the oil in between batches. Forgetting this important step means those crumb will continue to cook in that oil and burn, leaving you with a rather stinky kitchen.
Freezer Instructions:
We love to keep these on hand in the freezer for easy weeknight meals. After completely coating your chicken, freeze on a baking sheet before then transferring to a freezer-safe airtight container. Freeze for up to 3 months. Do not attempt to fry frozen coconut chicken. Cook in the oven only at 400 degrees Fahrenheit for 25-30 minutes, or until completely cooked through. Use a meat thermometer for precise cook times.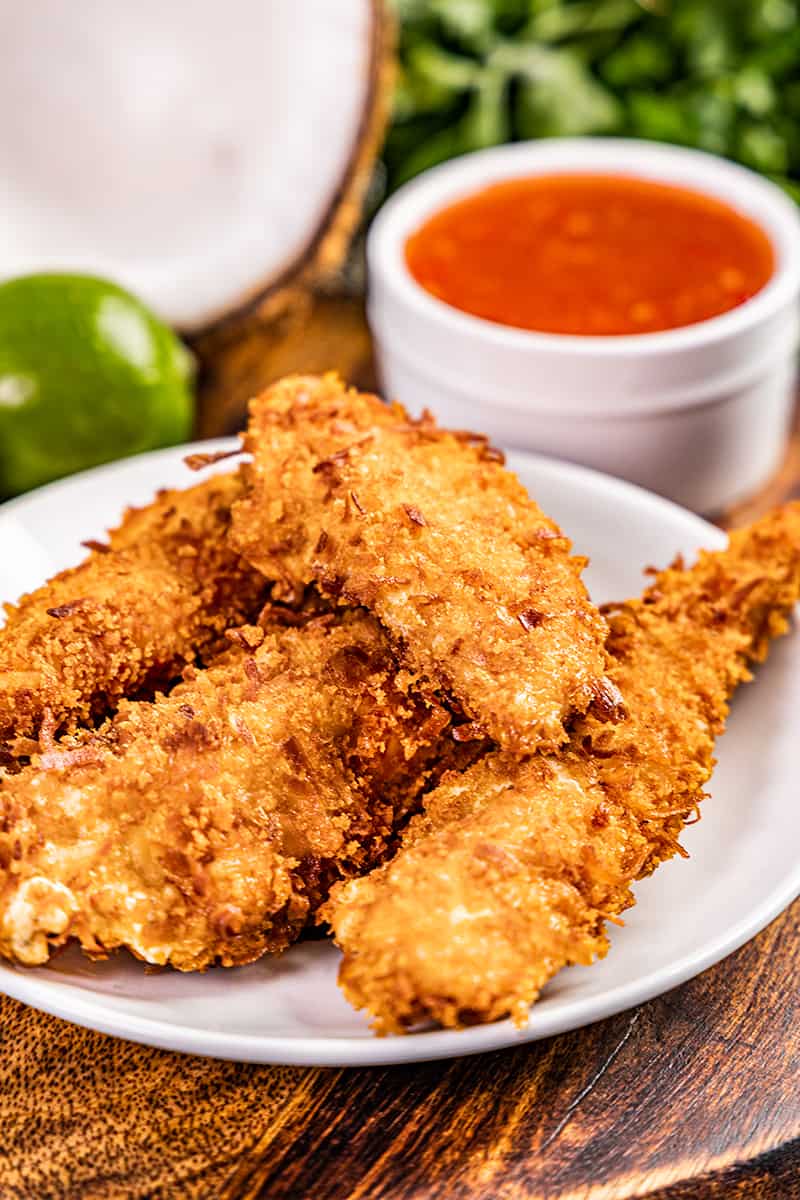 Storage and Reheating Instructions:
Crispy Coconut Chicken is best served fresh. You can store any leftovers in an airtight container in the refrigerator for up to 5 days. Reheat in an oven preheated to 350 degrees Fahrenheit until warmed through.
If you like this recipe, you may be interested in these other delicious chicken recipes:
Watch the video below where Caytlin will walk you through every step of this recipe. Sometimes it helps to have a visual, and we've always got you covered with our cooking show. You can find the complete collection of recipes on YouTube, Facebook Watch, or our Facebook Page, or right here on our website with their corresponding recipes.
Perfectly Crispy Coconut Chicken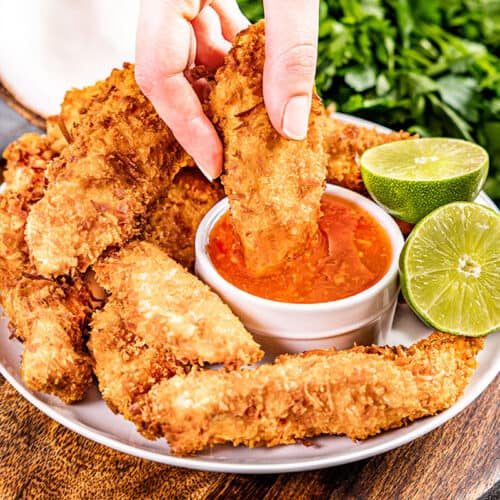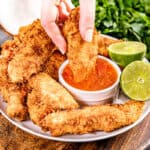 This Crispy Coconut Chicken has the most satisfying crunchy exterior Eat them plain or dip in a homemade tangy sweet chili dipping sauce. Oven, stovetop, and air fryer instructions included!
Ingredients
2

Chicken breasts

thinly sliced into 2"x 4" strips

1/2

cup

all-purpose flour

1

teaspoon

salt

1

teaspoon

black pepper

1/2

teaspoon

garlic powder

1/4

teaspoon

ground ginger

1/4

teaspoon

cayenne pepper

2

large eggs

1

cup

panko

1

cup

sweetened coconut flakes

Vegetable oil for frying
Sweet Chili Dipping sauce
1

cup

orange juice

1/4

cup

brown sugar

2

tablespoons

Asian chili garlic sauce

1

tablespoon

corn starch
Instructions
Add flour, salt, pepper, garlic powder, ground ginger, and cayenne pepper to a bowl. Stir to combine.

In a second bowl, beat the eggs.

In a third bowl, add Panko and coconut flakes. Stir to combine.

Take each chicken strip and dip in the flour mixture, then eggs, then the panko/coconut mixture. Press panko coating into chicken strips. Set them aside once coated.

In a large skillet, pour in vegetable oil, about 2 inches deep. Heat oil over medium heat to approximately 350 degrees Fahrenheit.

Working in batches to ensure you don't crowd the pan, fry chicken strips in the heated oil for 3 minutes per side.

Remove and set chicken strips on a paper towel lined sheet.

Serve hot with dipping sauce and enjoy!
Dipping Sauce
In a saucepan over medium heat, add in the orange juice, brown sugar, chili sauce, and cornstarch. Stir constantly and bring to a boil, let simmer until sauce thickens.
Notes
Air Fryer Instructions:
Preheat air fryer to 400F.

Place chicken on tray, spray with cooking oil and cook the chicken 5 to 6 minutes on each side, (10-12 minutes total) until the chicken is cooked through and crispy and golden on the outside. 

Work in batches so that you don't crowd the air fryer.
Oven Baked Instructions:
Preheat oven to 400 Degrees Fahrenheit

Line a baking sheet with parchment paper

Set coated chicken on baking sheet
Spritz chicken with cooking oil
Bake for 20-25 minutes until fully cooked.
Nutrition
Calories:
430
kcal
|
Carbohydrates:
59
g
|
Protein:
23
g
|
Fat:
11
g
|
Saturated Fat:
7
g
|
Polyunsaturated Fat:
1
g
|
Monounsaturated Fat:
1
g
|
Trans Fat:
1
g
|
Cholesterol:
236
mg
|
Sodium:
1852
mg
|
Potassium:
442
mg
|
Fiber:
4
g
|
Sugar:
29
g
|
Vitamin A:
518
IU
|
Vitamin C:
31
mg
|
Calcium:
129
mg
|
Iron:
3
mg