Cilantro-Lime Shrimp Tacos are full of flavor and come together in just 15 minutes! You'll love this easy shrimp taco recipe!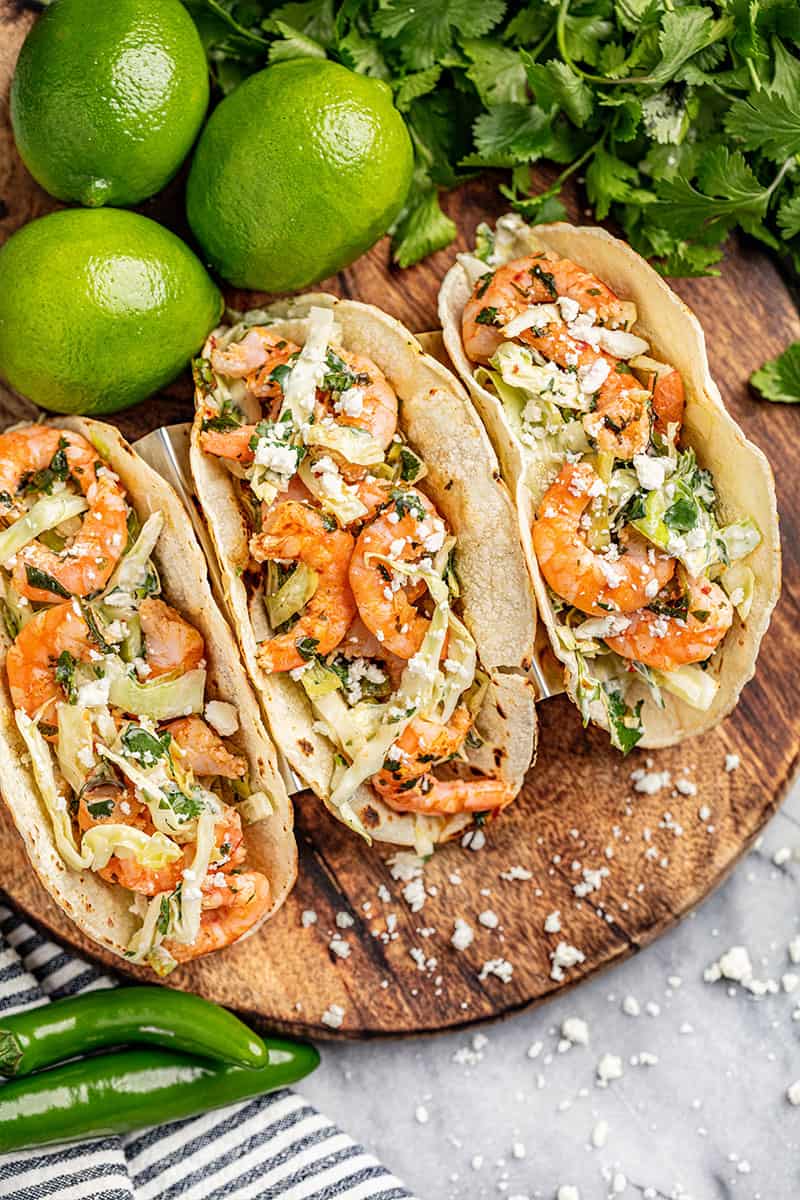 Mmmmm tacos! Is there really such thing as a bad taco? Well, you're not going to find out that one with this recipe. Cilantro-lime shrimp tacos are everything you want them to be: full of shrimp coated in that delicious cilantro lime flavor, with the most amazing slaw on top. The family will be begging for these on Taco Tuesdays for quite some time!
How can I control the spice level/heat in Cilantro-Lime Shrimp Tacos?

Some like it hot, and others don't. It is easy to adjust this recipe to your own personal taste preferences. For those who enjoy heat, this recipe (as written) is a good medium heat. To decrease the spice level, either reduce or omit the red pepper flakes from the cilantro-lime sauce, and reduce or omit the serrano pepper. To increase the spice level, use a spicier pepper, or double the amount of serrano and red pepper flakes.

Can you use precooked shrimp?

Yes you can! Pre-cooked shrimp is available at most grocery store seafood counters and is really quite convenient. Skip the steps that involve cooking the shrimp and simply toss your pre-cooked shrimp with a little bit of the sauce for flavor. This will produce a cold shrimp taco. If you want it warm, heat gently in a saucepan briefly, just until warm.

How much juice is in 1 lime?

Limes vary in size and juiciness. On average, one lime yields about 2 tablespoons of lime juice. When picking out your limes, give them a gentle squeeze. The firmer they are, the less juice they have in them. Before juicing, roll them on the countertop with your palm to make it easier to release the juice from the fruit.

Dried vs. Fresh Cilantro:

We are calling for a lot of cilantro in the sauce recipe, and dried really will not provide the same results. You will want to stick with the recipe as written and use fresh cilantro in your tacos.

Storage Instructions:

Store any leftovers in an airtight container in the fridge for up to 3 days. Reheat in a skillet on the stovetop over medium-low heat until warmed through.
If you like this recipe, you may be interested in these other delicious Mexican inspired recipes: