These Liege Waffles are a unique, European-style waffle that are caramelized on the outside and chewy on the inside. Be warned: these are so delicious, you will be ruined for any other kind of waffle.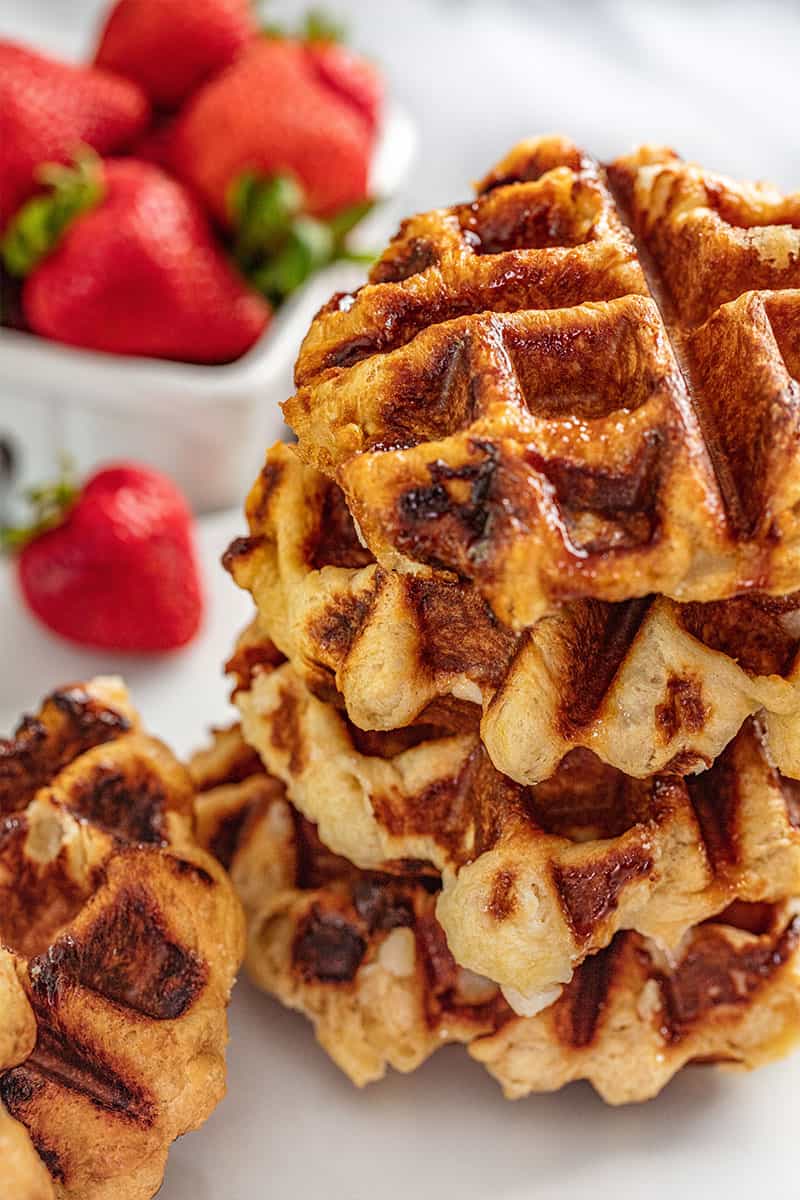 Welcome to the wonderful world of waffles! Liege waffles differ from "normal" and even Belgium waffles. They are made with a thick, bread-like batter that uses yeast as a leavening agent. These unique waffles end up caramelized and crispy on the outside and chewy and sweet on the inside.
Liege waffles call for a unique kind of sugar called Belgian Pearl Sugar—also called nib sugar. This sugar is meant to maintain its chunky structure when it is used in baking and cooking. Pearl sugar is often sprinkled atop European desserts, much like pretzel salt is sprinkled on soft pretzels. The beauty of what happens when you use pearl sugar in waffles is that is caramelizes on the outside and creates little bits of undissolved sugar on the chewy inside. The result is a unique and fantastic flavor and texture.
Can I make the batter in advance as it takes a while to rise?
Yes. These take a little planning, from the purchase of the special sugar to the time it takes to prepare them. They are totally worth the effort and the wait. You can prepare the batter the day before and then refrigerate it, but make sure it finishes rising before you refrigerate it. You can also start the process in the morning and serve them as a dessert in the evening, the way the Belgians do.
Where can I find Belgian pearl sugar?
Belgian Pearl Sugar can be found in some specialty stores that carry ethnic and imported food items. You can also order it online from a number of places, like Amazon.
What toppings are good on Liege waffles?
Liege waffles are delicious eaten plain, or dusted in powdered sugar or cinnamon sugar, but they can also be topped with a variety of toppings for delicious variations on this fantastic dessert.
TOPPING SUGGESTIONS:
Nutella
Whipped Cream
Cookie Butter (Biscoff)
Ice Cream
Fresh fruit (strawberries, raspberries, peaches, etc.)
Cinnamon butter
Lemon curd + raspberries
Cinnamon sugar
Caramel topping
PRO TIP: Waffles can be kept warm on a baking sheet in a 200 degree oven until all are cooked and ready to serve.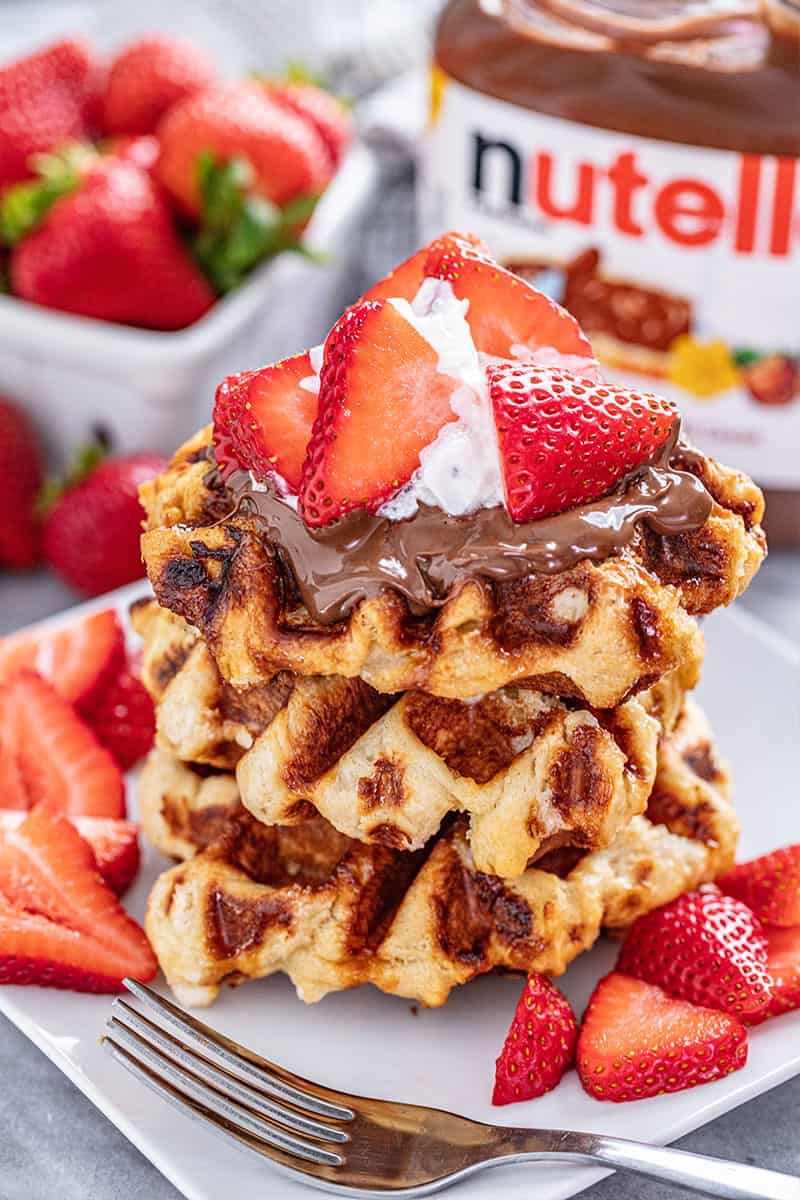 Can liege waffles be frozen and reheated in the toaster?
These are best made fresh, but if you have left-overs and would like a convenient breakfast treat in the future, they can be frozen and reheated in the microwave or toaster.
If you like this recipe, you may also enjoy some of these other breakfast treasures:
Watch the video below where Rachel will walk you through every step of this recipe. Sometimes it helps to have a visual, and we've always got you covered with our cooking show. You can find the complete collection of recipes on YouTube, Facebook Watch, or our Facebook Page, or right here on our website with their corresponding recipes.