Churros, those wonderful fried dough sticks covered with cinnamon sugar, get a recipe mash up with waffles for a killer dessert in my Churro Waffles with Caramel Pineapple.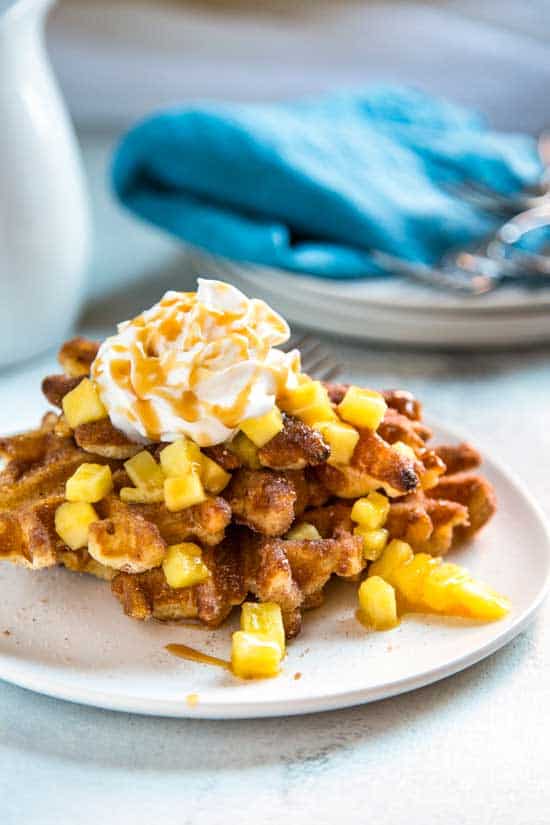 Hi everyone, it's Kevin from Kevin Is Cooking. Special thanks to Rachel for letting me contribute here on The Stay at Home Chef. For today's post I'm sharing my Churro Waffles with Pineapple and Caramel.
Sometimes around our house we'll have things typically reserved for breakfast like cold cereal, toast with Nutella or a waffle that can be popped in the toaster for a quick snack at night. So the other day when I was wanting to make churros I thought about the deep frying oil cleanup and doing the churro treatment to a waffle was next up on the list.
No store bought waffles from the freezer section, though feel free to use, I made my own.
My Churro Waffles start with a fluffy, egg white whipped batter to keep them light and after getting a butter slather and cinnamon sugar dusting are topped with caramel pineapple pieces for one tasty dessert.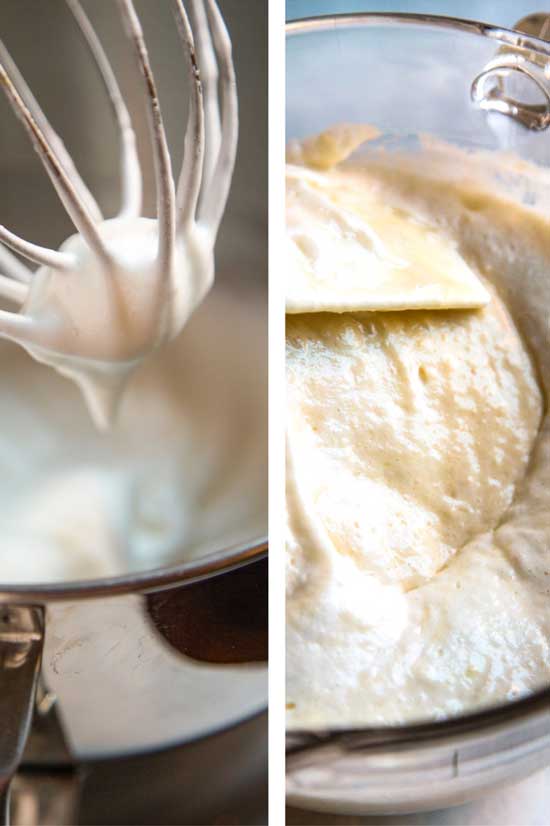 My first couple of batches of dough were more choux pastry geared to stay true to the original churro batter. These just never seemed to cook through completely and the results were usually heavy.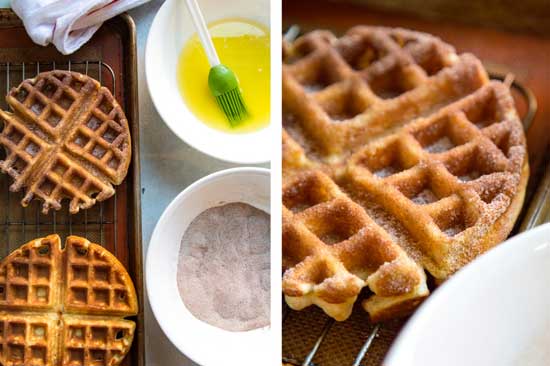 I wanted light and fluffy, like it gets after getting deep fried so back to the kitchen I went and decided to use my tried and true waffle recipe, but with a twist.
What I ended up doing was separating the egg whites from the yolks and whipped them to stiff peaks and added sugar to make a meringue like base. The remaining wet and dry ingredients were mixed and the egg white mixture folded in to make an airy batter.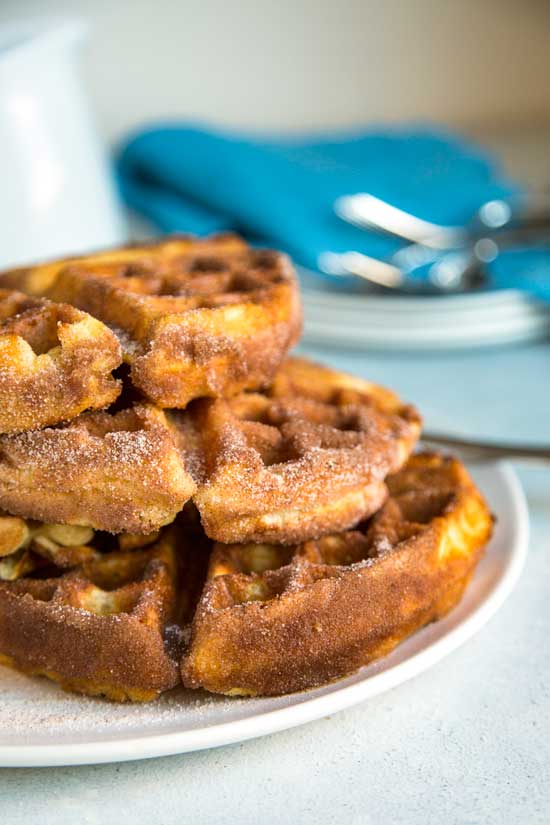 Success in my book. These cooked up great, golden brown and crispy on the outside and light and airy on the inside.
A slather of melted butter and a roll in some cinnamon sugar and I was ready. Except to make these extra special I chopped up some pineapple I had on hand into a small dice and cooked them a bit in caramel to pour on top. With whipped cream. Because.
Festive and great for special occasions and sure to impress house guests, too, whether for breakfast or a dessert.
Like waffles? Try Rachel's Caramelized Waffles (Liege Waffles) or her Churro Funnel Cakes. Enjoy!