Caprese Avocado Salad is light, refreshing, and super easy to make with all of the flavors of traditional caprese plus avocado for added creaminess. It will be a huge hit at any picnic, potluck, or backyard barbecue!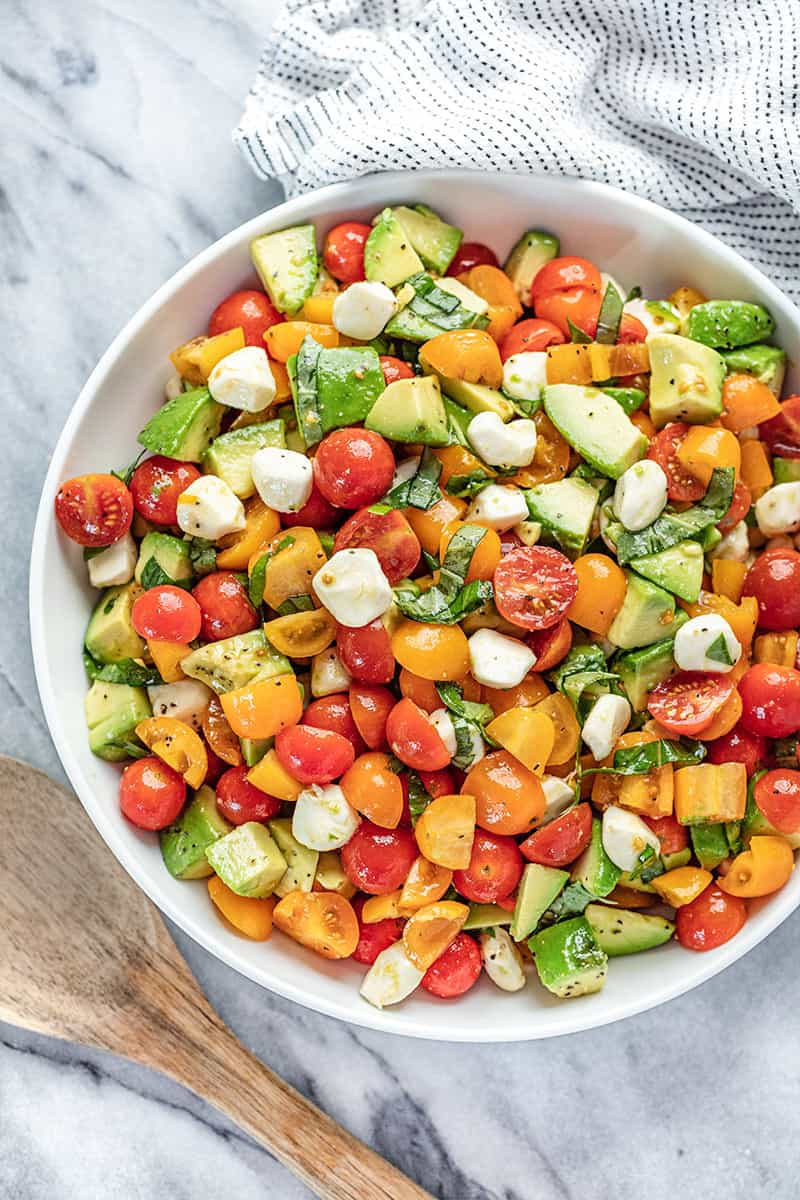 Don't let the simplicity of this salad fool you. This is crave-ably delicious! It is simple to make and comes together in under 15 minutes. It's light and bright and full of fresh flavors. The dressing is quite simple and subtle.
History Lesson: Did you know that it was not love at first sight with caprese? Caprese dates back to the early 1920s in Italy and was created as a tribute to the Italy flag and its colors. However, it did not truly catch on until the 1950s when King Farouk was served a caprese sandwich as a snack. After the king took just one bite of that tomato, mozzarella, basil goodness, Italy was hooked!
Tomato Choices for Caprese Avocado Salad:

This recipe calls for a combination of yellow and red cherry or grape (or cherry) tomatoes. The combination of red and yellow makes for a bright and colorful salad, but you can also use all red, or all yellow. It's also possible to make this salad by using regular garden variety tomatoes that are diced, but the juiciness may make the salad watery and the presentation will not be as beautiful.

Where do I find mini mozzarella balls?

Most grocery stores in the United States will sell mozzarella balls in their fresh cheese section in round plastic containers or air sealed bags. They will be located next to or near the other larger balls of fresh mozzarella cheese. Fresh mozzarella is generally located in a different section than bricks of mozzarella cheese and shredded cheese. The item you are looking for may be called mini mozzarella balls, bocconcini, or mozzarella pearls.

White Balsamic Vinegar Substitutes:

White balsamic vinegar is used in this recipe in order to prevent the salad from getting a brown tint from traditional balsamic vinegar. You can use regular balsamic vinegar, but be warned that the color of the salad may be somewhat off-putting. Another option is to use another clear or light colored mild vinegar like white wine vinegar or apple cider vinegar. These are not as sweet so a bit of extra honey will help balance the flavor.

Storage Instructions:

You can store Caprese Avocado Salad in an airtight container in the fridge for 1-3 days. Be warned that the avocado will start to brown due to exposure to air, and does not mean that they have gone bad.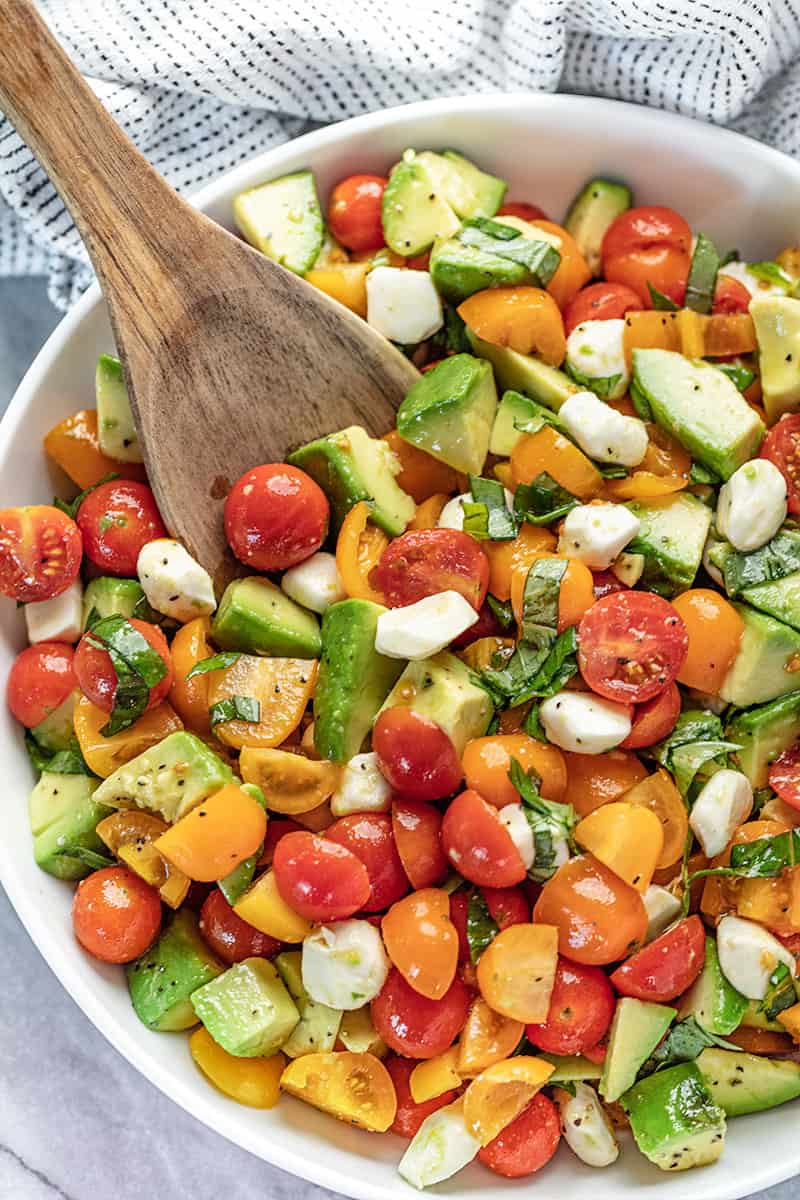 If you like this recipe, you may be interested in these other delicious summer salad recipes:
Watch the video below where Rachel will walk you through every step of this recipe. Sometimes it helps to have a visual, and we've always got you covered with our cooking show. You can find the complete collection of recipes on YouTube, Facebook Watch, or our Facebook Page, or right here on our website with their corresponding recipes.