Caprese gets a Southwestern makeover! Roasted red bell peppers, spices, and an option to add bacon will give you a whole new caprese experience. This appetizer is guaranteed to be a favorite!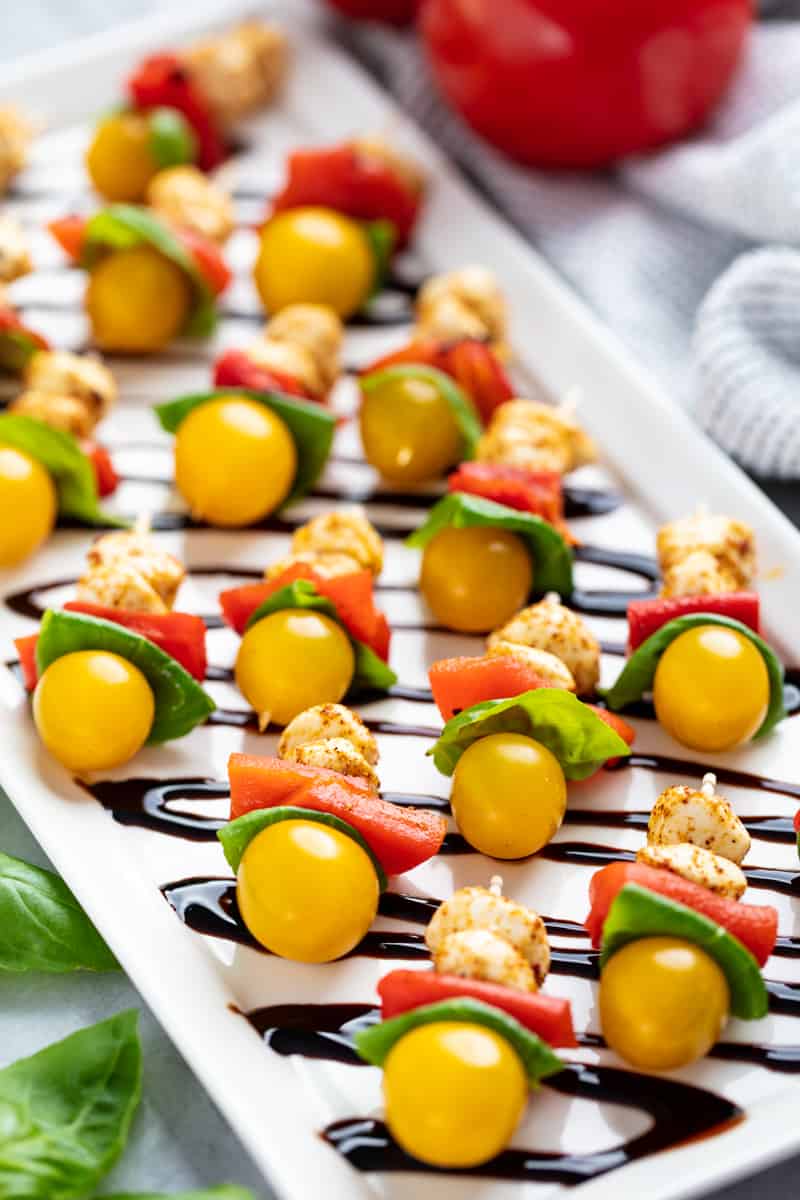 Looking for a new way to enjoy caprese? We've given it a Southwestern flair for a fun new appetizer that will be a party favorite. This recipe can be made vegetarian friendly, or you can choose to add cooked bacon for a more bold bite of caprese. If you choose to make bacon it will need to be pre-cooked. You can cook your bacon in the oven, or you can purchase pre-cooked bacon. Either will work great for this recipe.
Does it matter which kind of tomatoes I use?
You can use either yellow or red cherry or grape tomatoes in this recipe. Yellow provides the best contrasting color, but red will also work for a different look. You want to try and purchase tomatoes that are bite-sized for best results. Larger tomatoes will need to be cut into bite sized pieces.
Where can I buy Mozzarella balls?
Most grocery stores in the United States will sell mozzarella balls in their fresh cheese section in round plastic containers or air sealed bags. They will be located next to or near the other larger balls of fresh mozzarella cheese. Fresh mozzarella is generally located in a different section than bricks of mozzarella cheese and shredded cheese. The item you are looking for may be called mini mozzarella balls, bocconcini, or mozzarella pearls. Smaller mozzarella balls
Can I make Caprese Bites ahead of time?
Caprese bites are generally best consumed within 2-3 hours after making for the best presentation. The longer the caprese bites sit in the refrigerator, the more like it is for the basil to wilt and the mozzarella balls to dry out. When making ahead, be sure to store the bites in the refrigerator.