Braised Oxtails are fall-off-the-bone tender, with the most delicious, savory sauce. Serve them over a bed of mashed potatoes and a side of artisan bread and you are in for a serious treat!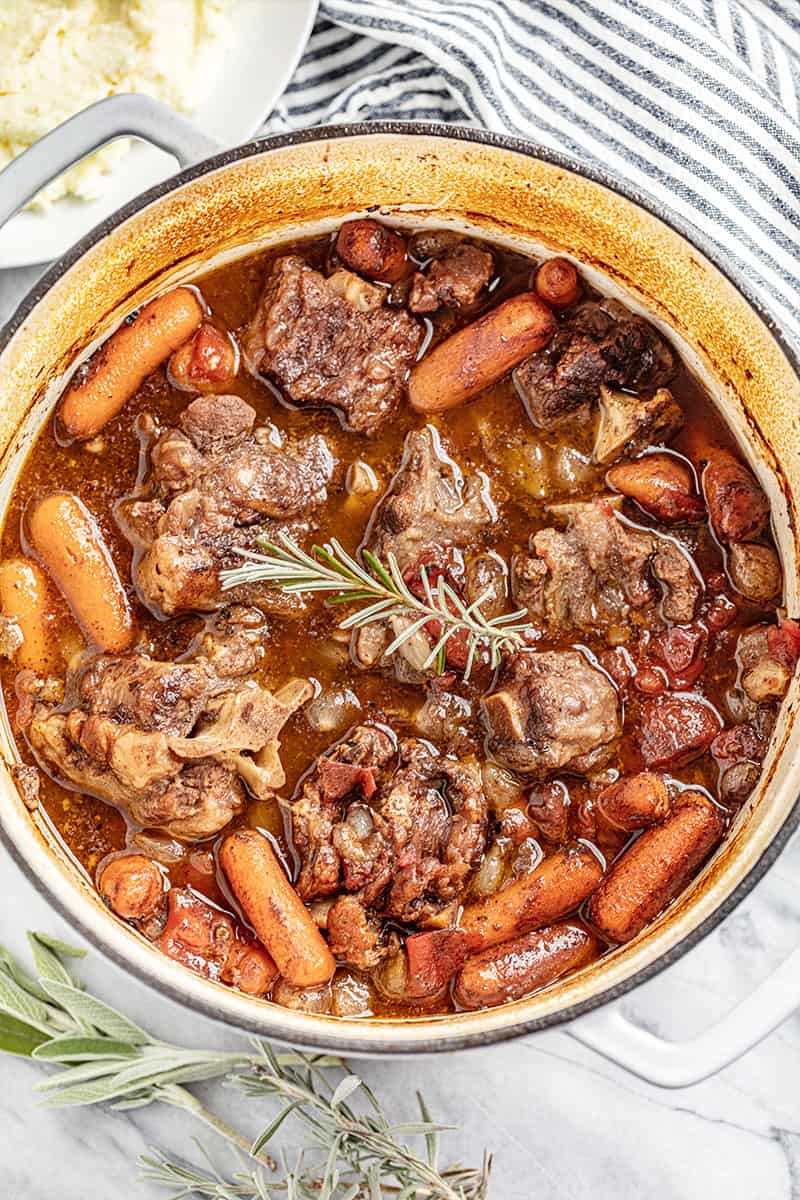 If you've never had braised oxtails before, you're going to want to sit down for this one, because you are in for a serious treat. Oxtail is probably not what comes to mind when you are looking for the most tender and flavorful cut of beef, so we are here to challenge your ideas of 'the best cut of beef.' We know, it is new and different, but it is worth taking the risk to try something new when the results are this amazingly delicious.
Oxtail comes from the tail of your common cow. It is honestly a tougher cut of meat, which is why we braise it and cook it low and slow. The result? Fall-off-the-bone tender beef with the most savory sauce left behind. Pair this with a bed of mashed potatoes to soak up all of that sauce, and you will be in food heaven. Pick up that phone and call your butcher today, because you're serving oxtails tonight!
Can I add red wine to the sauce?

Yes, adding red wine is a popular option for braised oxtails. If you want to add red wine, reduce the amount of beef broth called for down to 1 cup, and add 1 cup of red wine to the recipe. It doesn't really matter what type of red wine you use, so long as it is a high enough quality wine that you would drink it.

What should I serve with braised oxtails?

Mashed potatoes is always our first choice. There's nothing better than soaking up that sauce with mashed potatoes. However, you can also serve it over white rice. We also recommend an artisan, crusty bread to dip into your sauce.

Storage and Reheating Instructions:

Store leftovers in the fridge in an airtight container for up to 5 days. To keep the meat tender, you'll want to avoid using the microwave and instead reheat in an oven preheated to 300 degrees until warmed through.
If you like this recipe, you may be interested in these other delicious beef recipes: