Baked spaghetti is a perfectly delicious cheesy and meaty pasta dish — turned casserole! Make it ahead of time and you've got dinner sorted! It's the ultimate quick and easy meal that can be made in advance.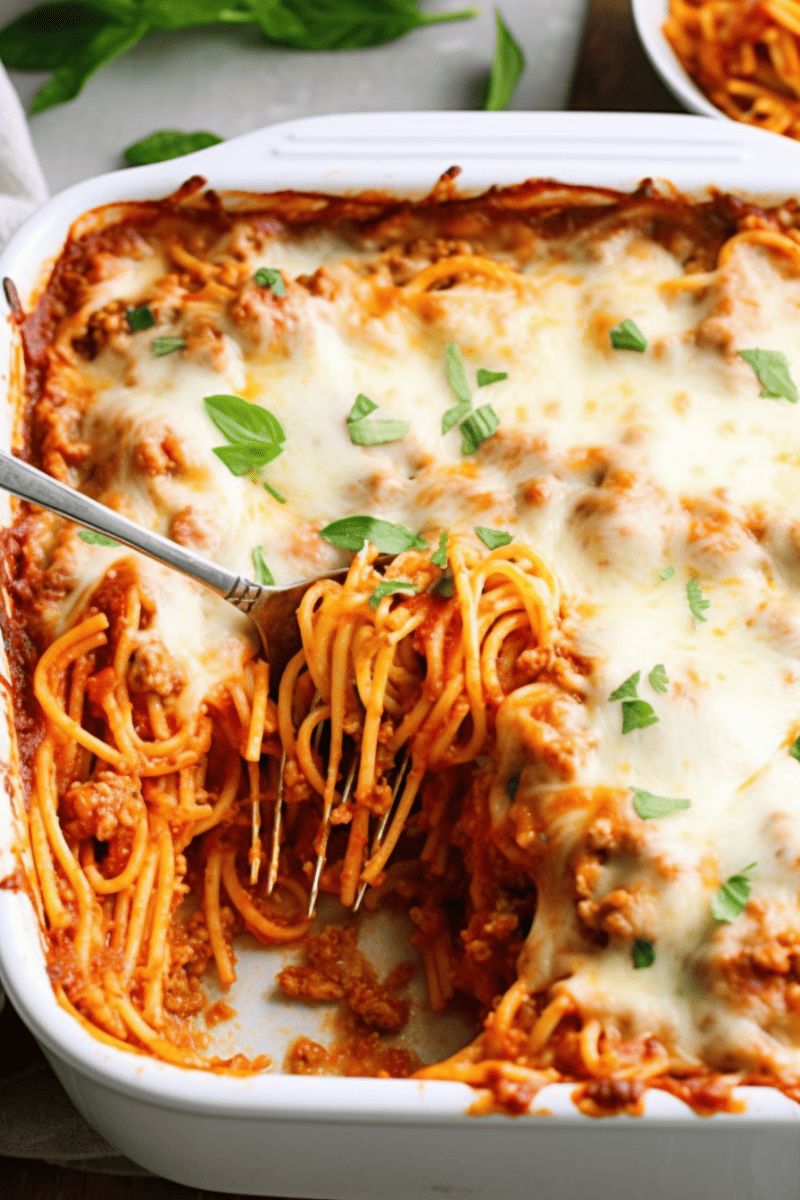 Who didn't grow up on spaghetti? It's a childhood classic. Now that we're grown with our own kitchen, we understand why our parents loved it so much: it's easy to make, filling, and delicious! We took our perfect pasta with sauce recipe and turned it into this amazing casserole — it's an easy baked spaghetti dish that the whole family will love! Baking it involves loading on a bunch of yummy Parmesan and mozzarella which makes the whole thing ooey and gooey with cheese. Otherwise, this dish comes together just as easily as your favorite pasta dish! The best part? When you have a bit of free time over the weekend, you can make it in advance. Everyone loves a meal that you can pull out of the fridge (or freezer) and just pop in the oven!
Pasta Options:
We opt for (of course) spaghetti for this cheesy baked spaghetti dish. That said, you can also use:
Just make sure to cook it al dente for the best results!
Meat Options:
We add ground beef to make this recipe even heartier. You can also use:
Italian sausage
Ground chicken
Ground turkey
Plant-based ground meat substitute
Don't be afraid to experiment and make this pasta main dish recipe your own!
Sauce Add-On Options:
You can use our easy baked spaghetti as a base for your creations. That means that you can feel free to add in some additional ingredients if desired! We love the idea of mixing in some:
Mushrooms
Zucchini
Bell peppers
Broccoli
Black or green olives
Do You Bake Pasta Covered Or Uncovered?
For this cheesy baked spaghetti recipe, uncovered! After you've prepared your sauce and pasta of choice, you're going to want to bake it uncovered for 20 minutes. If you do cover it, you risk ending up with a cheesy mess. You also want to cheese to brown a bit on top, which can't be achieved if it's covered!
Troubleshooting: How Do You Keep Baked Spaghetti From Drying Out?
This is where salting your water can really help! You've probably noticed that many, if not all, good pasta recipes ask you to generously salt your water. This helps to keep your easy baked spaghetti from drying out after it's been baked in the oven.
Serving Suggestions:
This dish is a complete meal on its own, but if you want to serve it with some additional sides, we think the following would go wonderfully with this yummy pasta: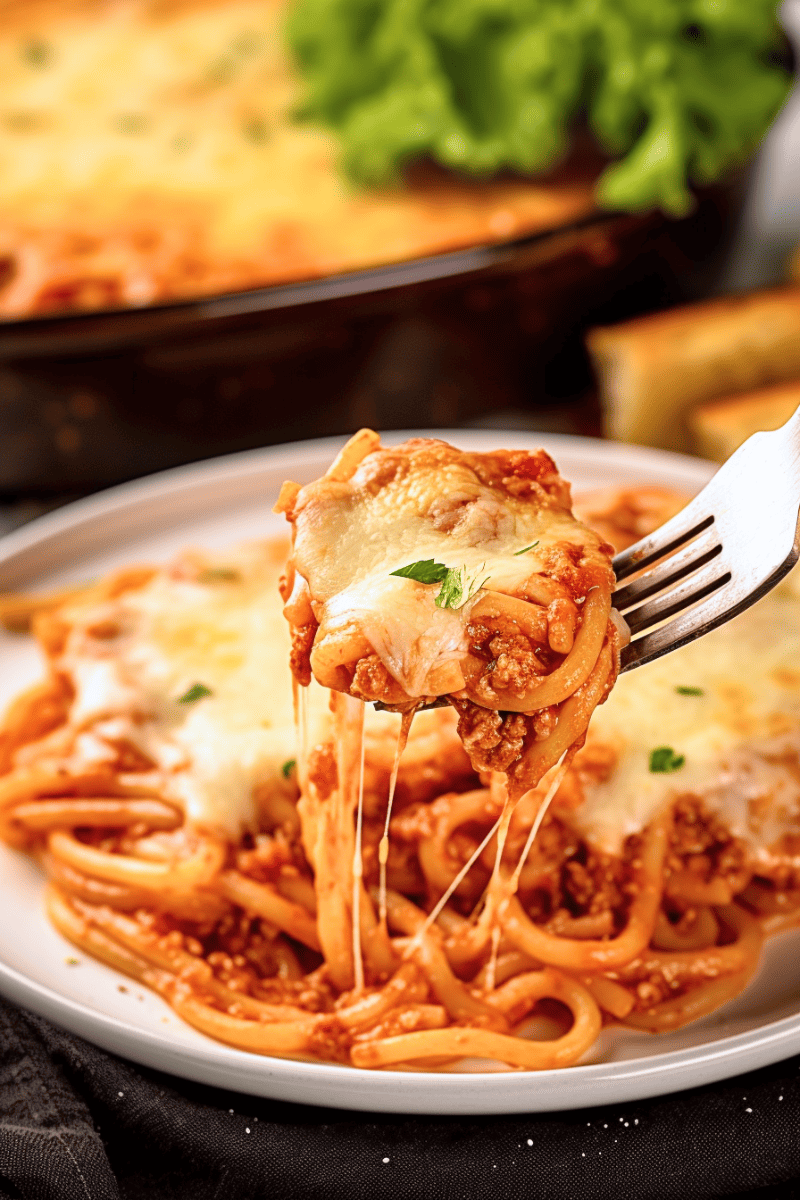 Freezing and Make-Ahead Instructions
We already briefly mentioned that you can make this dish ahead of time. Once it's been baked, it will keep in the fridge for 3 to 4 days. You can reheat it in the oven at 350 degrees F for about 15-20 minutes or until warmed through. You can also easily freeze our cheesy baked spaghetti! Make sure to let it cool completely before you place it in the freezer. You may consider baking it in an aluminum baking dish as it makes storing it easier! It will keep up to 3 months. Let it thaw in the fridge overnight, then follow the reheating instructions above.
Storage and Reheating Instructions:
Store your leftover cheesy baked spaghetti in the fridge in an airtight container. Again, it will keep for 3-4 days. Follow the directions above to reheat it! You can also reheat single portions in the microwave at 30-second increments until it is heated through.
If you like this recipe, you may be interested in these other delicious pasta recipes: