Almond Poppyseed Pancakes are a twist on my favorite pancake recipe. Buttermilk pancakes with almond extract and poppy seeds make for the best breakfast. Add some scrambled eggs and bacon to the menu and you have a breakfast feast!
We love the flavors of almond poppy seed, so we decided to take our go-to pancake recipe and turn it into an almond poppy seed pancake. Oh my! It hit the spot and calmed all of the cravings. These pancakes are buttermilk pancakes. They are nice and fluffy and make for a delicious pancake.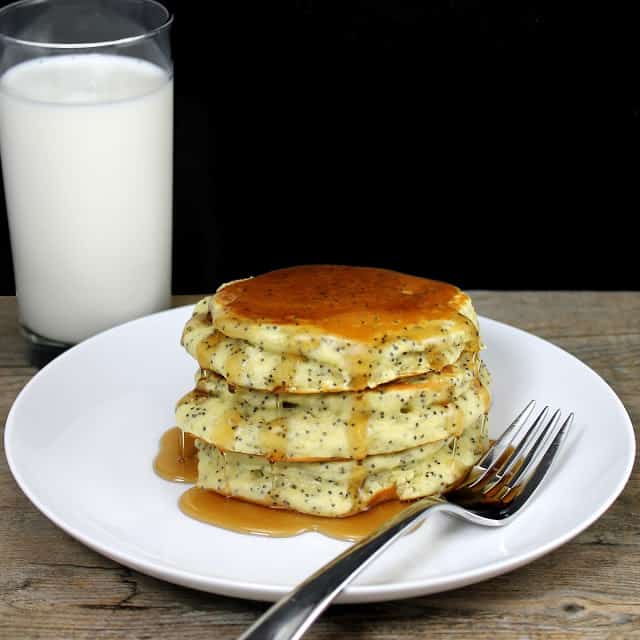 Did you know that you can easily make a buttermilk substitute to use in all of your favorite buttermilk pancake, waffle, or really any recipe? Simply combine 1 Tablespoon of vinegar or lemon juice per 1 cup of milk and let sit for 5 minutes. Buttermilk is traditionally the liquid left behind after making butter, so while this method of making your own isn't actual buttermilk, it is still a wonderful substitute.
Can I freeze Almond Poppyseed Pancakes?

Yes! Pancakes freeze wonderfully, including these. After you have finished cooking all of your pancakes, let them cool and then place in a resealable plastic bag with parchment or wax paper between each layer for easy removal and freeze for up to 2 months. 

Can I make the batter ahead of time? 

You can easily make the batter the night before. Just cover the bowl with plastic wrap and stick in the fridge until you're ready to use. 

Reheating Instructions:

To reheat pancakes, you have a couple of options. You can reheat in the microwave, but I find pancakes just get soggy in the microwave. For best results, reheat pancakes in a toaster or toaster oven if they are too large to fit in your toaster. This will keep the outside slightly crisp.