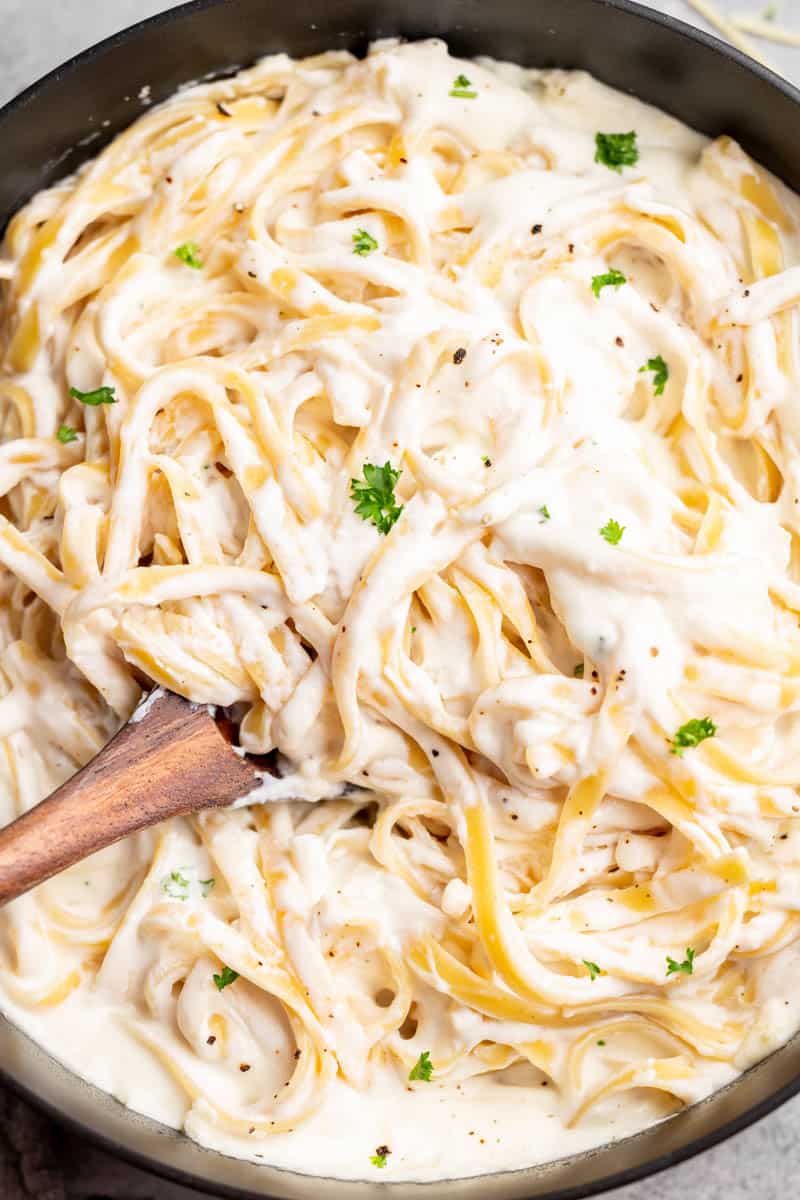 Elevate your pasta with this easy-to-follow creamy Alfredo sauce recipe. Perfect for anyone looking to add a touch of homemade flavor to their favorite pasta dishes – you'll feel like a pro chef in no time.
Homemade Alfredo sauce is quick, easy, and incredibly delicious. With just a handful of simple ingredients, you can create a sauce that's rich, creamy, and packed with flavor. One of the best things about this recipe is that it's incredibly versatile, making it perfect for use as a pasta sauce, dipping sauce, or even as a pizza sauce. While this recipe is not difficult, it can take a little practice to get it just right. Don't be discouraged if your first attempt isn't perfect. With a little patience you'll soon be making Alfredo sauce like a pro! This is sure to be a hit with your family and friends, and it's the perfect way to add some extra flavor to your favorite pasta dishes.
Chef's Note
Originally, Alfredo was made with just pasta, butter, and parmesan. It's evolved over the years, and the Alfredo sauces that you find at the grocery store, as well as at many restaurants are more of a bechamel-based sauce. This recipe is not the original Alfredo, but rather part of the evolution of Alfredo sauces. It is meant to be creamy, comforting, a little indulgent, and super easy to make.
Use Quality Ingredients
To make this Alfredo sauce, it's important to use real butter and half and half. Substitutes such as margarine or milk will not yield the same results. The richness and creaminess of real butter and half and half are what make this sauce so delicious. Don't skimp on the quality of your ingredients!
Frequently Asked Questions
Can I use milk instead of half and half?
While you can use milk as a substitute for half and half, the resulting sauce will not be as rich and creamy. You can always substitute with whole milk, but the sauce will not have the same texture and flavor as when made with half and half.
Can I use a different type of cheese instead of parmesan?
Parmesan cheese is the traditional cheese used in Alfredo sauce, but you can experiment with other hard, salty cheeses if you prefer. Asiago or pecorino romano can be good substitutes for parmesan, but be aware that the flavor and texture of the sauce may be slightly different.
How can I thicken the sauce if it's too thin?
If your Alfredo sauce is too thin, you can add a little more grated parmesan cheese or let it simmer for a few more minutes to reduce and thicken. Alternatively, you can mix a small amount of cornstarch with cold water and whisk it into the sauce while it's simmering to help it thicken.
Can I make Alfredo sauce ahead of time and reheat it later?
Yes, you can make Alfredo sauce ahead of time and reheat it later. Store the sauce in an airtight container in the refrigerator for up to 4 days. When ready to reheat, warm the sauce gently on the stovetop, stirring occasionally until it's heated through.
How can I thin the sauce if it is too thick?
If your Alfredo sauce is too thick, you can add chicken broth to thin it out.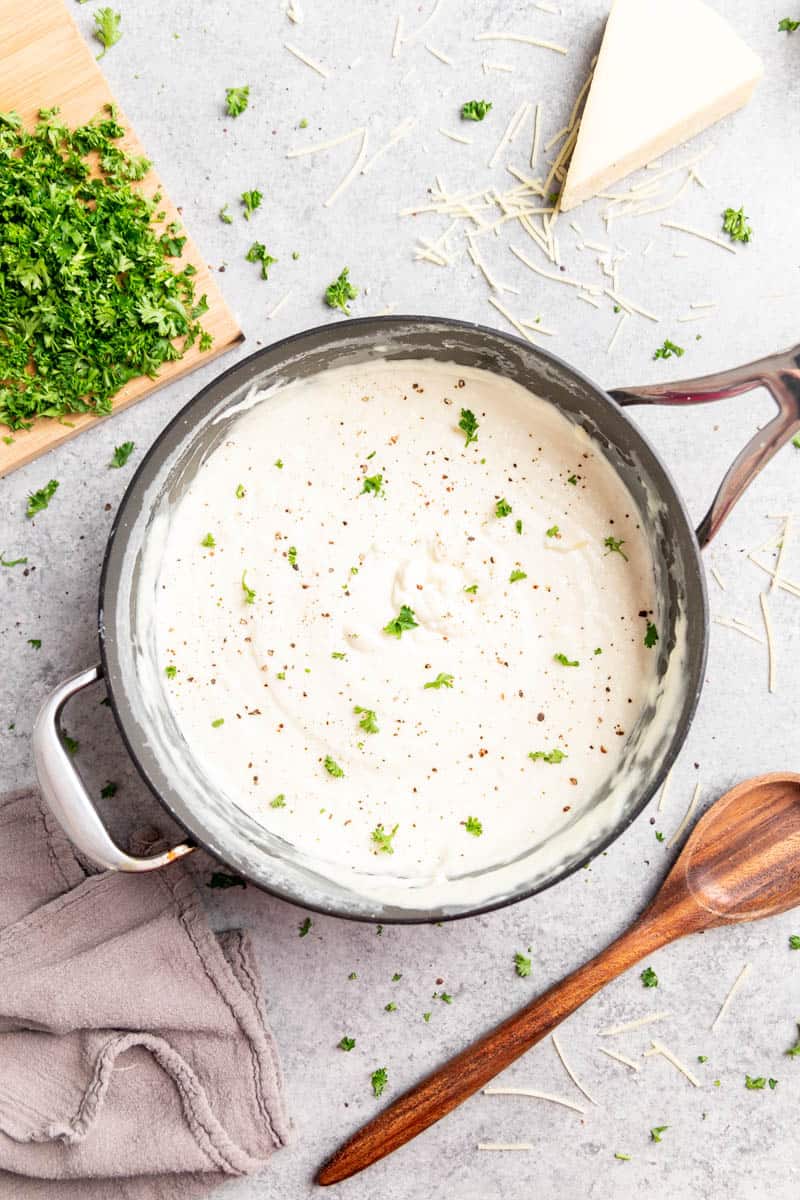 Storage & Reheating Instructions
Leftover Alfredo sauce can be stored in an airtight container in the refrigerator for up to 3 days. To reheat, simply microwave or warm on the stove over low heat, stirring frequently.
More classic pasta sauces…