Tired of soggy, store-bought chicken nuggets? Upgrade to our homemade Air Fryer Chicken Nuggets recipe! Crispy, juicy, and made with simple ingredients, these nuggets are sure to be a hit with the whole family. And for those who love a little heat, we even have a spicy option!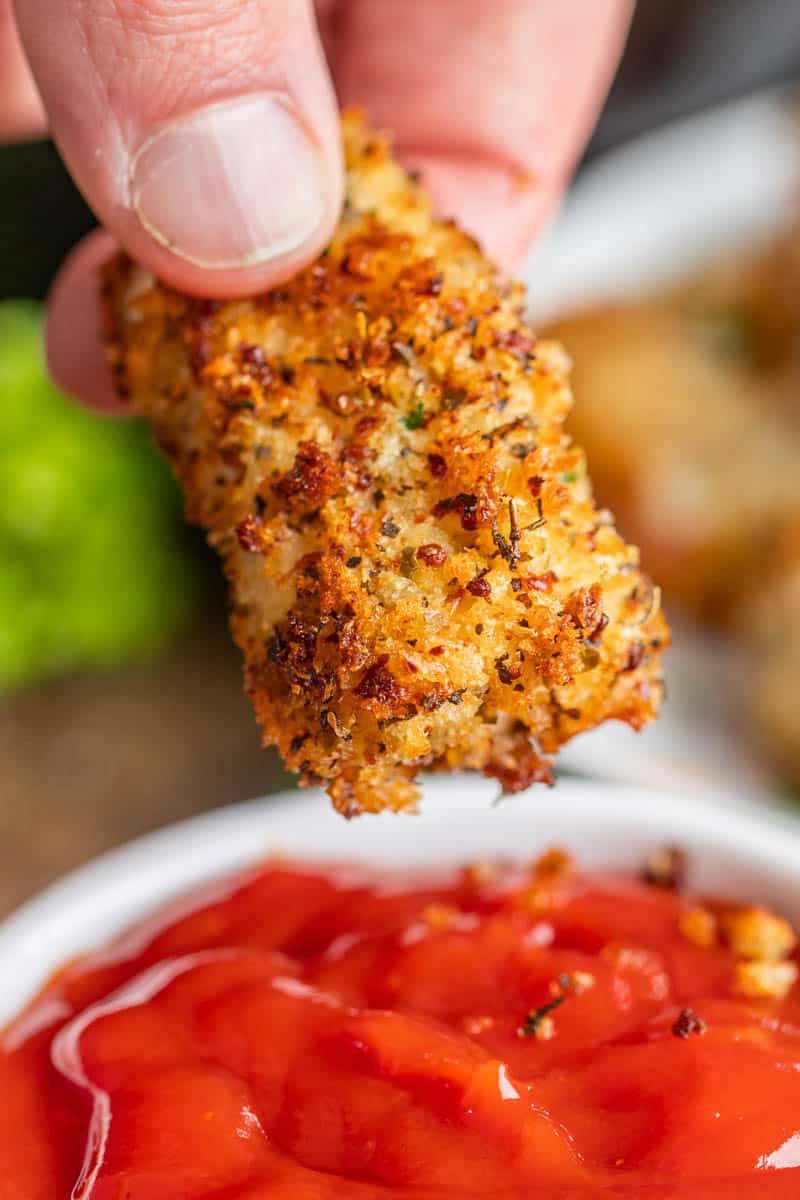 Craving some crispy, juicy chicken nuggets but don't want to leave the house or wait in a long drive-thru line? These homemade chicken nuggets are the perfect solution! Made with simple ingredients and cooked in an air fryer, these nuggets are ready in just minutes and taste even better than the drive-thru version. Plus, you can customize them to your liking by adding hot sauce for a spicy kick or using plain bread crumbs for a different texture. This recipe is perfect for busy weeknights, feeding a crowd, or satisfying that comfort food craving.
Cooking with an Air Fryer
An air fryer is a kitchen appliance that uses hot air and a small amount of oil to cook food, resulting in a crispy and delicious finish. This cooking method allows you to achieve the same crispy texture as deep-frying, but with less oil and fat. This makes air frying a healthier alternative to traditional deep-frying.
You can use either a drawer pull-style of air fryer or a countertop toaster oven-style air fryer for this recipe. Drawer pull-style air fryers are typically larger and have a drawer that pulls out, where the food is cooked. Countertop toaster oven-style air fryers have a more compact design and often have multiple functions, such as toasting, baking, and broiling, in addition to air frying. Both types of air fryers work well for this recipe, so it ultimately comes down to personal preference and the size of your kitchen.
It's important to note that when using an air fryer, it's best to use minimal oil and to avoid overcrowding the basket, as this can lead to uneven cooking. It's also important to shake or flip the food occasionally during cooking to ensure even crisping.
Substitutions
If you don't want to use melted butter, you can substitute 1/2 cup buttermilk for the melted butter. If you don't have panko bread crumbs on hand, you can use plain bread crumbs, but they will be less crunchy.
How long do I cook chicken nuggets in the air fryer?
Cooking time will vary depending on the size of your chicken nuggets and your desired level of doneness. In this recipe, the chicken nuggets are cooked for 8-9 minutes at 390-400°F, flipping them halfway through. It's important to check the internal temperature of the chicken to ensure that it has reached 165°F before eating.
Can I cook other foods in the air fryer with the chicken nuggets?
Yes, you can cook other foods in the air fryer with chicken nuggets. However, it's best to cook foods that have similar cook times together. For example, you can cook vegetables or French fries alongside chicken nuggets. Make sure that all of the foods you are cooking are in an even layer in the air fryer for best results, or use some of the air fryer accessories that allow for stacking different items.
Is it necessary to preheat the air fryer before cooking the chicken nuggets?
Yes, it is necessary to preheat the air fryer before cooking the chicken nuggets. This will ensure that the nuggets cook evenly and achieve the desired level of doneness. It's recommended to preheat the air fryer for at least 5 minutes before adding the chicken nuggets.
Can I use other types of breading for chicken nuggets?
Yes, you can use other types of breading for chicken nuggets. You can use regular breadcrumbs, gluten-free breadcrumbs, crushed cereal, or even cracker crumbs. You can also mix different types of breadcrumbs for a unique texture and flavor.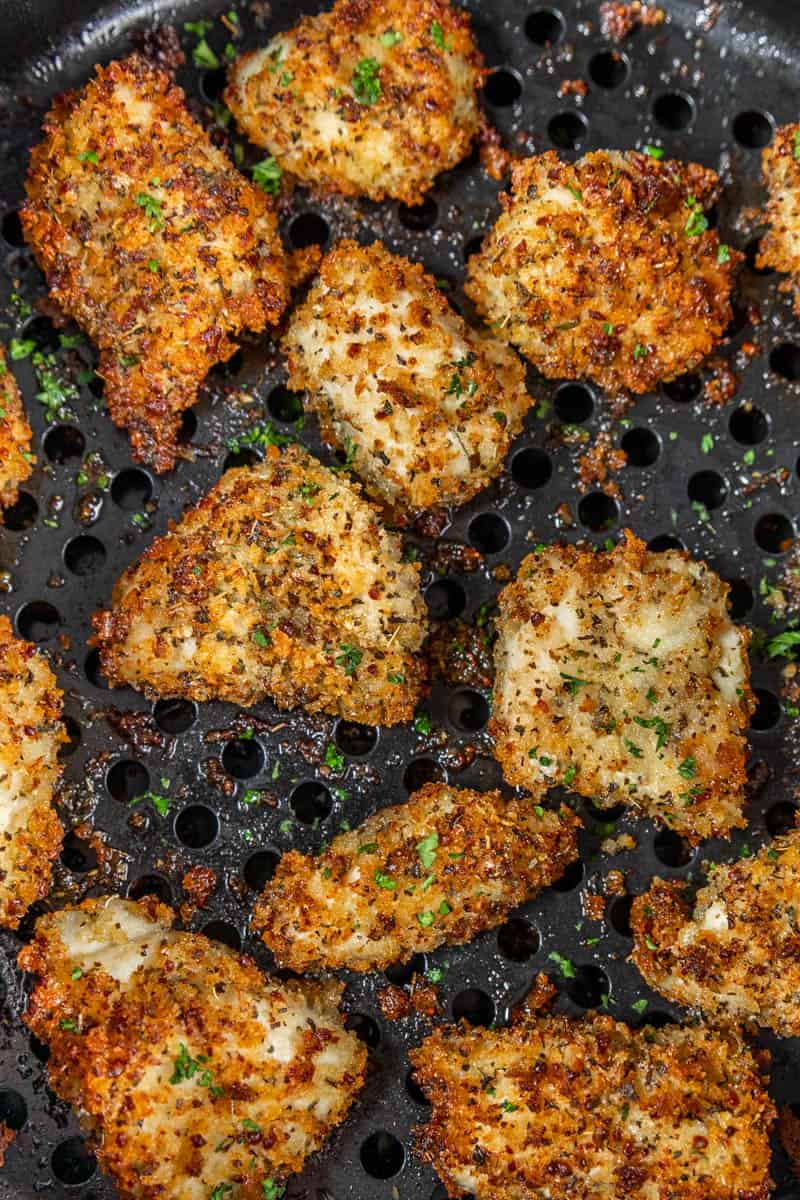 Storage and Reheating Instructions
Storage and Reheating These nuggets can be stored in an airtight container in the refrigerator for up to 3 days. To reheat, simply place them in the air fryer for 3-4 minutes at 390-400°F.
Freezer Instructions
Freezing Homemade Chicken Nuggets You can also freeze these nuggets after they have been coated. Simply place them on a baking sheet and freeze for 2-3 hours, or until solid. Then transfer the frozen nuggets to a resealable freezer bag and store for up to 3 months. When you're ready to cook them, add 3-4 minutes to the cook time.
Related Recipes
Love your air fryer? Check out more of our air fryer recipes!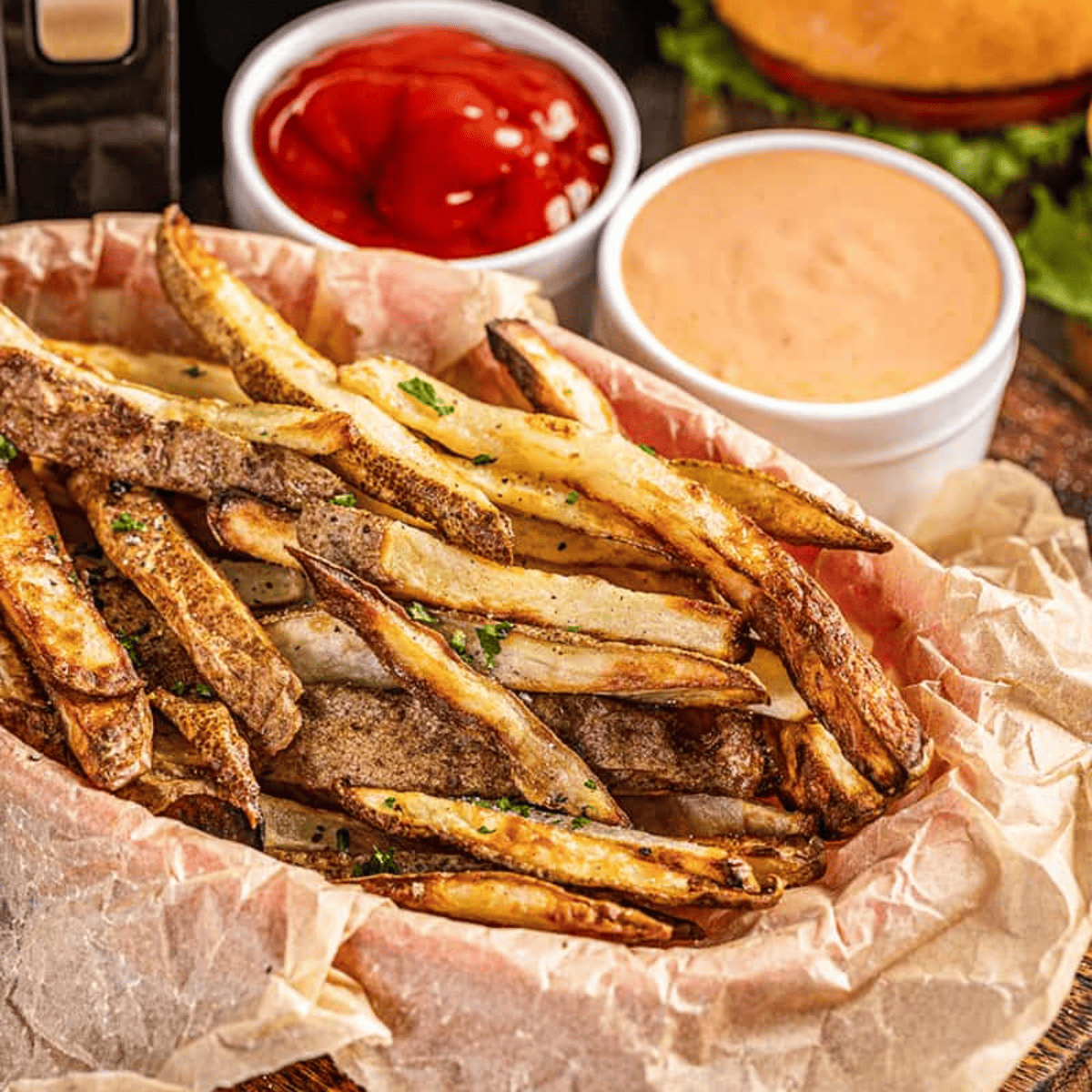 Simply click on any of the images above to be taken to the full written recipe and instructions.