This is the most beautiful charcuterie board you will ever see. Full of autumnal flavors, it features your favorite cheeses, cured meats, crackers or bread, and seasonal jelly — don't forget the nuts and fruit! It is a beautifully unique Thanksgiving appetizer that is almost too pretty to eat. Almost.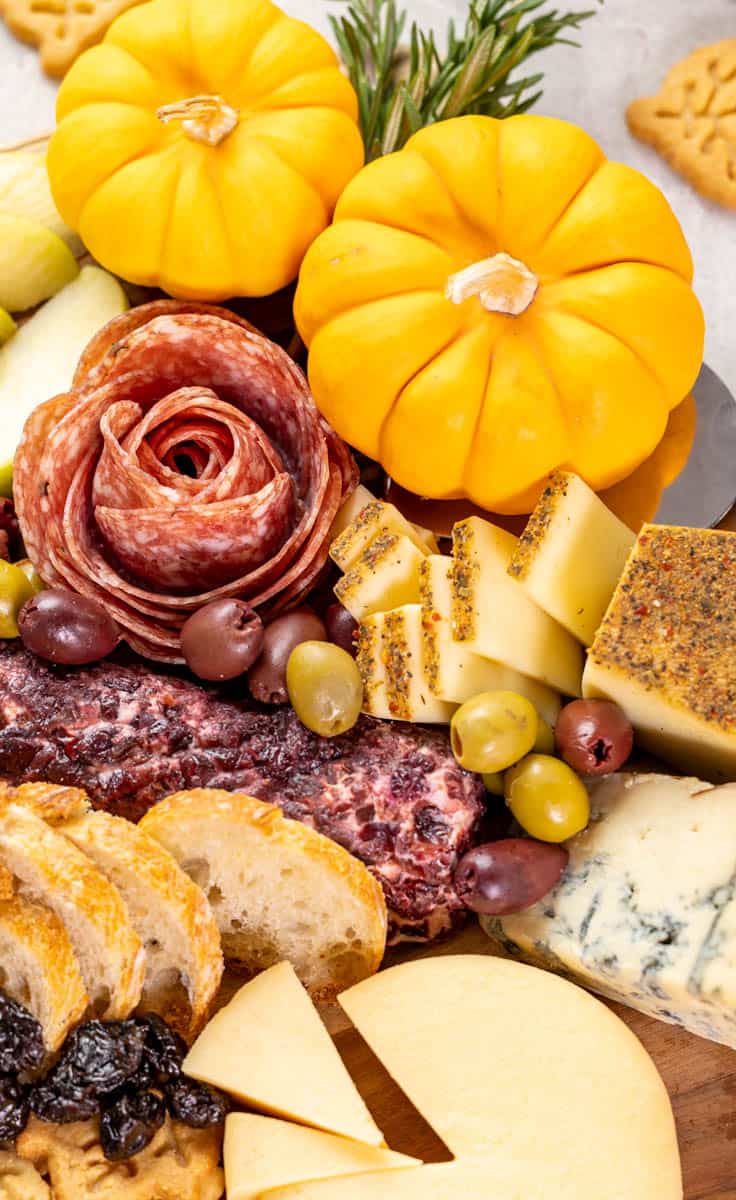 This holiday season is all about gathering with loved ones around the table for delightful conversations and delicious food — and boy have we missed it. The main dish and sides are always simple to choose: hello turkey, mashed potatoes, and green bean casserole. But, what do you serve when guests arrive a bit peckish? Charcuterie boards are always a favorite, especially when you give them a seasonal upgrade. You've likely already enjoyed a charcuterie board or two in your day, but this one is a bit different. It's full of fall flavors and is the perfect addition to any Thanksgiving table. Don't be surprised when your friends and family fill their plates — and bellies — with this favorite seasonal appetizer!
The Meat:
Charcuterie means cooked or cured meats in French. It makes sense — charcuterie boards of the past were made up of a wide selection of cured meats. Today, you'll see a lot of other ingredients used, but that doesn't make your choice of meat any less important. Some of our favorites to include on our Thanksgiving charcuterie board are:
Capicola
Salami
Pepperoni
Prosciutto
The Cheese:
These days, charcuterie boards are so much more than just meat. The other star of the show is clearly the cheese. There are so many different directions you can go with cheeses. Our advice? Make sure to have a few different types, ranging from hard to semi-soft to soft. Beyond the cheeses we used on our board, here are some other ideas to inspire you:
Pecorino
Aged white cheddar
Smoked gouda
Herbed Boursin
Mascarpone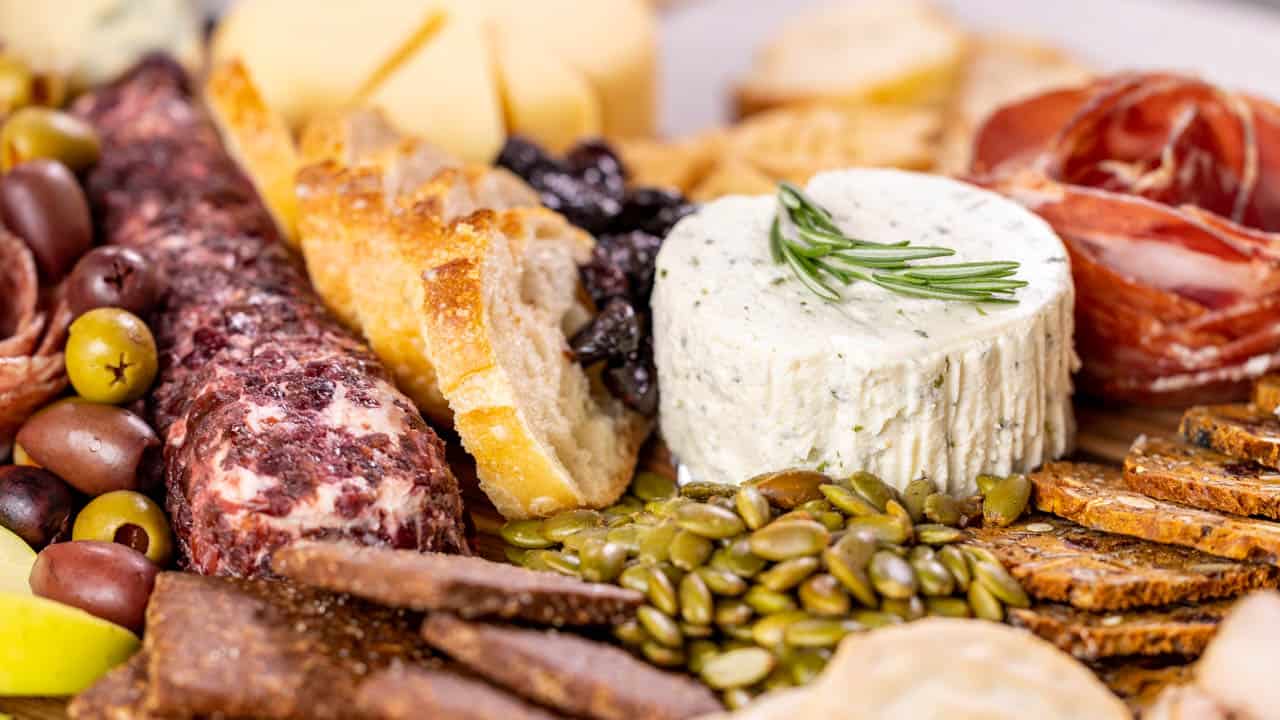 The Bread:
Use bread and an assortment of crackers as your base. You need something to spread those yummy cheeses and jellies on after all! Our Thanksgiving charcuterie board almost always includes:
Water crackers
Wheat Thins
Crostinis
Artisan crackers
The Seasonal Add-Ons:
Now that you have your meats, cheeses, and breads sorted, it's time to move on to some of the other add-ons. Seeds, nuts, fruit, and jellies are also important. Some seasonal suggestions include:
Pepper-pumpkin jelly
Pepitas
Cranberry jelly
Pears or figs
Honey
Thanksgiving Charcuterie Make-Ahead Instructions:
Feel free to set up your charcuterie board for Thanksgiving up to 24 hours in advance if you want to save a little time. Arrange your meats and cheese, tightly wrap the board in plastic wrap, and place it in the fridge. Determine which type of bread and crackers you want to serve, although it's best to cut any bread and take the crackers out of the package right before serving. The same goes for the sliced fresh fruit — hold off on cutting anything up until Thanksgiving day.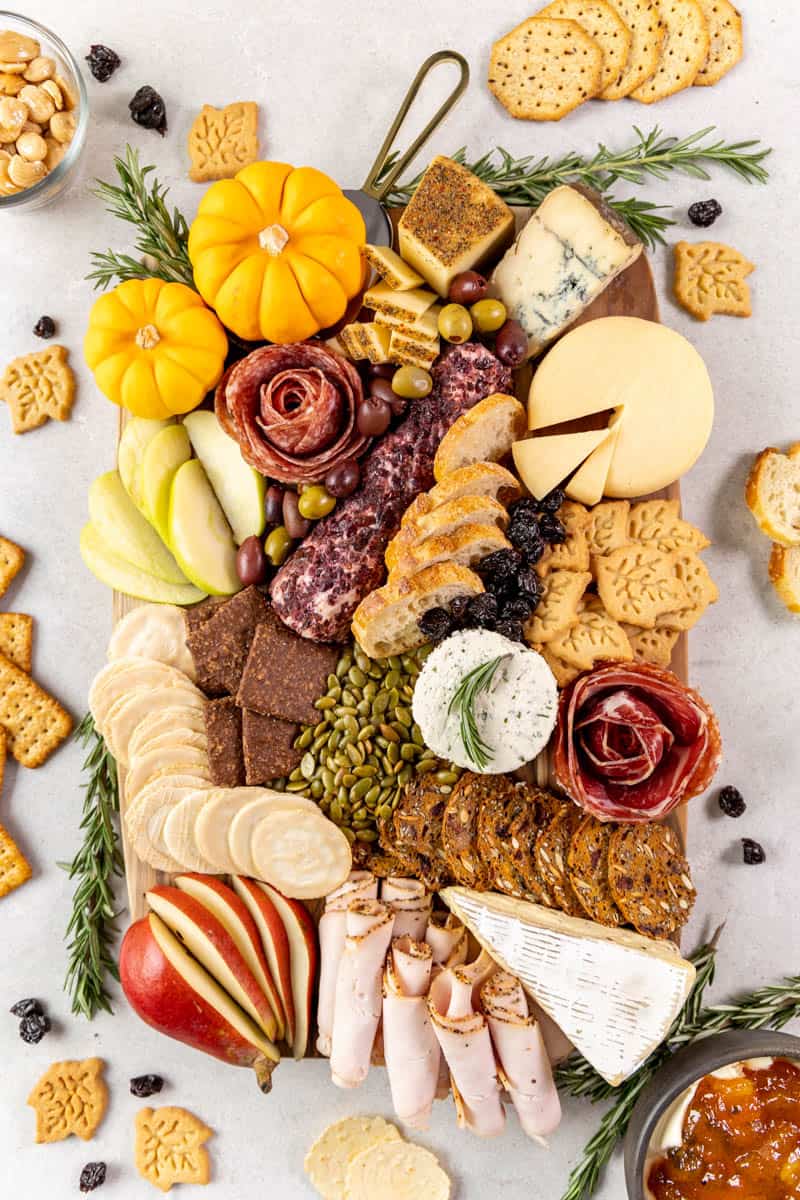 Storage Instructions:
If you have any leftovers from your Thanksgiving charcuterie board, you can store the ingredients in airtight containers in the fridge. It's best to use the meat and cheese within 24 hours — however, if your board was left out for more than 2 hours, you have already run the risk of spoilage and should toss any leftovers. We recommend that you store any jellies or fruit separately, and be aware that sliced fruit tends to brown if you don't use it almost immediately. Tightly wrap any leftover bread or crackers in plastic wrap.
If you like this recipe, you may be interested in these other delicious Thanksgiving recipes: