Grandma's Strawberry Pretzel Salad has a salty, crunchy pretzel crust with a homemade whipped cream and cream cheese layer and strawberry jello. It is so easy to make and oh so heavenly.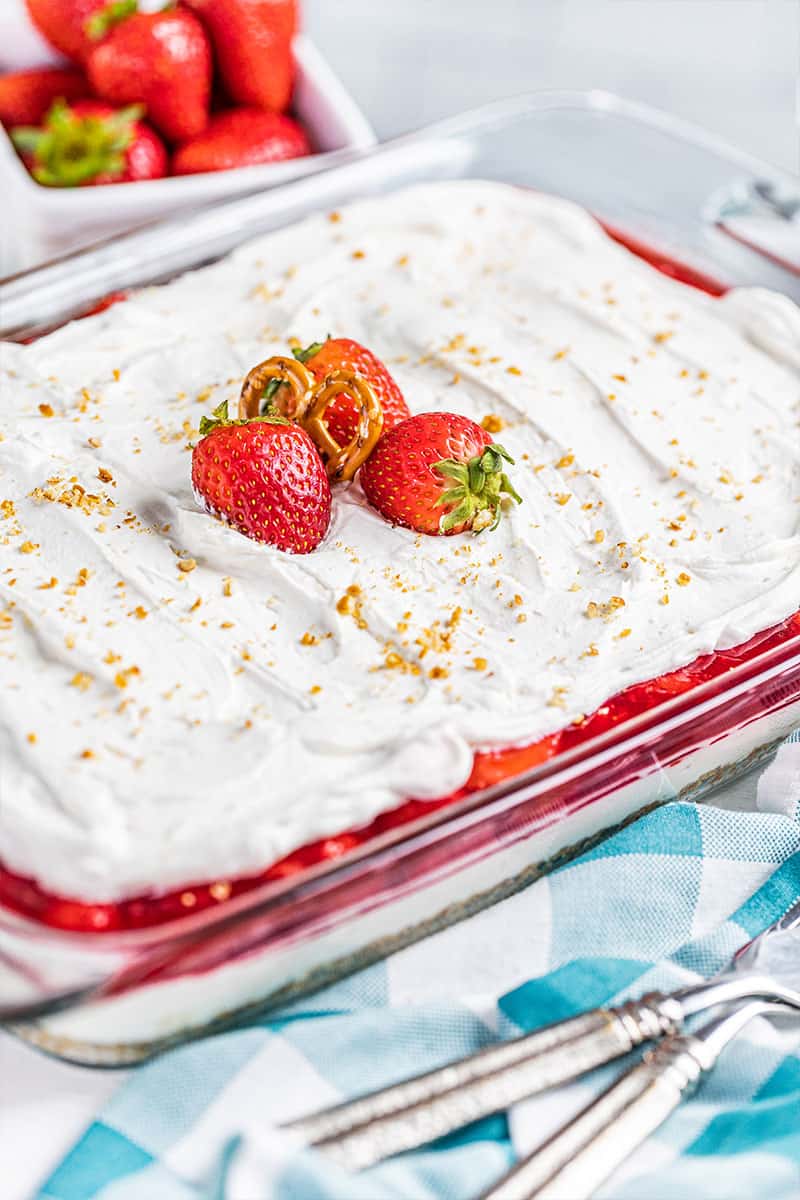 This is unlike any salad you've ever had. We struggle to even call it salad, but I guess we're going with it. If we call it salad, that means it's healthy, right? In our home, everything can be healthy and nothing is off limits! Even desserts that we pretend are a salad. This is great to bring to a party, or just a fun, after dinner dessert to surprise your family. It's always a hit, because whipped cream, cream cheese, and jello are just a delightful combination. Add in that salty, pretzel crunch and we are in heaven. You're going to love this dessert…er, we mean salad. Promise.
Strawberries:
You can use either frozen or fresh strawberries in this recipe. In the middle of summer when they are in abundance, we love to use fresh strawberries. The rest of the year, we stick with frozen. If you opt for fresh, be sure to let your jello mixture cool before incorporating them.
Fruit Options in Grandma's Strawberry Pretzel Salad:
You really don't have to stick with strawberries in this recipe. Prefer raspberries? Go for it! Peaches would be equally amazing. Feel free to experiment with other substitutes, or even add more in addition to the strawberries.
Whipped Cream and Cream Cheese Layer:
You absolutely need to make sure you have spread this layer thick across the entire crust, without any holes or missing gaps. Trust us, you do not want a soggy pretzel crust because jello fell through to the bottom.
Whipped Cream Substitute:
We love this dessert with a from-scratch whipped cream, however, we know you all love choices. If you like, you can substitute the cream, sugar, and vanilla with an 8-ounce tub of Cool Whip.
Crust Options:
We think nothing is better than this pretzel crust, but if you prefer, you can substitute crushed pretzels with crushed graham crackers to make a graham cracker crust.
Pouring Tip:
Make sure to pour that jello mixture gently over the creamy layer to avoid creating indents and holes in that creamy layer.
Make Ahead Instructions:
You can easily make this dish up to 24 hours ahead of time. It keeps well in the refrigerator, covered, for up to 4 days. Do not freeze.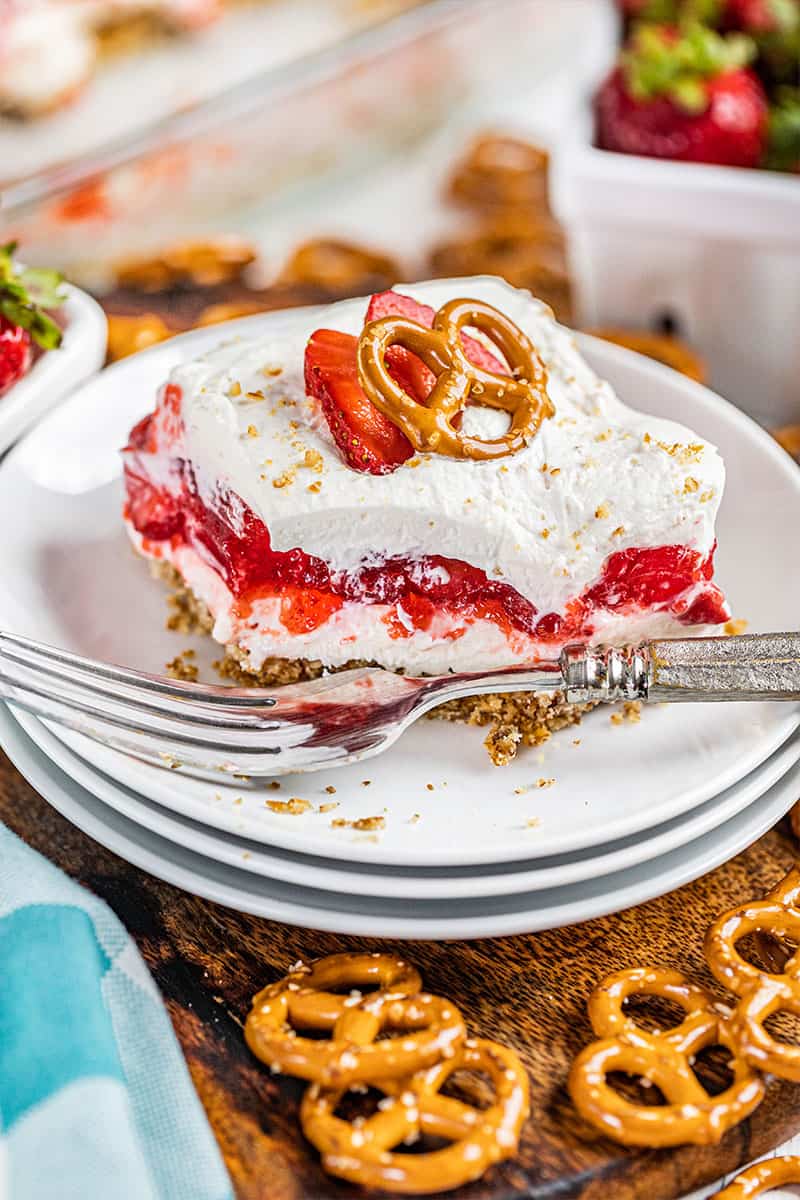 Storage Instructions:
Store this in an airtight container in the refrigerator for up to 4 days.
If you like this recipe, you may be interested in these other delicious dessert recipes:
Watch the video below where Caytlin will walk you through every step of this recipe. Sometimes it helps to have a visual, and we've always got you covered with our cooking show. You can find the complete collection of recipes on YouTube, Facebook Watch, or our Facebook Page, or right here on our website with their corresponding recipes.