Featuring a buttery and flaky shortbread crust, a chewy and tart raspberry center, and a crunchy and crumbly streusel topping, our raspberry streusel dessert bars are decadent and tasty! They'll be all gobbled up before you know it.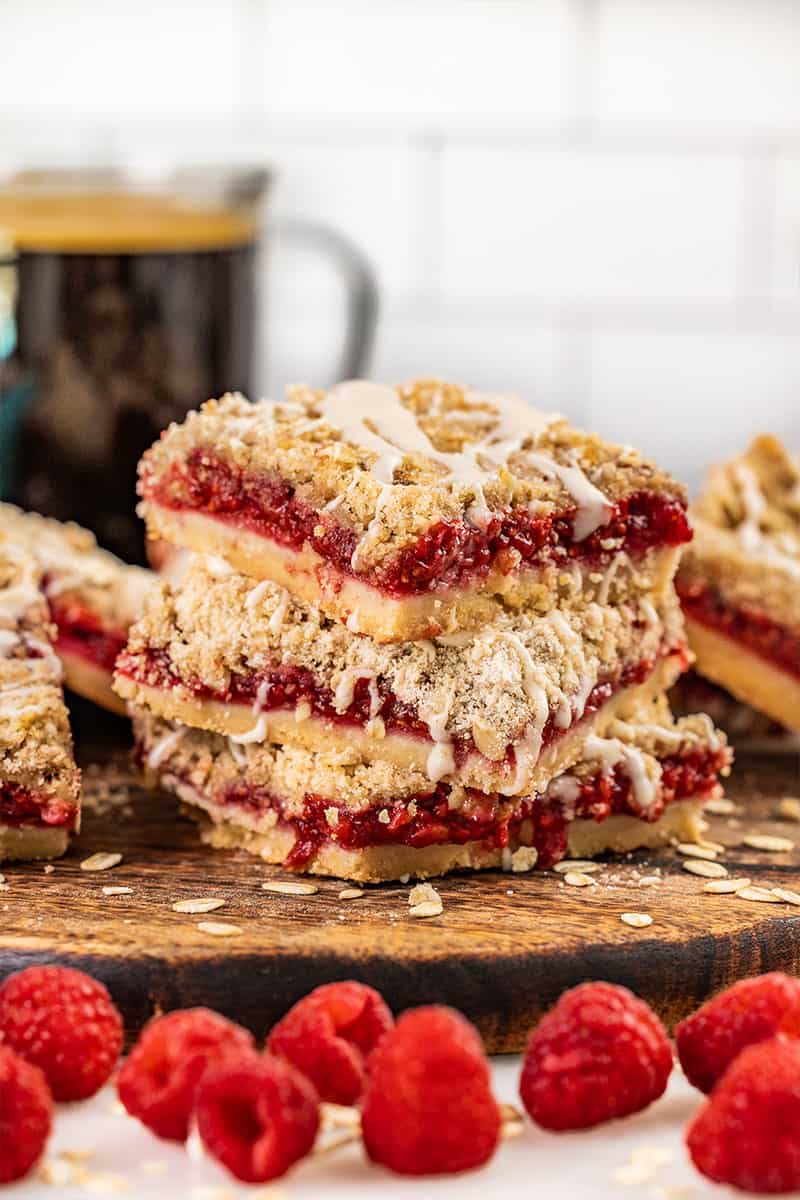 Our famous raspberry streusel dessert bars are famous for a reason: they're both sweet and tart, crunchy, buttery, fruity…the list goes on and on! Whenever we bring them along to a party or a bake sale, everyone is glad that we did. Even the pickiest eaters love this stuff! Slice them up and eat them with your hands for a portable raspberry streusel dessert that's sure to be a hit. You'll only need a handful of ingredients and a bit of time to pull these off. The recipe involves four steps: making the crust, creating the raspberry filling, adding on the streusel topping, and then topping everything off with the vanilla glaze. It may sound intimidating at first glance, but once you get going you'll find that it is actually pretty simple! If you intend to share, we recommend that you make a double batch of these easy dessert bars. Seriously — you'll be surprised at how addicting they are!
Are Raspberry Crumble Bars And Raspberry Streusel Bars The Same?
There are a lot of raspberry desserts out there that are quite similar. Although they may go by different names, the concept is the same: a flaky crust, raspberry filling, and a crumble or streusel topping. Streusel is often used interchangeably with crumble, but there is a big difference: streusel almost always features oats while crumbles do not. Now you know!
Equipment:
To make the shortbread crust, you can use a pastry cutter or a food processor. If you have one at home, we always prefer a food processor! It makes things so simple. You can also use it to create our special topping, the finishing touch to these easy dessert bars!
Baking Dish Options:
Our raspberry streusel bars are made in a 9×13 baking pan. If you want to make a smaller batch you can use a 9×9 pan instead. The cooking time will stay exactly the same. However, we recommend that you use the bigger pan! You'll definitely want to have the freedom to go back for seconds.
Can I Use Store Bought Raspberry Pie Filing?
If you're in a pinch for time, you can definitely use raspberry pie filling that comes from a can. But, we swear by our homemade raspberry filling for this recipe! You can also use fresh or frozen berries. If you do use frozen, make sure to thaw and drain them first.
Can I Make This Recipe Vegan?
We use quite a bit of salted butter in this recipe, but if you have a favorite plant-based substitute you can definitely give it a try! You'll need milk for the vanilla glaze as well, so replace it with almond, oat, or soy varieties instead.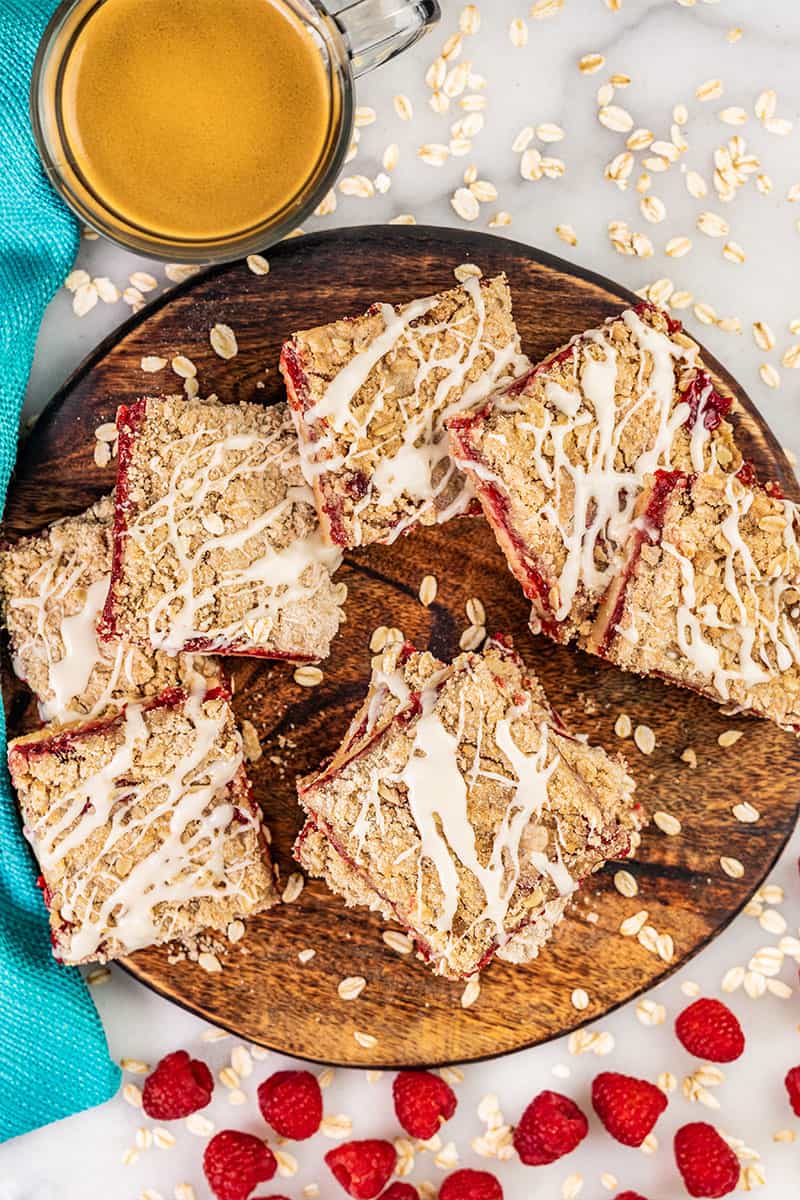 Freezing Instructions:
If you've got some extra time on your hands over the weekend and want to get some baking in, these easy dessert bars are also easy to freeze! Go through the baking process (but skip the glaze for now) and make sure to let your dish cool completely. Then, transfer the bars to a freezer-safe airtight container for storage. They will keep in the freezer for up to 3 months. When you're ready to eat them, be sure to let them thaw in the fridge overnight. You can either keep them chilled or you can reheat them in the oven at 350 degrees F for 10-15 minutes. Then, add your glaze!
Storage and Reheating Instructions:
If you have leftover raspberry streusel bars you can store them in an airtight container. You can place them in the fridge (where they will last longer) for up to 5 days. Alternatively, you can also keep them at room temperature for 1 to 2 days. We like eating these warmed up, at room temp, or even chilled! Feel free to enjoy them however you like. If you do like them warm, place single servings in the microwave and heat in 30-second increments until they reach the desired temperature.
If you like this recipe, you may be interested in these other delicious dessert bar recipes: