Spatchcock chicken gives you the most flavorful, juicy chicken and crispy skin, but for a fraction of the normal cooking time. We're giving you step-by-step instructions so you can spatchcock your chicken like a pro!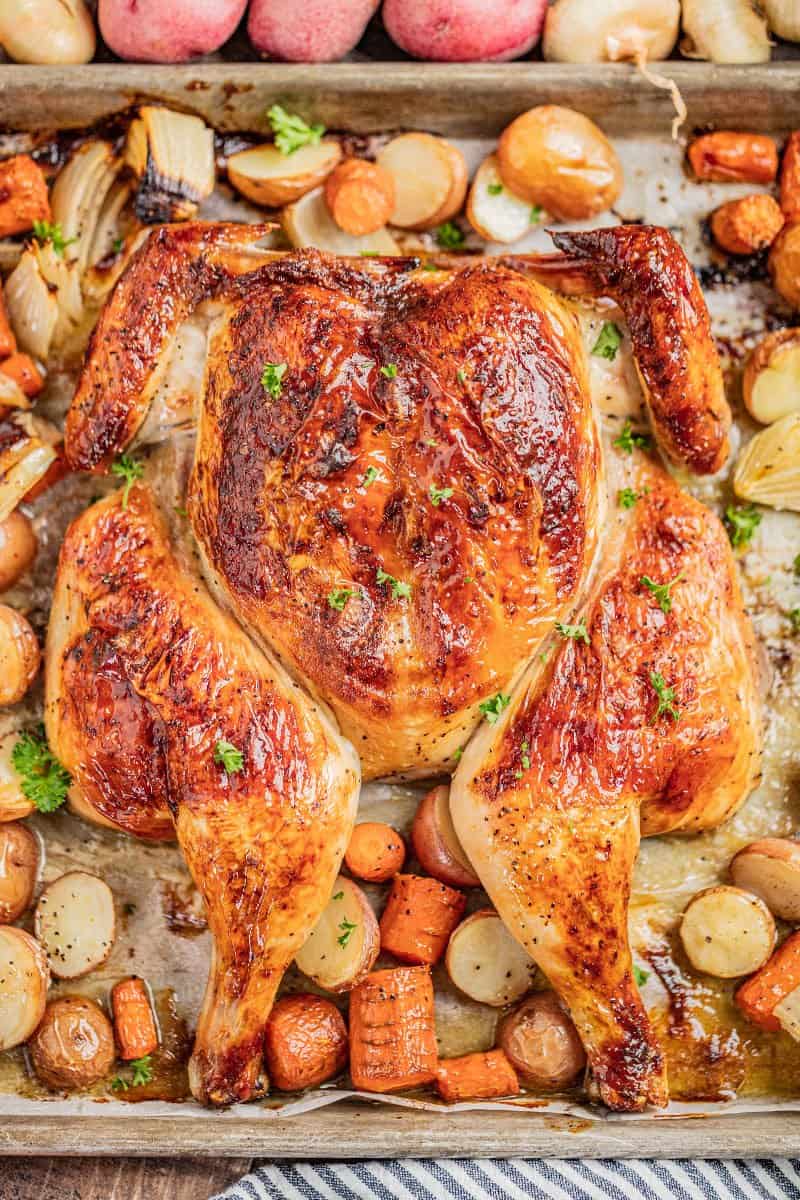 If spatchcocking is a foreign term to you, have no fear! This is a fairly simple way to prepare a whole chicken that drastically cuts down the cooking time! Roasting a whole chicken has always been a favorite dinner of ours, but it feels like it takes forever to cook, and we don't always set aside the time. Spatchcock chicken still gives you that amazing crispy skin and juicy meat, but this method cooks the chicken much more evenly. Just trust us and go with it, because you will be spatchcocking like a pro in no time!
Why spatchock chicken?
Spatchcocking chicken is a method of cutting poultry to remove the spine so that it lays flat for cooking. This lay-flat method allows for more even cooking and reduces the cooking time of a whole chicken by about 25%. The spatchcock method can be used for roasting poultry in the oven or cooking it on a grill or smoker.
Kitchen Shears:
This recipe requires a good pair of sharp kitchen shears in order to cut out the spine of the chicken. If you do not own a pair of kitchen shears, you can always use a serrated knife, though it is more difficult and you should be extremely careful.
Vegetables with Spatchcock Chicken:
The veggies are totally optional, and you could always just cook your chicken by itself. However, we love one pan cooking! It saves us from dirtying another baking dish or pan, so we highly recommend you make it easy on yourself and throw some veggies in!
When is the chicken ready?
Chicken needs to be cooked to an internal temperature of 165 degrees Fahrenheit in the thickest part of the bird. To ensure safe cooking without overcooking, we highly recommend using a digital meat thermometer.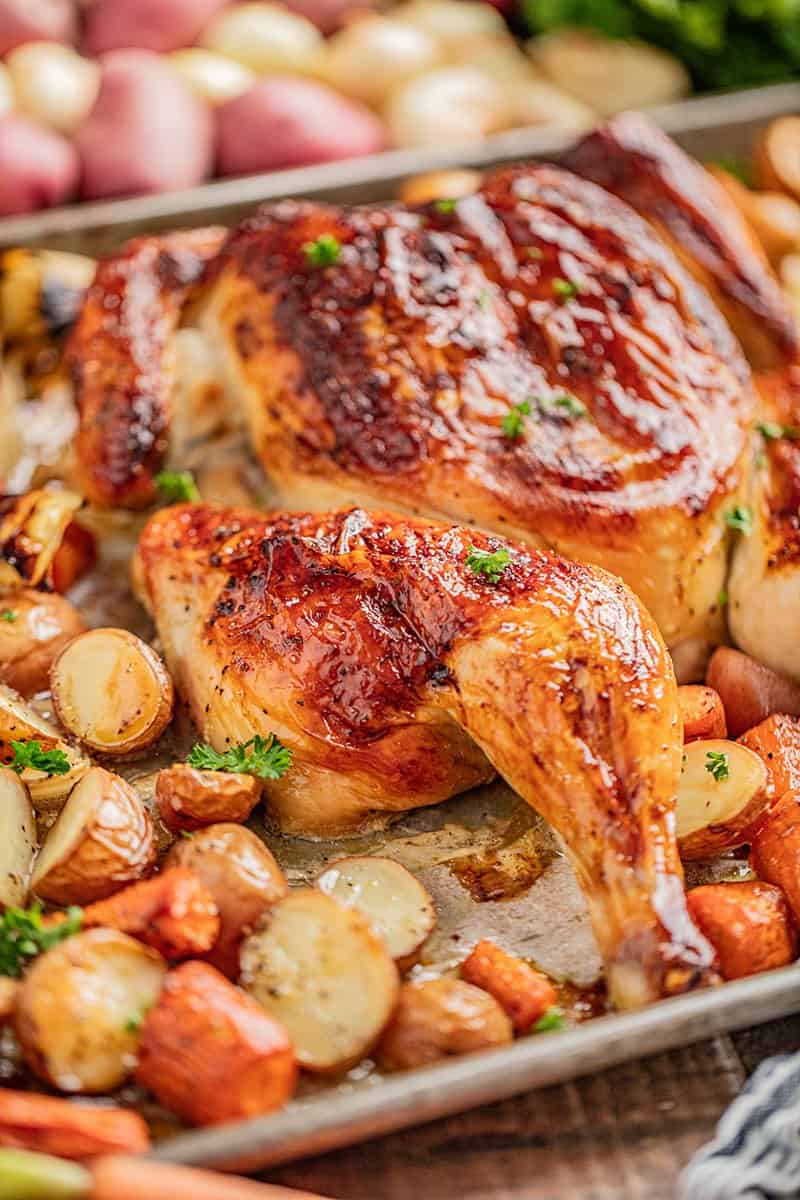 Grilling and Smoking Instructions:
Grilling: Preheat your gas or charcoal grill to 350 degrees Fahrenheit. Once the grill reaches temperature, adjust the heat source to create an indirect heat source for cooking. For gas, turn off the burners on one side of the grill where you can place your chicken and use the other burners to maintain heat. For gas, move the charcoals to one side to provide heat and allow for cooking on the other side of the grill. Place the chicken breast side up onto the indirect heat side of the grill. Close the lid and cook until chicken reaches an internal temperature of 165 degrees Fahrenheit, about 1 hour. For a crispier skin, finish the chicken by flipping and cooking breast side down over direct heat for 3 to 5 minutes to crisp.
Smoking: Preheat your smoker to 225 degrees Fahrenheit. Place spatchcocked chicken breast side up in the smoker. Close the lid and smoke until internal temperature reaches 165 degrees Fahrenheit, about 2 to 2 1/2 hours depending on the size of your chicken.
Storage and Reheating Instructions:
Store any remaining chicken pieces in an airtight container in the fridge for up to 5 days. Reheat in an oven preheated to 350 degrees Fahrenheit until warmed through, or in the microwave in 30 second increments until warmed through.
Is brining necessary?
We love how this buttermilk brine tenderizes the meat, and we know you will too. It is worth that extra time to brine! But, you can always skip the brining and season your chicken with your favorite rub, or one of ours. See below for other recipes using whole chicken.
If you like this recipe, you may be interested in these other delicious chicken recipes:
Watch the video below where Caytlin will walk you through every step of this recipe. Sometimes it helps to have a visual, and we've always got you covered with our cooking show. You can find the complete collection of recipes on YouTube, Facebook Watch, or our Facebook Page, or right here on our website with their corresponding recipes.