This Southern Style Chicken and Dumplings recipe is easy to make and full of old-fashioned goodness. Flat dumplings are mixed in with a delicious creamy chicken soup, that is sure to be a crowd pleaser. You're going to love it!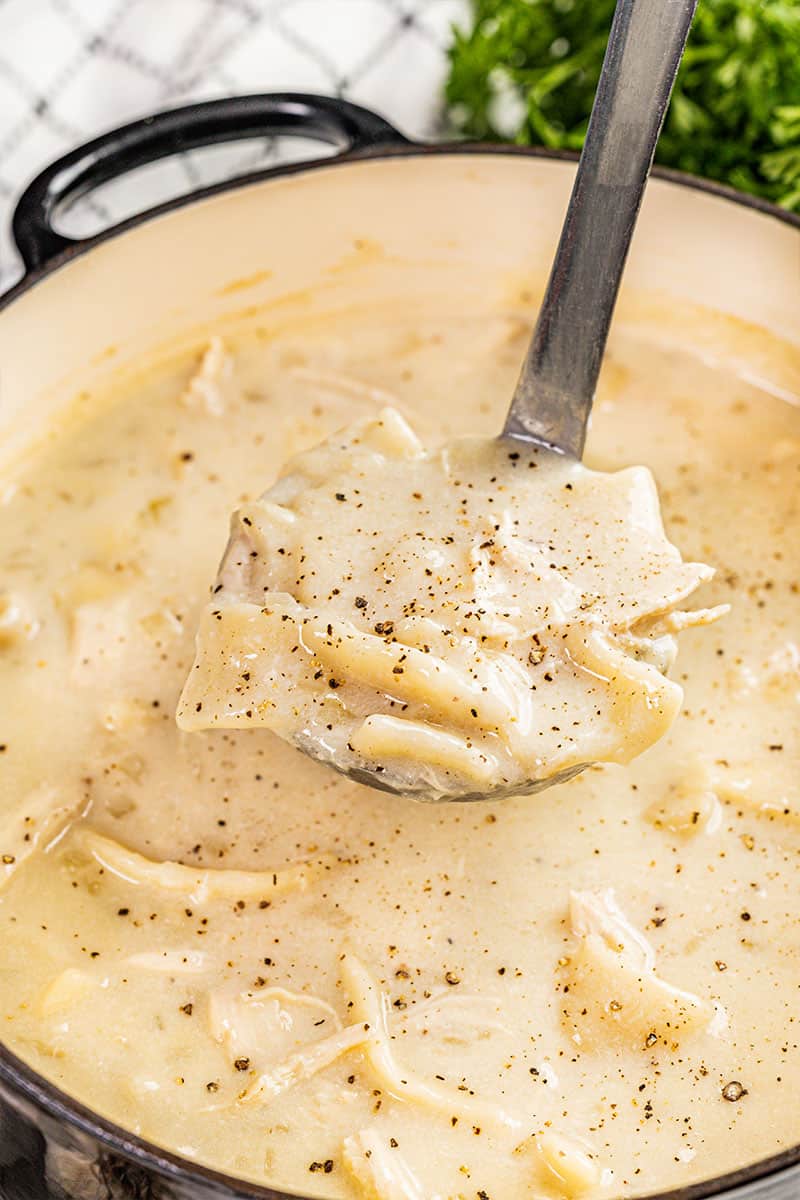 Chicken and Dumplings is a classic, Southern comfort food. The problem is that we are extremely picky about chicken and dumplings. You see, we've been making our own soup bases from scratch for so long, that we can instantly taste the canned cream of chicken soup in any recipe, which is certainly not our favorite. While canned cream of chicken soup has its place in the cooking world, we are here to help you navigate the world of from-scratch cooking, and there's no better recipe to make from scratch than chicken and dumplings. Please don't be intimidated by making dumplings from scratch. It is quick, easy, and best of all, absolutely delicious.
Vegetables in Southern Style Chicken and Dumplings:
We prefer this recipe with all of the veggies in the soup base. You can always leave them out if you do not like vegetables in your chicken and dumplings. Alternatively, you can omit all veggies called for in the recipe and simple use a frozen bagged veggie mix, like pease and carrots, which would also work as a time saver!
Drop Biscuit Dumplings vs. Flat Noodle Dumplings:
Dumplings vary from flat and noodle like, to more like a drop biscuit. This will all depend on your region and personal preference. This particular recipe uses the flat noodle strip dumplings. It's a simple dough with only a handful of ingredients that is rolled out, cut into strips, and then dropped directly into the soup base and cooked.
Chicken:
If you'd like a time saver, use leftover shredded rotisserie chicken.
Can I use store-bought dumplings?
The made-from-scratch dumplings are what really takes this recipe over the top. However, we know that sometimes you just need the shortcuts to save on time and energy. You can always use store-bought frozen dumplings instead of making them from scratch.
Slow Cooker Instructions:
If you are interested in making this in the slow cooker, we have a whole post and instructions devoted to it!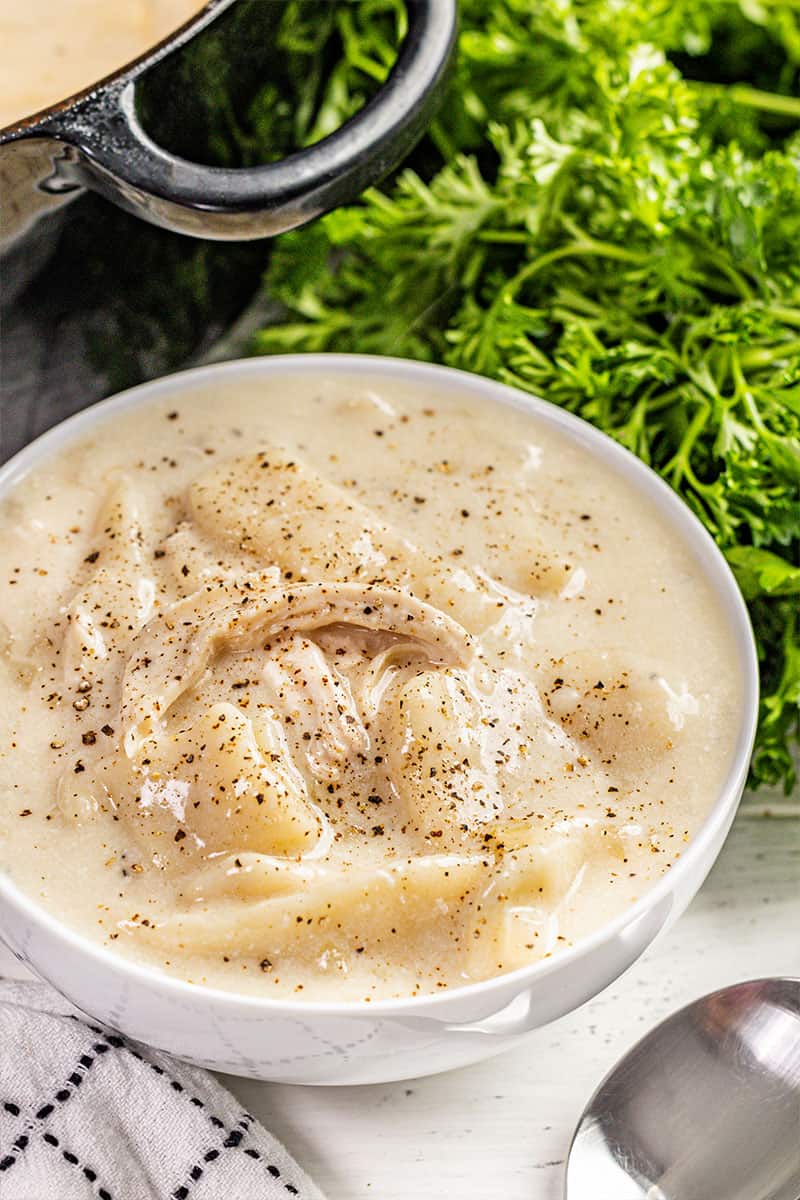 Storage and Reheating Instructions:
Store any leftovers in an airtight container in the refrigerator for up to 4 days. Reheat in a saucepan on the stovetop over medium-low heat until warmed through.
If you like this recipe, you may be interested in these other delicious chicken dinner recipes:
Watch the video below where Rachel will walk you through every step of this recipe. Sometimes it helps to have a visual, and we've always got you covered with our cooking show. You can find the complete collection of recipes on YouTube, Facebook Watch, or our Facebook Page, or right here on our website with their corresponding recipes.