When it comes to comfort food, southern style chicken and dumplings stand out as a timeless favorite. Its tender chunks of chicken paired with soft, pillowy dumplings submerged in a rich, savory broth offers warmth and contentment with every spoonful. Whether you're gathering around the dinner table with family or seeking solace on a rainy day, this dish brings a taste of southern hospitality right to your home.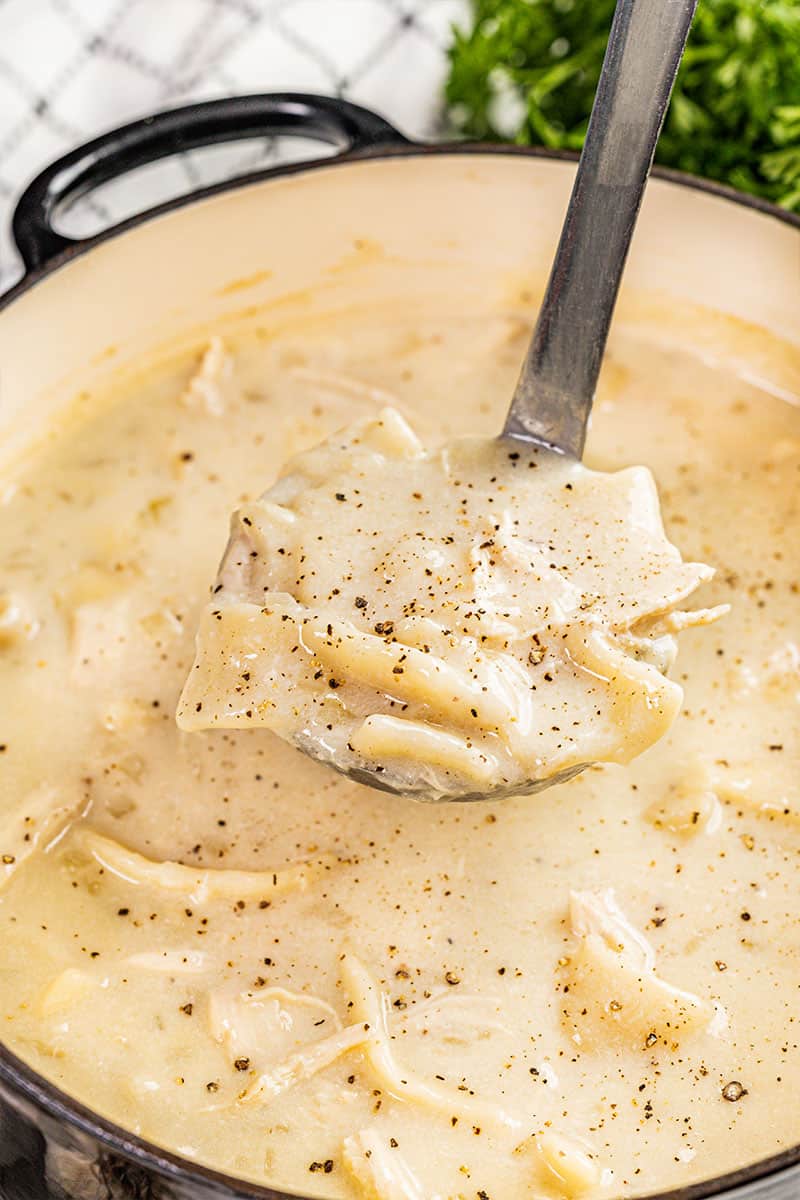 The Great Dumpling Debate
When discussing chicken and dumplings, the conversation often leads to which dumplings are better: flat noodle dumplings versus drop biscuit dumplings.
Flat noodle dumplings are reminiscent of pasta and are typically rolled out and cut into thin, flat strips before being added to the boiling broth. They result in a slightly chewy texture, similar to a thick noodle or a soft pasta, and are more common in the southern United States.
Drop biscuit dumplings are prepared by dropping spoonfuls of a soft, biscuit-like dough directly into the soup. As they cook, they puff up into soft, airy mounds, resembling a steamed biscuit, and are fluffier in texture. This style is often found in various regions across the country.
Both types have their own unique charm, and preference usually boils down to regional traditions or personal taste. While some savor the noodle-like consistency of flat dumplings, others love the soft, bread-like quality of the drop biscuit variety.
Frequently Asked Questions
Can I use store-bought dumplings?
We absolutely love made-from-scratch dumplings. However, you can always use store-bought frozen dumplings if needed.
Can I add veggies to the soup base?
Absolutely! Adding 3 diced carrots and 3 diced ribs of celery along with the onions provides additional flavor and nutrients.

Alternatively, you can use a frozen bagged veggie mix, like pease and carrots, which would also work as a time saver!
Can I use bone-in and/or other cuts of chicken?
Certainly. Chicken thighs will also taste great. If using a bone-in cut, ensure you remove all bones before adding the shredded chicken back to the soup.

If you'd like a time saver, use leftover shredded rotisserie chicken. 
Can I make dumpling dough without a pastry cutter or food processor?
Absolutely! Simply using a fork works to incorporate the shortening effectively.
Can I make this in a slow cooker?
Certainly! If you are interested in making chicken and dumplings in a slow cooker, we have a whole post and instructions devoted to it!
What if I don't have a dutch oven?
While a Dutch oven pot is recommended due to its even heating and depth, any large, heavy-bottomed pot will do.
Instant Pot Instructions
Turn on the Instant Pot and set it to "Sauté" mode. Once hot, add olive oil.
Add the diced white onion (and diced carrots and celery if using) and sauté until the onions become translucent, about 3-5 minutes. Stir in the minced garlic and cook for another minute.
Place the chicken breasts in the pot and season with salt and pepper. Add the chicken broth to the pot. Secure the lid on the Instant Pot and set the valve to "Sealing".
Press the "Manual" or "Pressure Cook" button and set the timer for 10 minutes on high pressure.
Once the cooking cycle is complete, let the pressure naturally release for 10 minutes. Then, carefully quick release any remaining pressure. Once safe, open the lid and remove the chicken breasts. Shred the chicken using two forks and set aside.
While the chicken is cooking, you can make the dumpling dough as per the original recipe. Roll the dough and cut into desired shapes.
Set the Instant Pot back to "Sauté" mode. Stir in the milk and bring the mixture to a light simmer.
Gently drop the dumpling strips or pieces into the simmering soup. Let the dumplings cook, occasionally stirring gently, for about 10-15 minutes or until they are cooked through.
In a small bowl, create a slurry by whisking together the cornstarch and water. Pour this mixture into the pot. Continue to simmer the soup on the "Sauté" function for another 2-3 minutes until the broth thickens slightly.
Return the shredded chicken to the pot and stir gently to combine. Taste and adjust seasonings if needed, then turn off the Instant Pot. Serve the chicken and dumplings hot and enjoy!
Instant Pots can vary, so make sure to consult your specific model's manual for any variations in cooking times or settings.
Variations
Want a twist on the classic? Consider:
Using turkey or duck instead of chicken for a different flavor profile.
Introducing herbs like rosemary or thyme to the broth for an aromatic touch.
Incorporating vegetables like bell peppers or peas for added color and nutrition.
Substitutions
Buttermilk: Regular milk with a splash of lemon juice or white vinegar can serve as a buttermilk substitute.
Milk: Oat milk, cashew milk, or soy milk can all be good options. Soy milk is naturally sweet, so be sure to use unsweetened.
Shortening: Butter or a plant-based butter substitute can be used, but it may alter the texture of the dumplings.
Substitutions can change the final taste and texture of the dish.
Troubleshooting
Dumplings Are Soggy or Too Dense:

Cause: Overmixing the dough can activate too much gluten, making the dumplings dense.
Solution: Mix the dough just until the ingredients come together. Ensure the dough is rolled out thin enough, as thick dumplings can stay doughy in the middle.

Broth Isn't Thickening:

Cause: Insufficient simmering time or not enough cornstarch.
Solution: Allow the soup to simmer a bit longer. If it still doesn't thicken, you can create another cornstarch slurry (a mix of cornstarch and cold water) and add it to the pot, letting it simmer until the desired thickness is achieved.

Soup Tastes Bland:

Cause: Insufficient seasoning or diluted broth.
Solution: Adjust the seasoning by adding more salt or pepper. You can also add a splash of white wine or some fresh herbs to enhance the flavor. Remember, always taste and adjust according to your preference.
Tips From the Chef
Ensure onions and any veggies are finely diced for a smoother soup texture.
For fluffier dumplings, avoid overworking the dough.
Monitor the simmering soup to ensure the dumplings cook evenly and don't stick together.
Use cold shortening for the dumplings to achieve a flakier texture.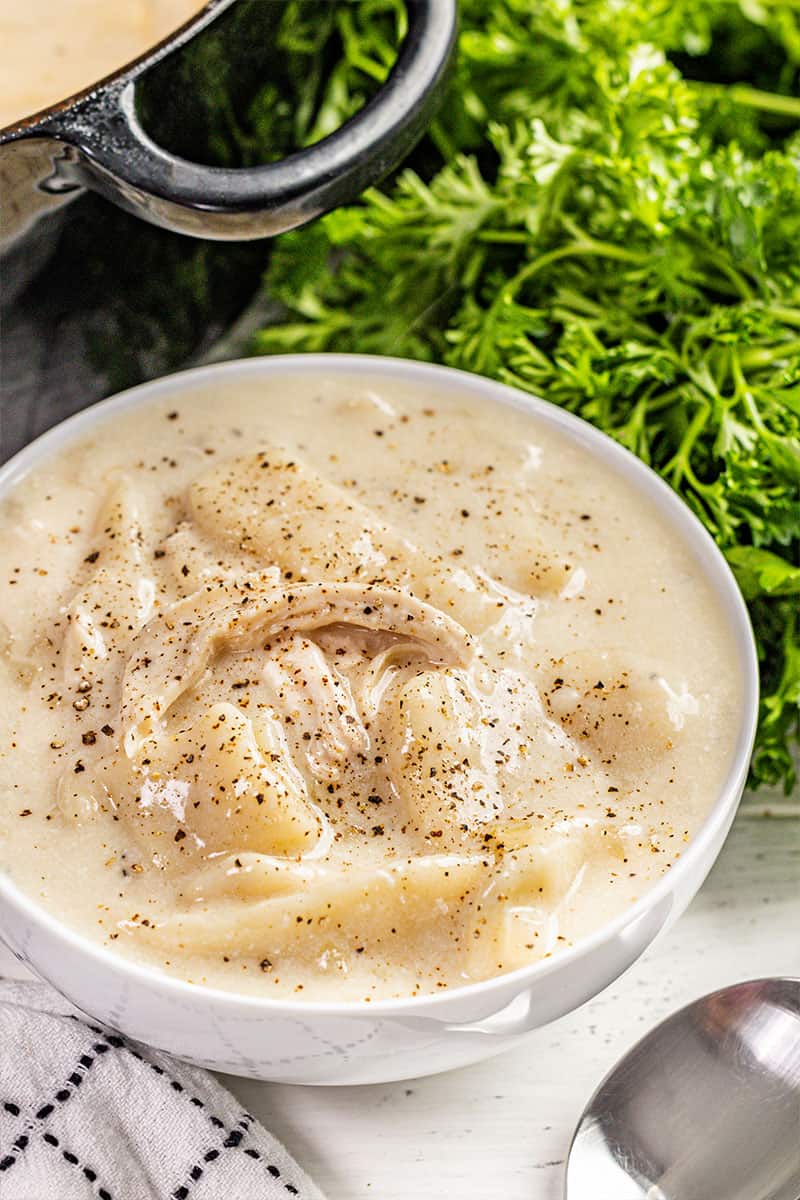 Storage, Freezing & Reheating Instructions:
Store any leftovers in an airtight container in the refrigerator for up to 3 days. When you're ready to eat, reheat on the stovetop over medium heat, stirring occasionally until warmed through.
Freezing is not recommended for dairy based soups. The dairy will separate from the other ingredients, creating an unpleasant texture.
More Favorite Chicken Dinner Recipes
Watch the video below where Rachel will walk you through every step of this recipe. Sometimes it helps to have a visual, and we've always got you covered with our cooking show. You can find the complete collection of recipes on YouTube, Facebook Watch, or our Facebook Page, or right here on our website with their corresponding recipes.