This Southern Style Chicken and Dumplings Recipe is easy to make and full of old fashioned goodness. You'll love the flat dumplings mixed in with a delicious creamy chicken soup.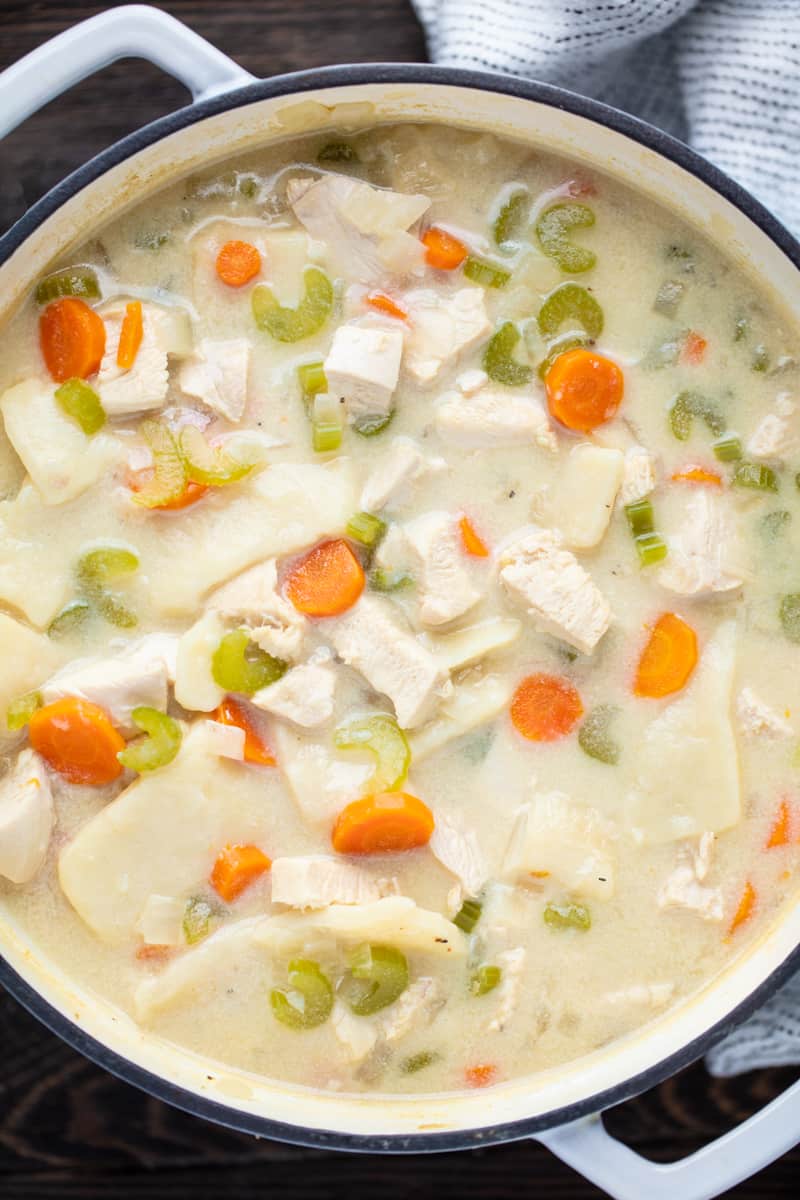 Chicken and Dumplings is a classic Southern comfort food. It starts with a creamy chicken soup. Celery and carrots are optional vegetable additions to the soup base. Strips of biscuit dumplings are cooked directly in the soup base. You can find a wide variety of methods and preparations out there for chicken and dumplings, particularly when it comes to the dough for the dumpling itself. This method uses the Southern-style strip dumplings that are similar to noodles. We also have a recipe for a more European style drop biscuit chicken and dumpling recipe with a non-creamy soup broth.
Vegetables in Chicken and Dumplings
You can add vegetables to the soup base, as written in this recipe, or you can leave them out. A frozen veggie mix like peas and carrots will also work as a time saver in place of the vegetables as listed.
Drop Biscuit Dumplings vs. Flat Noodle Dumplings
Dumplings vary from being flat and noodle like, to being more like a drop biscuit. This will depend on your region and personal preferences. This particular recipe uses the flat noodle strip dumplings. It's a simple dough with only a handful of ingredients that is rolled out and cut into strips. The strips are then dropped directly into the soup base and cooked. You can use either buttermilk or regular milk to make the dumplings.
Watch the video below where Rachel will walk you through every step of this recipe. Sometimes it helps to have a visual, and we've always got you covered with our cooking show. You can find the complete collection of recipes on YouTube, Facebook Watch, or our Facebook Page, or right here on our website with their corresponding recipes.