Slow Cooker Chicken Noodle Soup is total comfort food. Toss some ingredients into the crockpot and let your house smell like heaven all day long!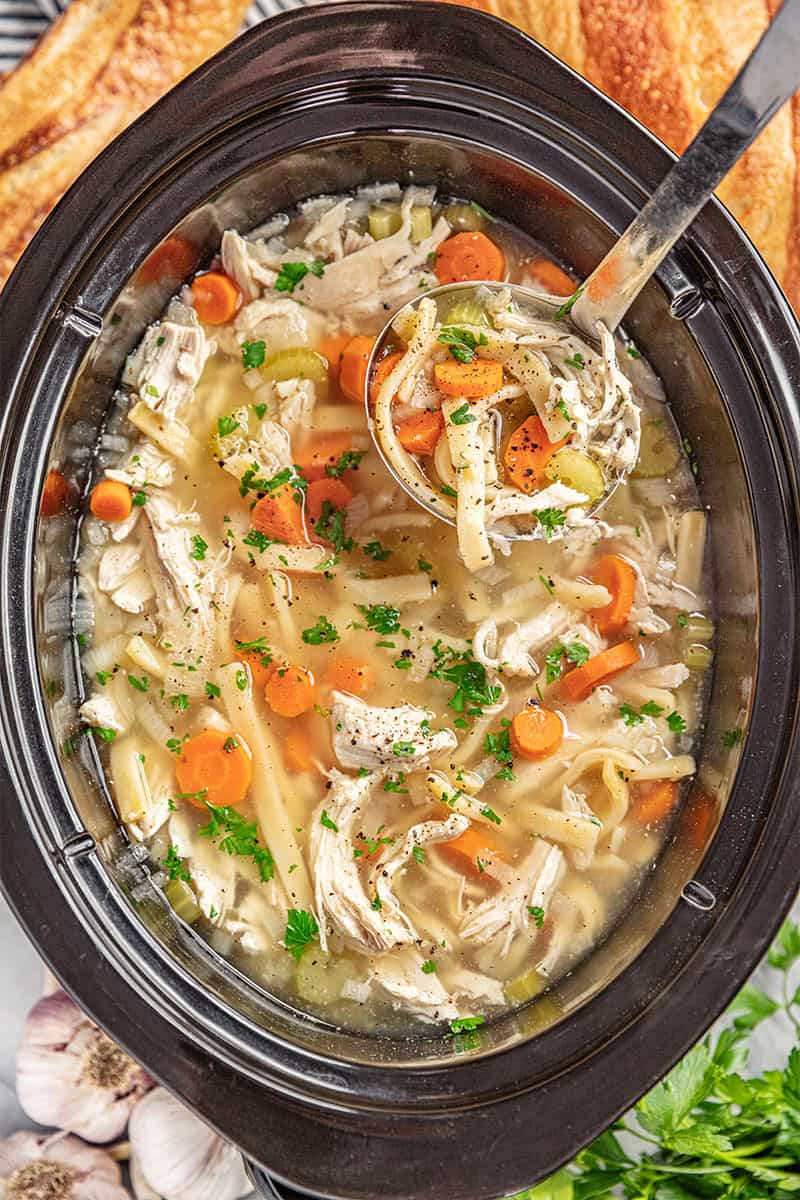 Chicken noodle soup is a classic American comfort food. We eat it when we're sick, when it's stormy outside, or just when we need a pick-me-up. If you've been following us for awhile, you know that we are all about making things from scratch. There's nothing quite like fresh veggies, real chunks of chicken breast, and egg noodles to satisfy in this homemade chicken noodle soup.
We do already have a popular recipe for chicken noodle soup on the stove, but we wanted to give a slow cooker version of it as well. There's nothing quite as satisfying as knowing that your made from scratch dinner didn't take much effort at all. Not to mention, your house will smell absolutely amazing while the chicken and vegetables cook low and slow all day long.
Can I use other cuts of chicken in slow cooker chicken noodle soup?

Yes, other cuts of meat can be used in place of chicken breasts. You can use thighs and drumsticks, or even a whole chicken. Cooking times will remain the same. Be warned that chicken skin does not fare well in the slow cooker and the meat will need to be removed from the crockpot to remove the skin and bones and shred the meat. Some bits of fat and skin may end up in your soup.

Noodle Options: Dry pasta, frozen, or homemade

When it comes to Chicken Noodle Soup, you have a few noodle options to choose from.

Dry pasta is an inexpensive and convenient option and comes in several shapes. You are looking for dry wide egg noodles which can be flat and wide, or have a slight curl to them. 

Frozen homemade-style egg noodles are generally more expensive than dry pasta, but are still a convenient option. This style of noodles holds up really well in the soup and is the best choice for leftovers or freezing leftovers. 

Fresh homemade egg noodles are, of course, the classic option. They are less convenient than dry pasta or frozen, but they are still simple to make. You'll need to start making them approximately 45 minutes before you'd like to be ready to eat. 

How do I prevent the noodles from getting mushy?

When using dry pasta, the noodles are added to the slow cooker about 15 minutes before serving. DO NOT let them sit longer than that in the crockpot or the noodles will start to get mushy. Another option is to cook your noodles separately on the stove and add them to the soup when ready to serve. Homemade-style egg noodles (fresh or frozen) are less likely to get mushy. 

How can I adjust the salt to make this recipe low sodium friendly?

Opt for low sodium chicken broth to give you better control over seasoning. You can then add salt to suit your own personal taste preferences and needs.

Freezer Instructions:

Chicken Noodle Soup is great for freezing. You can make a large batch and freeze the leftovers. Let the soup cool down before freezing. We prefer to ladle ours into a gallon-sized resealable plastic freezer bag for freezing because it can lay flat. This is not only convenient for fitting into the freezer, but it also helps the soup thaw faster for reheating and serving. We simply break it up and add it to a saucepan or pot to reheat over a medium-low heat. Because the noodles can get mushy, we prefer to use frozen homemade-style egg noodles which hold up better.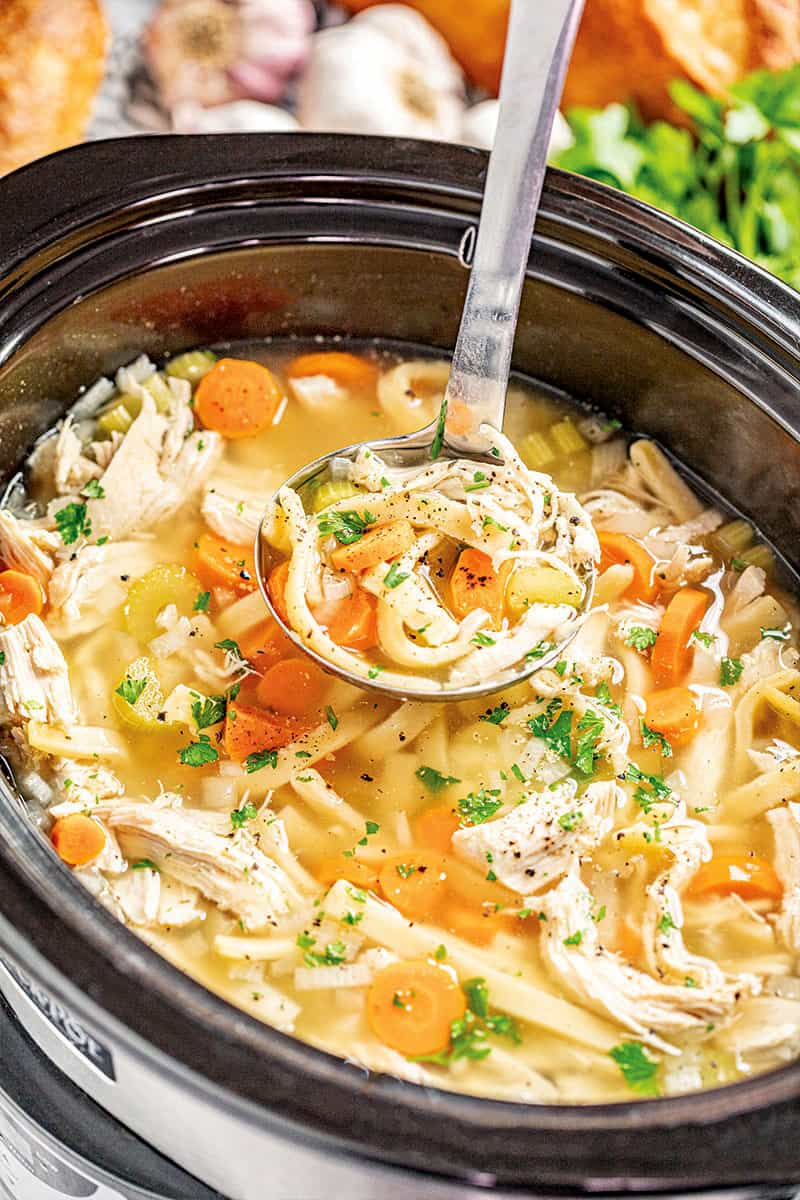 If you like this recipe, you may be interested in these other delicious soup recipes: