This Macaroni and Cheese uses an old trick for the secret ingredient to give you the perfect, full flavor classic cheddar mac and cheese.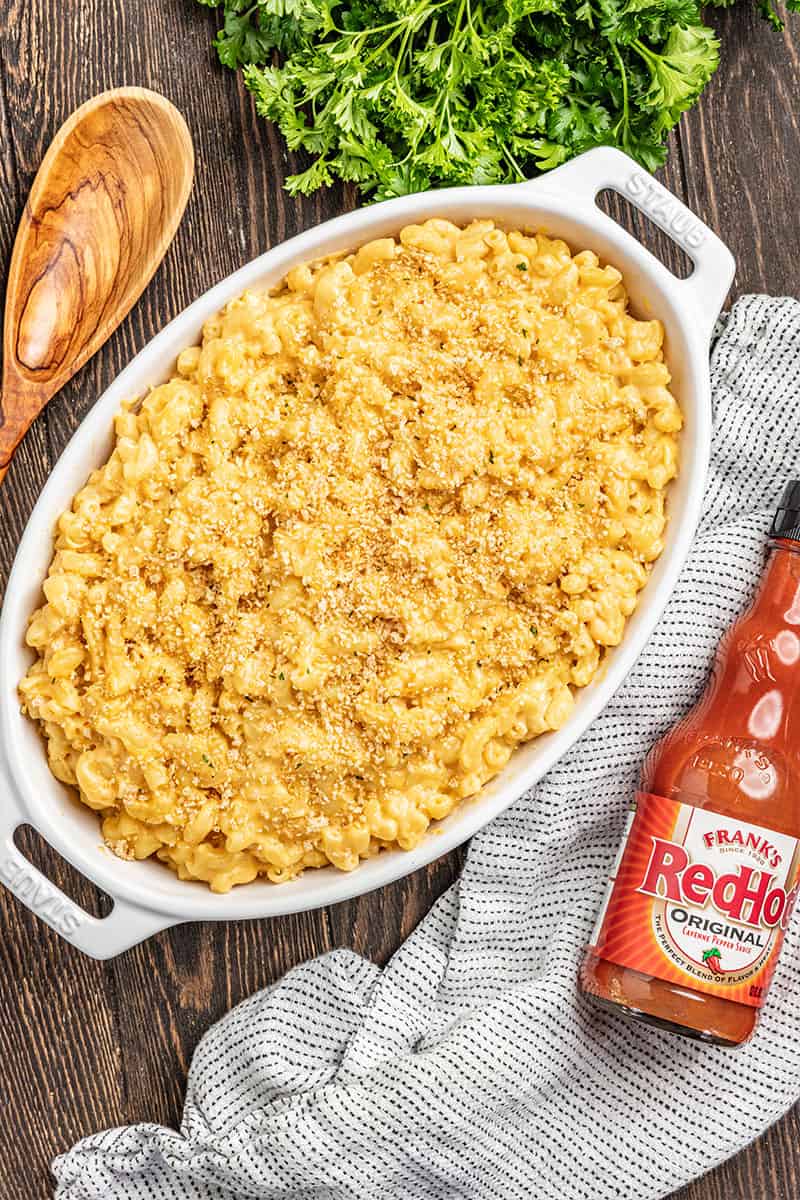 Mmmmm Mac and cheese! This is one of our favorite comfort foods, and it is both adult and kid friendly, especially when you step away from the boxed stuff with powdered cheese. What even is in that?! This recipe uses only whole ingredients, and real cheddar cheese. Making your own Mac and cheese from scratch might seem time consuming, but it is quicker and easier than you think! Once you've had homemade, you'll never go back to the Blue Box. 
The secret ingredient in this macaroni and cheese is hot sauce, specifically Frank's Red Hot. Adding hot sauce to a recipe involving cheese is an old chef's trick that enhances the flavor of the cheese. You can use any hot sauce you'd like, but each one may require a different amount. Julia Child's, for example, was a tabasco sauce user and would add a dash or two of tabasco sauce to her macaroni and cheese and other melted cheese dishes. This recipe is specifically written for Frank's Red Hot.
How can I get a thick cheese sauce?

The flour in the recipe acts as a thickening agent. If you just added flour to milk you'd end up with a clumpy mess. By combining the flour with a fat source (in this recipe it is melted butter), you will be able to distribute the thickening agent throughout the sauce without leaving clumps behind. This same principle can be applied to any sauce or soup that needs to be thickened. A roux is equal parts flour to fat. Cornstarch is a stronger thickening agent that I use (with butter) in things like puddings and cream pies.

What kind of cheese should I use to make macaroni and cheese?

Classic American macaroni and cheese is made with cheddar cheese. We prefer to use a sharp cheddar cheese. This recipe can also be made with other similar cheeses that melt well, or a combination of cheeses. Use the same amount and experiment! Gouda, white cheddar, provolone, brie, fontina, and provolone are some of our favorites.

Is this recipe spicy?

No! This recipe is not spicy when made as written. We have personally served this recipe to over 1,000 different people, many of them children, and no one complains that it is too spicy. If you DO want to add a little heat, you can try doubling or tripling the amount of hot sauce in the recipe. We find that 1/4 cup of Frank's Red Hot gives a good mild heat.
If you like this recipe, you may also be interested in these other cheesy recipes: