3 Cheese Chicken Cavatappi will have your family feeling like they are eating at a restaurant. Creamy, cheesy pasta topped with grilled chicken and bruschetta. It will be a family favorite!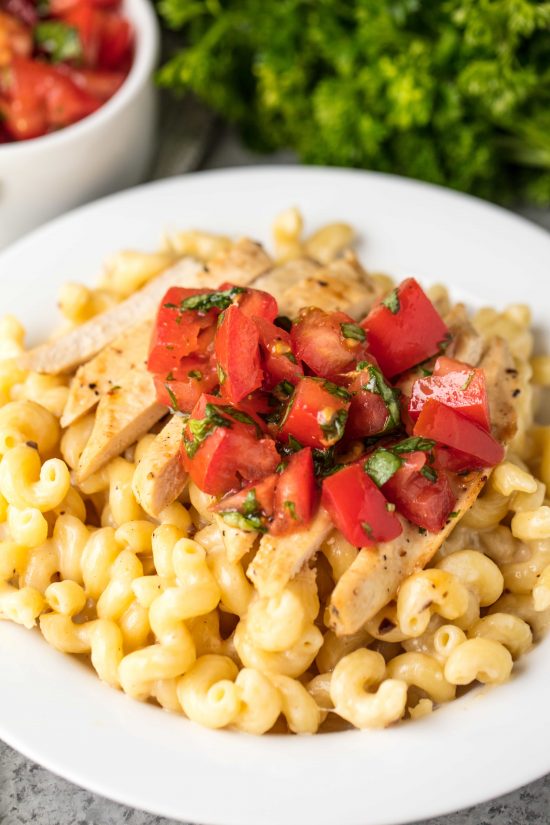 This is a copycat recipe for the popular dish by the same name served at Applebee's. Now, I'm not one to frequent a lot of chain restaurants. I prefer to explore more interesting local restaurants wherever I go. But Applebee's is a huge American restaurant chain and it's popular for a reason. This pasta dish is killer. Cheesy spiral pasta topped with grilled chicken and a fresh bruschetta? Ya, how can that not be absolutely delicious?
Cavatappi is the pasta of choice in this recipe. If you can't find it, no worries. You can also substitute penne, or even elbow noodles. Cavatappi is not only fun to use, but it's also functional as it helps the sauce cling to the pasta.
The bruschetta on this recipe is a must make. It adds a fresh element to an otherwise heavy dish. If you have any leftover you could eat it on some toasted bread. Yes, it's a real bruschetta and it's divine!
Watch the video below where I walk you through every step of this recipe. While you are at it, be sure to check out the rest of my YouTube channel where you can watch more than 250 video recipes. That's a lot!
3 Cheese Chicken Cavatappi
3 Cheese Chicken Cavatappi
Author:
Rachel Farnsworth
Ingredients
2 boneless skinless chicken breasts
1 cup Italian salad dressing
4 roma tomatoes, diced
¼ cup freshly chopped basil
¼ cup olive oil
1 pound cavatappi pasta
½ cup butter
4 cloves crushed garlic
2 cups heavy cream (can substitute half and half)
½ cup shredded mozzarella
½ cup grated parmesan
½ cup shredded provolone
¼ teaspoon salt
¼ teaspoon white pepper
Instructions
Place chicken breasts into a resealable plastic bag. Pour salad dressing over chicken. Seal and marinate for 1 to 2 hours.
In a small mixing bowl, combine tomatoes, basil and olive oil. Season with salt and pepper, to taste. Toss together and set bruschetta aside.
Cook the pasta according to the package directions.
Cook chicken breasts in a heavy skillet over medium heat until chicken reaches an internet temperature of 165 degrees, flipping halfway through. Rest 5 minutes and then slice.
Meanwhile, melt butter in a saucepan. Add in garlic and saute 1-2 minutes. Pour in heavy cream and bring to a simmer. Reduce heat to love and stir in mozzarella, parmesan, provolone, salt and white pepper until cheese is completely melted and creamy. Stir in cooked pasta.
Serve pasta hot topped with sliced chicken and sprinkle with bruschetta.