You'll never guess the secret ingredient in this Restaurant Style Fried Chicken. It makes for a sweet and crispy crust that just so happens to be gluten-free.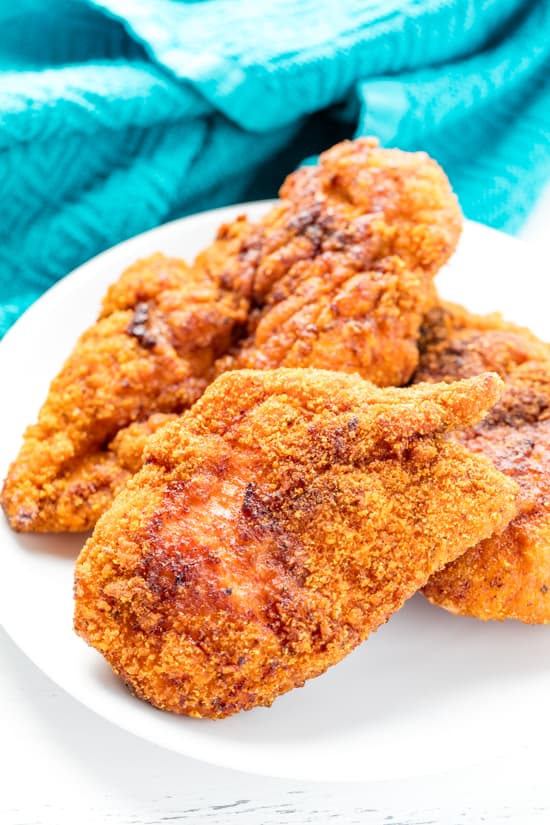 This recipe is my friend Chef Chad Pritchard, an award winning chef. His most recent endeavor is a fried chicken restaurant called Love Me Tenders. This recipe is all about the secret ingredient, which is used in everything from small fried chicken establishments to high end restaurants. The secret is Captain Crunch Cereal. Who would have ever guessed?
Why Cereal?
The cereal crust provides a sweet, crunch exterior that is to die for! It is just so finger licking good. The chicken is seasoned and dredged in cornstarch then dipped in a water and egg mixture. Water is often used in restaurants to keep costs down. The water and cornstarch combination creates almost a glue to keep the cereal coating on. It also happens to make this fried chicken gluten free.
Chicken Options:
This recipe calls for boneless skinless chicken breasts, as they are the easiest to work with and produce the best results with this coating. You can also use chicken drumsticks and thighs, but you will need a longer cooking time and the crust will become a much darker brown.
How to Fry Chicken:
Chicken should be fried in a high smoke point oil like vegetable, canola, or peanut oil. The oil itself should be kept at about 350 degrees F for best results. Chicken should be dredged, dipped in a wash, and coated with a flavored outer coating before frying. Different cuts of chicken will require different cooking times. White meat requires less cooking than dark, and boneless cuts require less cooking time than bone-in. Size also plays a factor with smaller cuts requiring less cooking time. Chicken needs to be cooked to an internal temperature of 165 degrees Fahrenheit. Use a meat thermometer for best results.
Gluten Free Disclaimer:
Captain Crunch does not contain any wheat products, however, it still may be subject to cross contamination. You can read their disclaimer here. If you are uncomfortable with potential cross contamination to a severe gluten allergy, there are lots of Cap'n Crunch knock offs available at health food stores, or you can use crushed potato chips instead.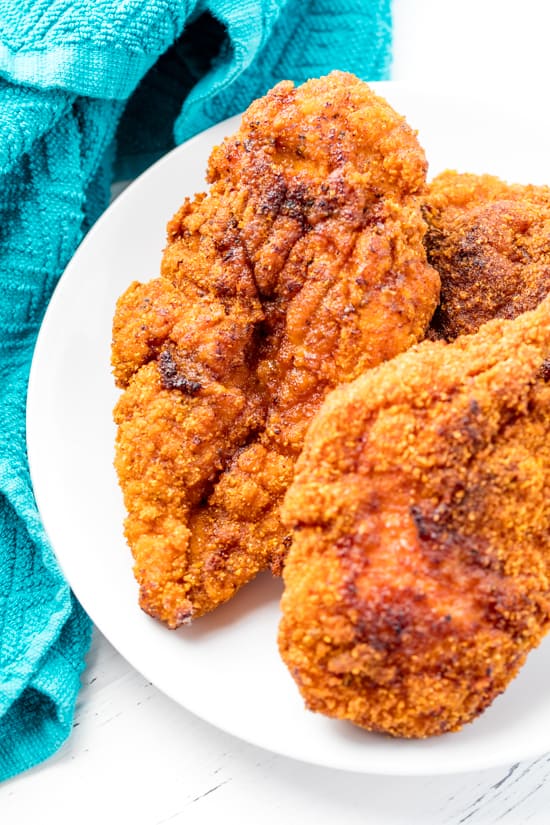 Storage and Reheating Instructions:
Fried chicken is best eaten fresh. Store any leftovers in an airtight container in the refrigerator for up to 5 days. Reheat in an oven preheated to 350 degrees Fahrenheit until warmed through.
If you like this recipe, you may be interested in these other delicious fried chicken recipes: