This popover recipe yields delicious, sky-high popovers every time!  We also included instructions for making in a muffin pan for easy baking. Your family is going to love popovers!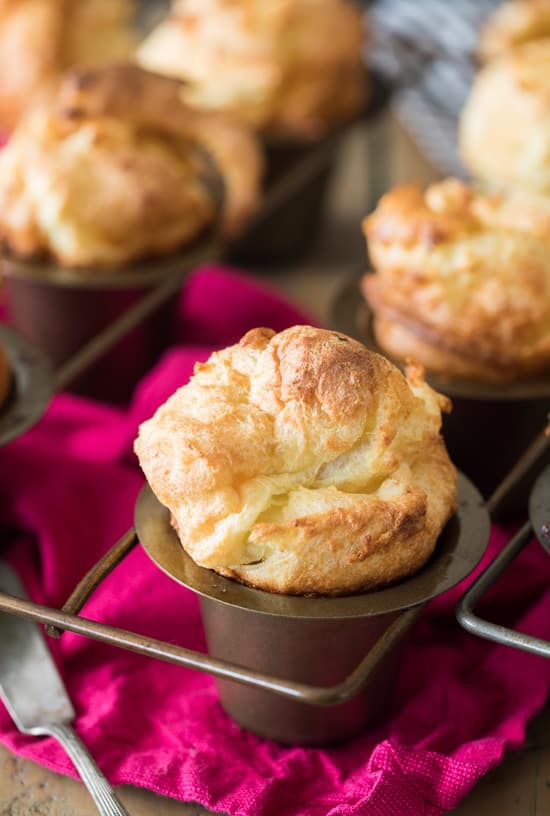 Breakfasts were kind of a big deal growing up, and popovers especially have been a family breakfast routine staple for such a long time. We could always count on starting the day with either homemade waffles, a stack of buttermilk pancakes, or fresh-from-the-oven popovers.
Despite their impressive height and unique appearance, popovers are actually extremely simple to make and require just 5 ingredients: eggs, milk, butter, flour, and salt. And, while having a nice popover pan is helpful for this recipe, it's not necessary.
Can I make popovers without a popover pan?

Yes! These popovers can easily be made without a special popover tin.  Just divide the batter evenly into a 12 count muffin tin.

Tips for Making Popovers:

You'll want to lightly grease your pan (either popover pan or muffin pan) before adding the batter.  With this recipe some of the oil does tend to overflow the cup and spill out of the container, so we strongly recommend placing a foil or parchment paper lined cookie sheet beneath your pan so that any oil is caught.  Otherwise you'll likely end up with a lot of smoke in your kitchen.

To get the maximum height on your popovers, we'll start with our oven at a high temperature (450F), bake them for 20 minutes, and then drop the temperature to 325F and bake another 15 minutes (we also use this technique with banana muffins for nice tall muffin tops!).  It's very important that you don't open the oven when you drop the temperature, otherwise you'll let the heat escape and lose some of your height.

Can you reheat popovers?

Yup!  The best way to reheat popovers is to preheat your oven to 350 or 400F and toss them in for several minutes (5-10 minutes).  This will also make them firmer if they've gotten too soft while sitting.  You do not need to put them back in a popover pan, just tossing them in on a cookie sheet will work fine!  We like to make popovers in large batches and then reheat the leftovers the next day or two.

These popovers taste best warm out of the oven and even better when topped with with a smear of butter, jam, or apple butter.
If you like this recipe, you may be interested in these other delicious breakfast pastry recipes: