Make your pancake mornings easier and more budget-friendly with this amazing homemade pancake mix! No fresh or refrigerated ingredients are required so this is perfect for camping trips, traveling, emergency preparedness, or even for kids to make easy breakfasts. With a shelf life of up to 6 weeks and easy-to-follow instructions, you'll have perfect pancakes in no time.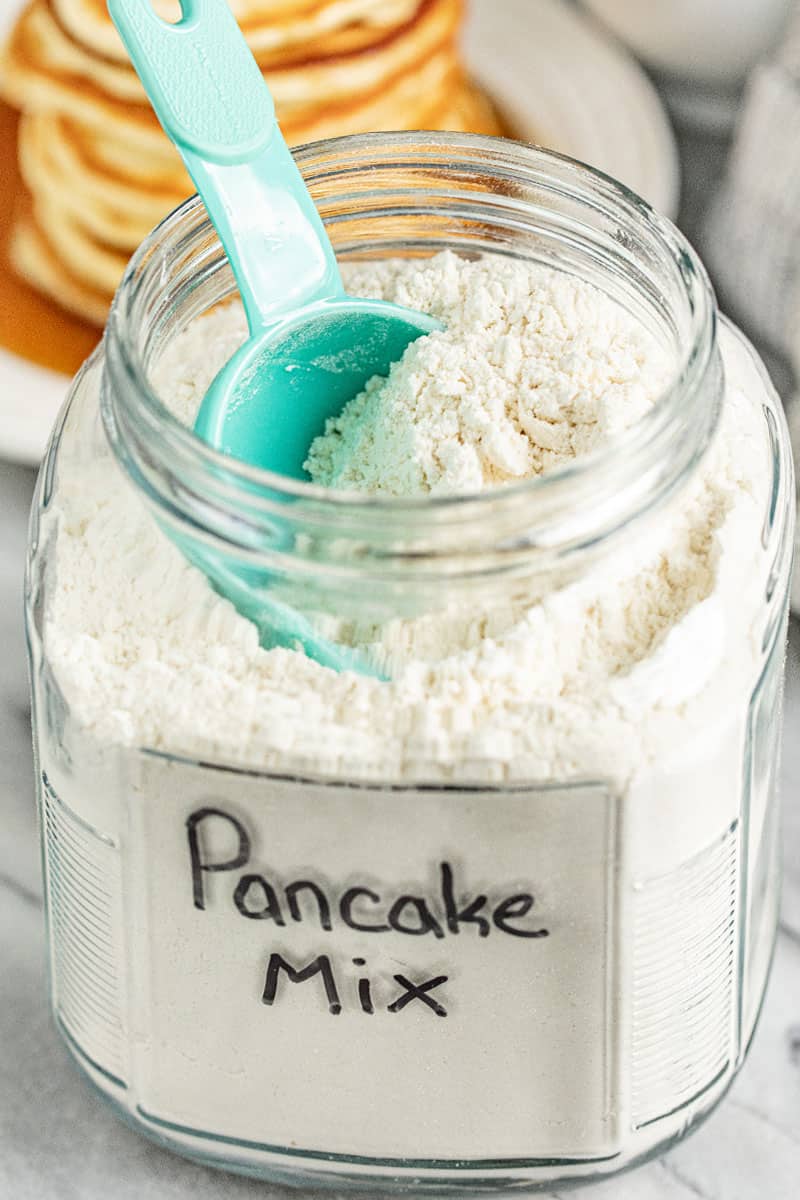 Are you tired of constantly having to keep fresh ingredients stocked for pancakes, or do you just want an easier and more budget-friendly option? Then this homemade pancake mix is perfect for you. With this mix, you can have pancakes anytime you want, without having to worry about keeping fresh ingredients on hand. It's great for camping trips, traveling, emergency preparedness, or even for kids to make easy breakfasts in the morning. All you need to do is add water and cook!

With this homemade pancake mix, you no longer have to worry about buying fresh ingredients like milk, eggs, or butter. This makes it an excellent option for those on a budget or who don't keep fresh ingredients on hand. Plus, it's shelf-stable, so you can store it for up to 6 weeks.
Can I use powdered milk that has fat in it?
Yes. The recipe calls for non-fat, as the shelf life is longer for non-fat powdered milk. You can use full-fat powdered milk too, just be sure to mark your pancake mix with the same "best by" date found on the powdered milk container. Alternatively, you can omit powdered milk and use fresh milk instead of water when you prepare the pancakes. In that case, the shelf life is up to 18 months.
Using Other Types of Flour
Whole Wheat or Buckwheat Flour: These flours are much heavier. If you are going to substitute the all-purpose flour with whole wheat flour or buckwheat flour, increase the baking powder to 3 total tablespoons.
Self-Rising Flour: self-rising flour is a pre-made mix of baking powder, flour, and salt. The ratios of baking powder, flour, and salt can vary based on your location and the brand you purchase. We do not recommend using self-rising flour in this recipe as it is worth the minimal effort to measure out your own baking powder and salt to ensure you have the best results.
Gluten-Free Flour: To make this recipe gluten-free, substitute the all-purpose flour with a gluten-free flour blend. Use a blend that is specifically designed to be a direct replacement for all-purpose flour.
Optional Add-Ins
Yes. This mix is definitely add-in friendly. You can add half to a full cup of any fruit of your choice to the batter once it is mixed. We love blueberries, strawberries, raspberries, and finely chopped apples. You can also use raisins, chocolate chips, craisins, bananas, or chopped nuts.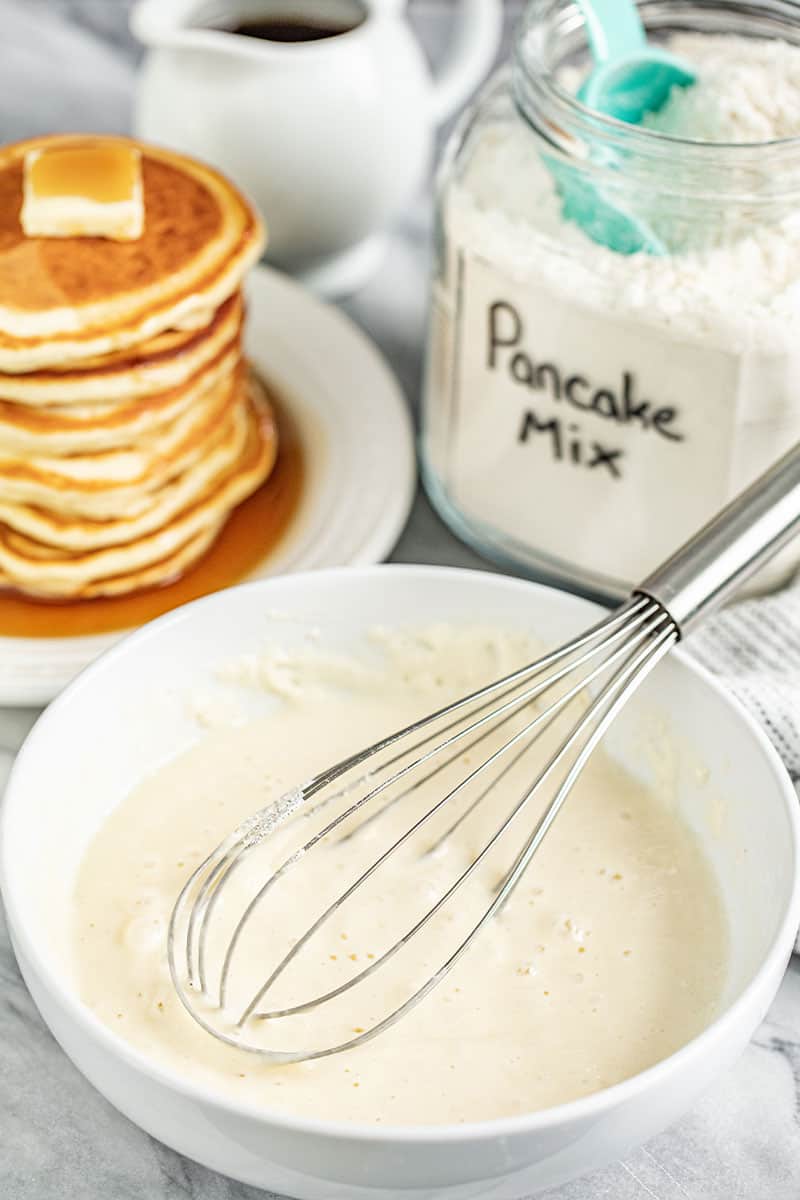 Storage Instructions and Shelf Life
To ensure the longevity of your pancake mix, store it in an airtight container at room temperature. A large mason jar or an airtight plastic container works best. You can also freeze the mix for up to 2 years, but be sure to label it with the "best by" date.
If made without powdered milk, the pancakes can be prepared using fresh milk instead of water, for a richer flavor and texture, which will allow the shelf life of the mixture to increase to 18 months.
Related Recipes
Want a more decadent pancake? Try one of our many other pancake recipes!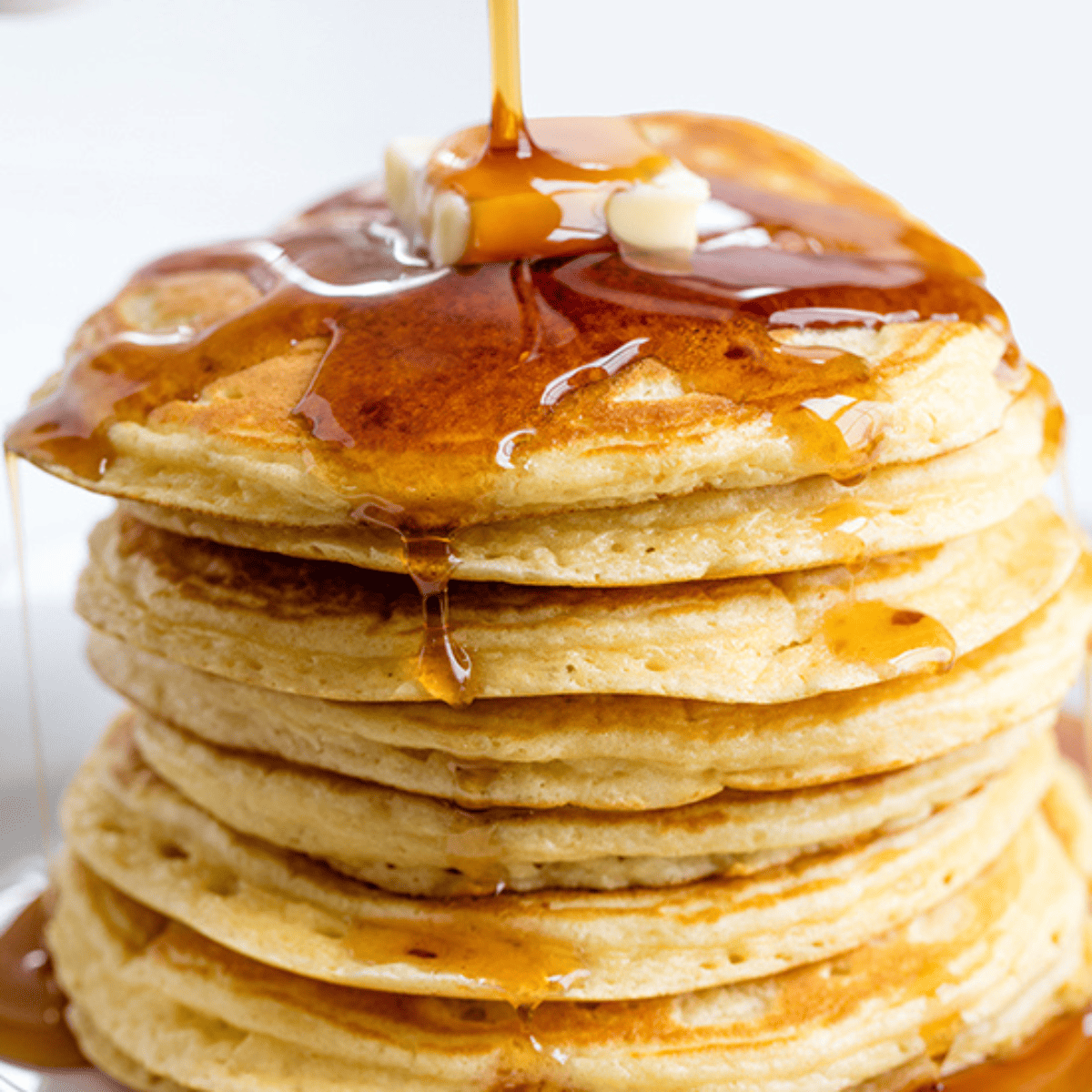 Watch the video below where Rachel will walk you through every step of this recipe. Sometimes it helps to have a visual, and we've always got you covered with our cooking show. You can find the complete collection of recipes on YouTube, Facebook Watch, or our Facebook Page, or right here on our website with their corresponding recipes.
Easy Pancake Mix (Just Add Water!)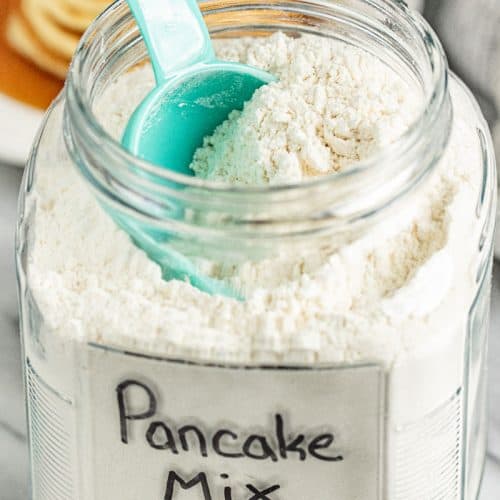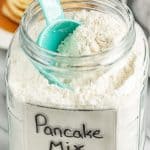 Stop overpaying for the package mixes at the store and make your own pancake mix at home. The recipe for this mix is super easy and fast—keep it on hand for even easier and faster pancakes! Just add water!
Ingredients
4 1/2

cups

all-purpose flour

3/4

cup

nonfat dry powdered milk

1/3

cup

sugar

2

tablespoons

baking powder

1

tablespoon

baking soda

1 1/2

teaspoon

salt
Instructions
Mix Instructions
In a large mixing bowl, stir together flour, powdered milk, sugar, baking powder, baking soda, and salt.

Store in a large airtight container at room temperature.
Cooking Instructions
When ready to make pancakes, preheat nonstick griddle to medium high heat. For every 1 cup of pancake mix, whisk with 3/4 cup water. 1 cup of mix makes 4 to 5 pancakes.

Scoop 1/4 cup of pancake batter onto griddle. Let pancakes cook until bubbles form before flipping. Flip and cook other side until golden brown. Serve hot with syrup.

Nutrition
Serving:
1
pancake
|
Calories:
93
kcal
|
Carbohydrates:
18
g
|
Protein:
3
g
|
Fat:
1
g
|
Saturated Fat:
1
g
|
Cholesterol:
3
mg
|
Sodium:
239
mg
|
Potassium:
143
mg
|
Fiber:
1
g
|
Sugar:
3
g
|
Vitamin A:
30
IU
|
Vitamin C:
0.2
mg
|
Calcium:
67
mg
|
Iron:
1
mg