Maple Pecan Sticky Buns are made to kick of fall festivities. The dough is soft and sweet and the topping is crunchy, spicy and gooey. You and your family will fall in love with these breakfast pastries!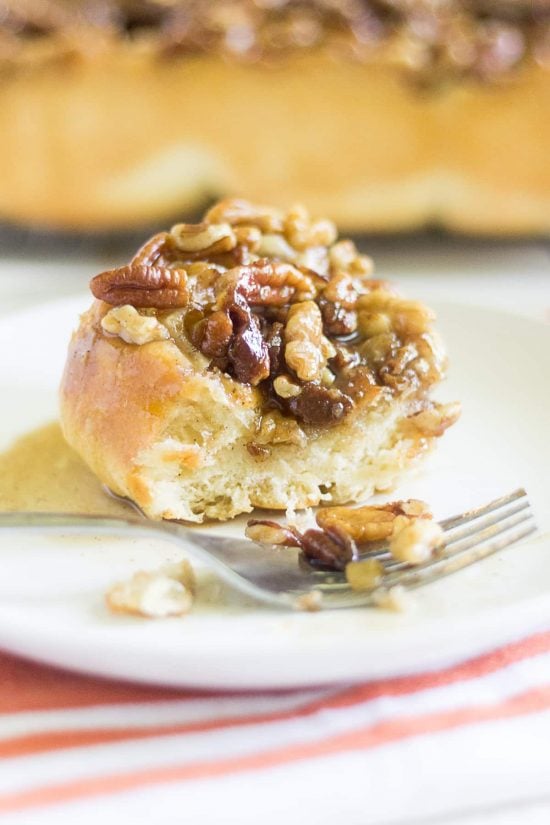 Hello fall! I'm welcoming you with open arms. As long as you bring these maple pecan sticky buns. The start of September signifies, to me, all things pumpkin, maple, and lots of festive candles and Hobby Lobby signs.
Who else loves Hobby Lobby and Bath and Body Works as much as me?! I almost love them as much as I love these Maple Pecan Sticky Buns.
There are sooo many reasons I love these Maple Pecan Sticky Buns, but I narrowed it down to my top three reasons for you all.
Three Reasons to Love Maple Pecan Sticky Buns
You might think the first one would be all the gooey toppings. It's in the top, don't worry, but the dough for this recipe takes it home for me. I haven't had a sweet roll dough so soft and buttery in a long time. They're slightly sweet, but not to sweet so the toppings really shine. The texture is something you have to try for yourself!
Now comes the toppings! The crunchiness from the pecans, the gooey from the topping and the fall flavors form the cinnamon and nutmeg will make you drool.
The maple flavors in this recipe shout fall to me! I love maple, and always find ways to add it to my baking recipes, especially in the fall months.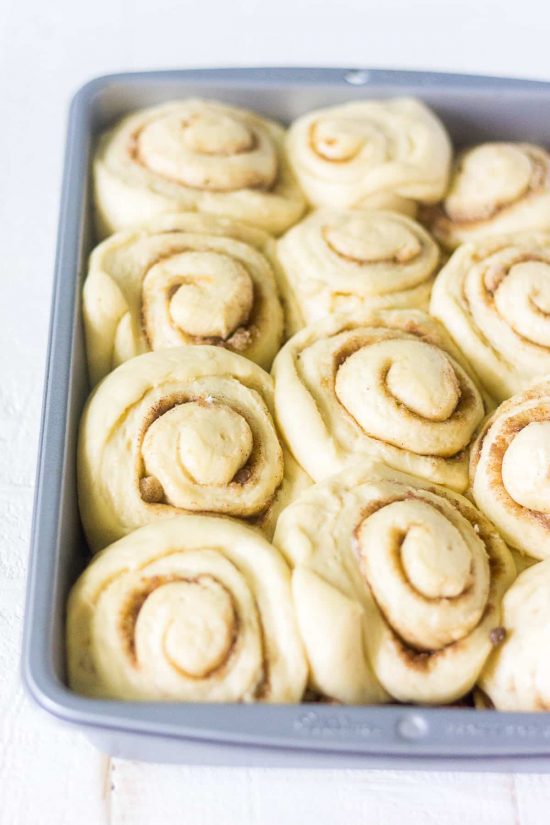 I know sweet rolls, sticky buns etc. get a bad rep because the yeast can be tricky and take a little longer. But I promise the end result will be well worth the wait! And I have a few tips for you to ease all those doubts.
Tips for Making Breakfast Rolls with Yeast
My first tip is to make sure the liquid is the right temperature when you dissolve the yeast. If you have a thermometer even better! Try to get your milk as close to 95°F as you can. For me, I put the milk in the microwave for 20-25 seconds. If the yeast doesn't dissolve and foam after it sits in the milk for 10 minutes try it again!
Make sure you knead the dough for the specific amount of time! It's best to use a stand mixer with the dough hook attachment, but your hands and a little elbow grease works as well.
Next, let the dough rise in a warm place. I like to preheat the oven to 200°F then turn it off so it's slightly warm in there. Once it's off, place the dough in and cover it with a paper towel to rise.
Once the dough rises, it's time for my favorite part! Filling the dough and rolling it up! You'll want to roll the dough on the long edge so you have a long log-like dough. The pro tip here is to use some dental floss to wrap around the dough and pull tightly to cut. You can use a knife too but the floss does such a good job of making an even cut!
This maple pecan sticky bun recipe definitely require a little extra time and love, but one of the reasons I love it so much is because it holds up really well in the freezer.
That way, if you're busy the day you need them or the day before you can plan ahead and make them up to three months before you need them!
All you need to do is cover the baked maple pecan sticky buns in an air tight container and throw it in the freezer. Allow them to thaw for an hour on the counter at room temperature then put them in the oven to get nice and warm.
When they're warm be sure to use a large plate or cooling rack to place on top. Gently flip the pan over and the sticky buns will be right-side-up and ready to eat!