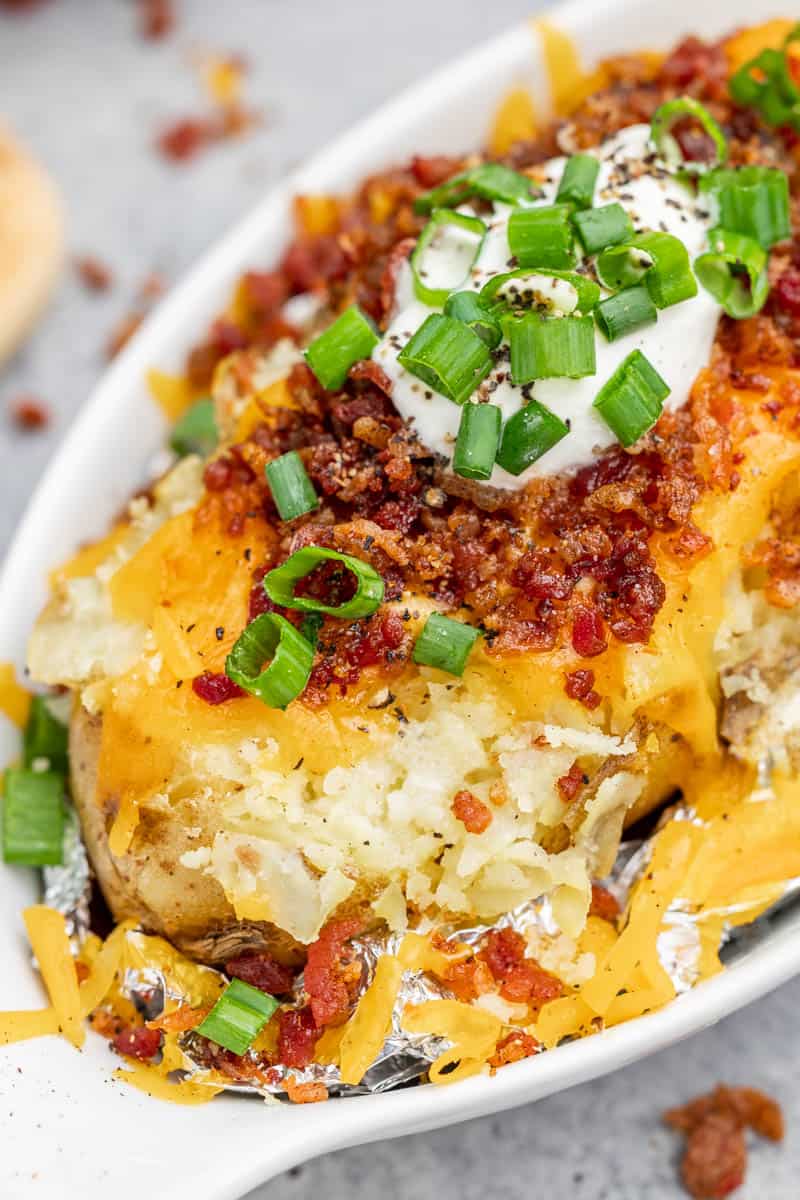 Get ready to indulge in the ultimate comfort food: Loaded Baked Potatoes! Learn how to make these heavenly spuds that are perfect for any occasion.
For all the potato lovers out there, Loaded Baked Potatoes are the ultimate comfort food that truly celebrates the humble spud. This scrumptious, versatile dish can be enjoyed as a hearty side or a mouthwatering main course, making it perfect for casual dinners, family gatherings, or even game night feasts. The heavenly combination of fluffy Russet potatoes, gooey melted cheese, crispy bacon, and other delectable toppings creates a symphony of flavors and textures that will leave you craving more. Not only is this recipe easy to prepare, but it also offers endless customization options, allowing you to satisfy your potato cravings in countless ways.
Topping Ideas
Customize your Loaded Baked Potatoes with a variety of toppings to suit your taste. Some options include:
Salsa or hot sauce
Ground beef or chili
Guacamole
Shredded chicken
Steamed vegetables (broccoli, carrots, corn, peas, etc.)
Sautéed mushrooms
Shredded beef (especially Mississippi Pot Roast!)
Sweet Potato Swap
Substituting sweet potatoes for Russet potatoes is a delicious twist on the classic recipe. To make the swap, follow the same recipe, but adjust the baking time, as sweet potatoes tend to cook faster. Keep an eye on them and test for doneness after about 45 minutes. Sweet potatoes add natural sweetness and extra nutrients, making for a healthy and tasty alternative.
Frequently Asked Questions
How long should I bake the potatoes?
The baking time depends on the size of the potatoes, but it usually takes about 1 hour at 400°F for them to become soft and fully cooked. To check for doneness, insert a fork or knife into the potato; it should slide in easily without resistance.
Can I use a microwave instead of the oven?
Yes, you can cook the potatoes in a microwave to save time. However, the texture may be slightly different from oven-baked potatoes, and the skin won't be as crispy.

Never wrap your potatoes in foil if baking in the microwave!
How can I ensure crispy skin?
Rubbing the potatoes with olive oil and seasoning with salt before wrapping them in aluminum foil helps the skins crisp up during baking. Additionally, you can remove the foil for the last 10-15 minutes of baking to achieve even crispier skins.
Can I cook the potatoes in an air fryer or instant pot?
Yes, you can cook the potatoes in an air fryer or Instant Pot. For an air fryer, preheat it to 400°F and cook the potatoes for 40-50 minutes, turning them halfway through. In an Instant Pot, place the trivet and 1 cup of water inside, put the potatoes on the trivet, seal the lid, and cook on high pressure for 15-20 minutes, depending on the size of the potatoes. After cooking, release the pressure naturally for 10 minutes before manually releasing the remaining pressure.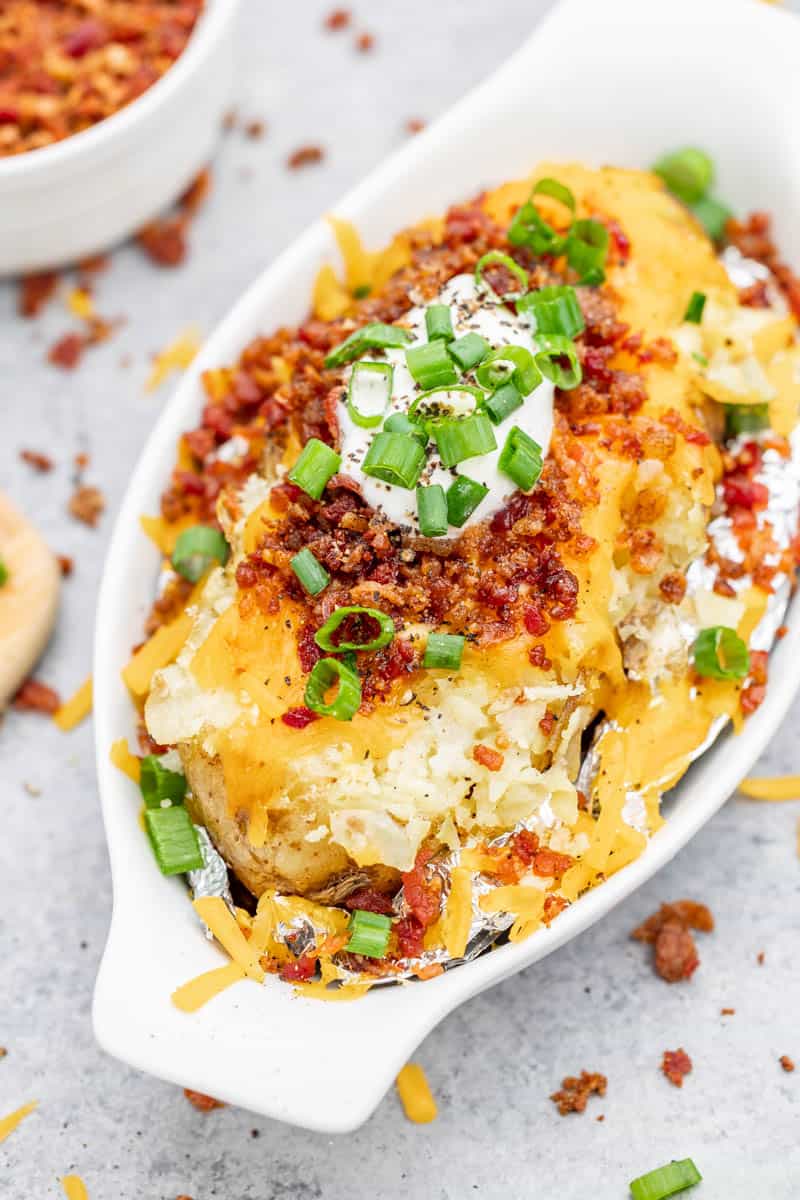 Storage & Reheating Instructions
To store any leftovers, allow the potatoes to cool completely before wrapping each potato half in plastic wrap or aluminum foil. Place the wrapped potatoes in an airtight container and store them in the refrigerator for up to 4 days.
To reheat, remove the plastic wrap or aluminum foil and place the potato halves on a microwave-safe plate. Microwave on high for 1-2 minutes or until heated through. Alternatively, you can reheat the potatoes in a preheated oven at 350°F until warmed through, about 10-15 minutes. If you prefer to maintain the crispy potato skins, reheat the potatoes in the oven instead of the microwave.
More Comfort Food Recipes
If you like this recipe, you may be interested in these other delicious and easy comfort food recipes:
Watch the Video
Watch the video below where Caytlin will walk you through every step of this recipe. Sometimes it helps to have a visual, and we've always got you covered with our cooking show. You can find the complete collection of recipes on YouTube, Facebook Watch, or our Facebook Page, or right here on our website with their corresponding recipes.