Also known as Liquid Cinnamon Roll Syrup
Ever wished you could liquify a cinnamon roll and pour it on your morning pancakes or waffles? This syrup makes that wish a reality. This recipe promises to elevate your breakfast experience, combining the rich flavors of cinnamon rolls into a pourable delight!

Transform ordinary mornings with a syrup that tastes like a freshly baked cinnamon roll. A must-try for every home chef! This is a syrup that embodies the essence of a freshly baked cinnamon roll. We say it tastes like a liquid cinnamon roll. This syrup doesn't just complement your breakfast; it elevates it, taking pancakes, waffles, and french toast on a delightful culinary journey. And for those sweet-tooth moments, it's a divine ice cream topping too!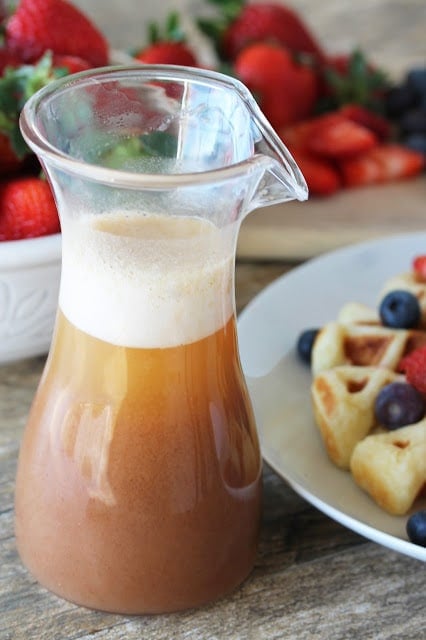 Recipe Tips
Always use a larger saucepan than you think you'll need to account for the foaming when baking soda is added.
Consistent whisking prevents the syrup from sticking to the pan and ensures a smooth texture.
Adjust the amount of cinnamon according to your preference for a stronger or milder flavor.
Ingredients and Substitutions
Buttermilk: Achieving the perfect texture and taste heavily depends on using real buttermilk. Buttermilk Substitutes might not give you the desired outcome, but can be used in a pinch.
Baking Soda: Wondering about the baking soda? It interacts with the buttermilk, causing a foaming reaction which gives the syrup its unique texture. Don't skip it!
Sugar: while you might be tempted to replace sugar with alternatives like erythritol, remember that it might slightly alter the end product's taste and consistency.
Variations
Maple-Cinnamon Syrup: Add 1/2 teaspoon of maple extract to the mixture along with the vanilla extract for a deeper, woodsy sweetness.
Pumpkin Pie Syrup: Swap the cinnamon in this recipe for pumpkin pie spice. This incorporates the cozy flavors of nutmeg, cloves, and allspice with cinnamon for the perfect fall syrup.
Chai Spiced Cinnamon Syrup: Incorporate a teaspoon of chai spice mix for a blend of warming spices.
Storage Instructions
Once prepared, transfer the syrup to a jar or other air-tight container and store it in the refrigerator. It will thicken upon cooling but can be easily reheated in a microwave or stovetop.
SHELF LIFE: This syrup stays good in the refrigerator for up to two weeks.