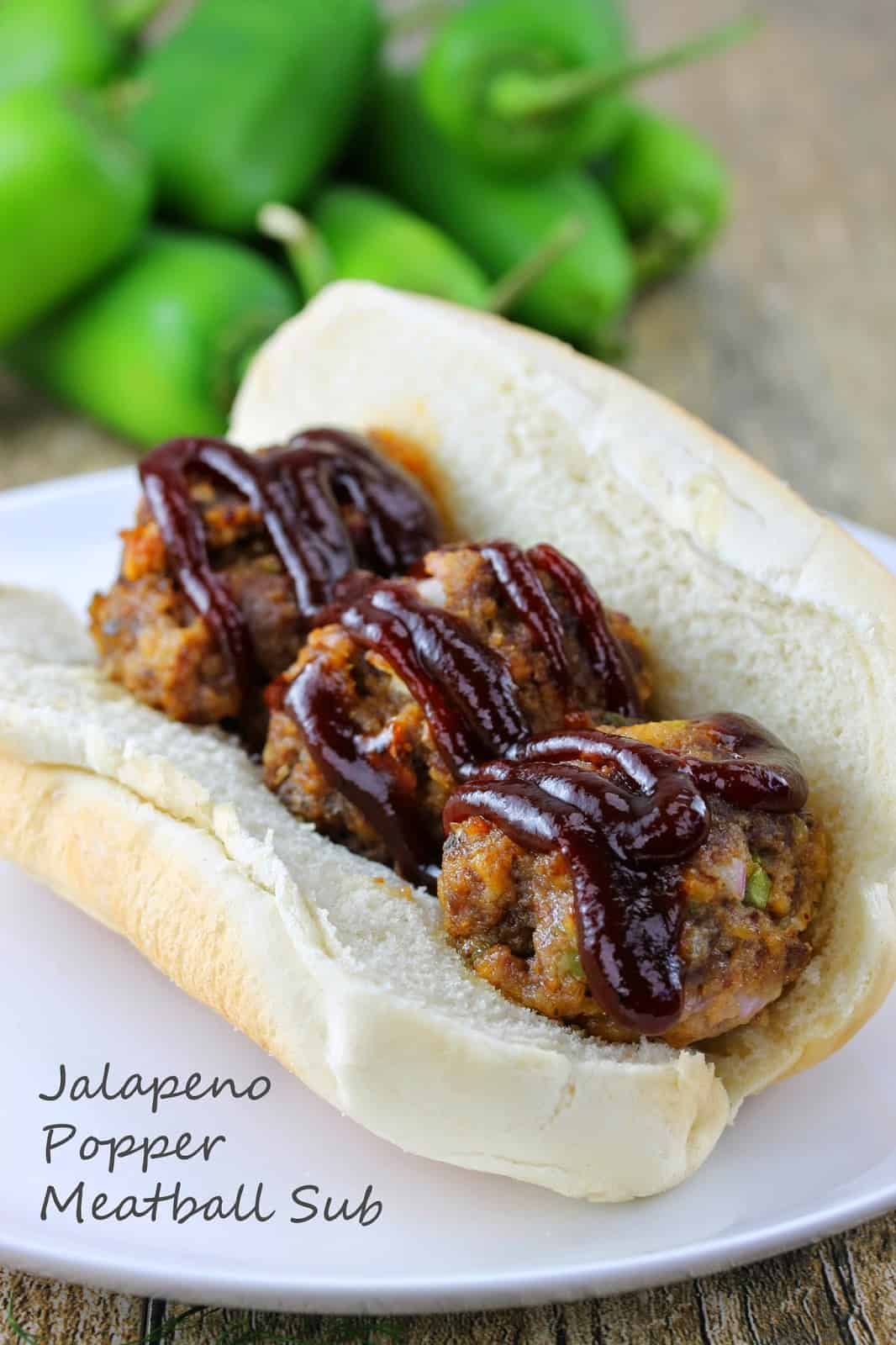 One Sunday afternoon I set out to make meatballs, which is a family favorite, only to be hit by brilliant inspiration. See, I didn't have any sauce. What they heck? I make my own sauce from scratch so it was a bit of a stunning realization for me that I was behind on making another batch. I also didn't even have any pasta and really didn't feel like making any by hand without any spaghetti sauce. That's when I saw the bag of jalapenos in my fridge. Why in the world did I have a bag of jalapenos in my fridge? Honestly, I'm not even sure. They were really cheap so I just bought a whole bag thinking I might use them for something. So here comes the brilliant inspiration. What if I take my normal meatball, which is delicious, and change things up and turn it into a jalapeno popper meatball? Diced jalapeno mixed in with ground meat and then stuff cream cheese in the middle? It's brilliant! I whipped them up and my husband was in awe. They were addictingly delicious. It became a family favorite. You can also make these meatballs in bulk and freeze them. When ready to eat just pull them out and cook them, adding 10 to 15 minutes to the cooking time. The meatballs are delicious by themselves, and you can easily turn them into a killer meatball sub.
Time To Make It: 45 minutes
Yield: 15 meatballs, 4 to 5 subs
Ingredients
1 lb ground beef
1/2 white onion, diced
1 to 2 jalapenos, diced
3/4 cup bread crumbs
1/2 cup finely shredded cheddar cheese
1/3 cup milk
2 TB Worcestershire sauce
1 tsp. dried basil
1 tsp. salt
4 oz cream cheese
4 to 5 hoagie sandwich buns
barbecue sauce
Instructions
1. Preheat oven to 400 degrees. Lightly spray a 9×13 pan or four sided baking sheet with nonstick cooking spray.
2. In a medium-size mixing bowl, combine ground beef, onion, jalapenos, bread crumbs, cheddar cheese, milk, Worcestershire sauce, basil, and salt. Mix thoroughly until ingredients are evenly distributed.
3. Shape into 15 roughly shaped meatballs. Divide the cream cheese into 15 pieces, one for each meatball. Working one at a time, take a meatball and flatten it in the palm of your hand. Place a piece of cream cheese in the center and wrap the meatball around the cheese, sealing it inside the middle.
4. Place the fully shaped meatballs into the prepared baking pan.
5. Cook in the preheated oven for 25-30 minutes.
6. Serve hot on a toasted hoagie drizzled with your favorite barbecue sauce