Pure, homemade extracts are easy to make and add better flavor to your cooking and baking. These simple instructions can be used to make any extract flavor using quality ingredients—no fillers, imitation flavors or corn syrup!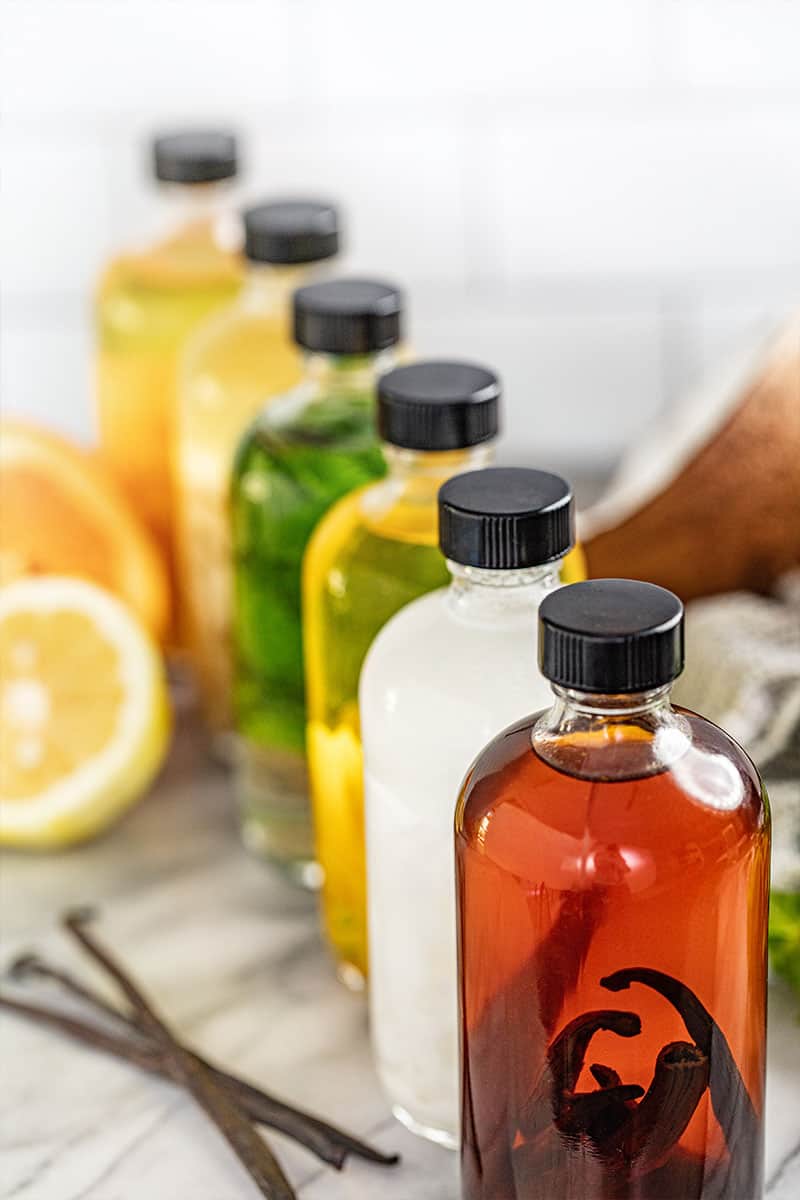 Have you ever wondered how extracts are made? Have you ever wondered why they are so expensive? It is probably because not that many people know how easy they are to make. Some of the extracts you get at the store have artificial flavors, colors, and even corn syrup! These easy homemade extracts use only Vodka and natural flavor, like lemon rinds, almonds, and vanilla beans. Because the ingredients are real and fresh, you can bet these extracts are healthier too. Don't be afraid to try making these yourself-you will be glad you did and so proud when you use them in your own cooking!
Do I have to use alcohol to make extracts?
Vodka is the best way to make these extracts and it is about 40% alcohol. If you are worried about the taste, don't worry. You can't taste the Vodka once the extract is made. If you are worried about the alcohol, it is burned up when baked or cooked and is used in such a small amount that it is completely negligible. There is a way to swap out the alcohol with vegetable glycerin. You will want to use one part water and three parts vegetable glycerin in place of the Vodka. If it's Vodka you object to, you can also use Bourbon, which will have a slightly noticeable, richer flavor.
What is the difference between pure and imitation extracts?
Imitation extracts use imitation flavoring along with an alcohol base. Pure extracts use real ingredients instead of imitation flavor, so they are healthier and tastier too! When you make these extracts, you will use actual almonds, lemon peels, and so forth.
What kinds of bottles should I use to make homemade extracts?
You can find extract-size bottles in most cooking stores and online. Amber bottles are best as they block the light from impacting the extracts. Clear bottles are still an okay option and allow you to watch as the liquid changes color over time. The color is an indication of the developing flavor. You can find clear 8-ounce bottles HERE and amber-colored 8-ounce bottles HERE. Screw top lids are the recommended option when making extracts.
How long does it take to make extracts?
It only takes a few minutes to combine the ingredients for these extracts. The process by which the flavor is "extracted" from the ingredients, takes about 5 weeks.
Should I strain the raw ingredients from my extract liquid?
The raw ingredients used to extract flavor need to remain in the vodka for a minimum of 6 weeks in order for the flavor to be fully extracted. Once the flavor extraction process is complete you can choose to strain the extract, removing the raw flavoring ingredient. The best way to do this is to place a fine-mesh strainer over a funnel and pour the extract from the original jar into a new, clean jar for longer-term storage or gifting.
Ingredient Ratios for Common Extract Flavors:
Vanilla Extract: 4 to 6 whole vanilla bean pods (3 to 4 inch) + 8 ounces vodka
Almond Extract: 1/2 cup raw unsalted slivered almonds + 8 ounces vodka
Lemon Extract: 2 lemon rinds, peeled into strips + 8 ounces vodka
Orange Extract: 1 large orange rind, peeled into strips + 8 ounces vodka
Mint Extract: 1 cup loosely packed fresh mint leaves+ 8 ounces vodka
Coconut Extract: 1/2 cup roughly chopped fresh coconut meat + 8 ounces vodka
Cinnamon Extract: 4 sticks whole cinnamon + 8 ounces vodka
Pro Tip:
Vanilla beans can be reused multiple times to make vanilla extract. After the initial 6 week extraction period you can strain your extract and start the process over again, using each pod 3 to 4 times.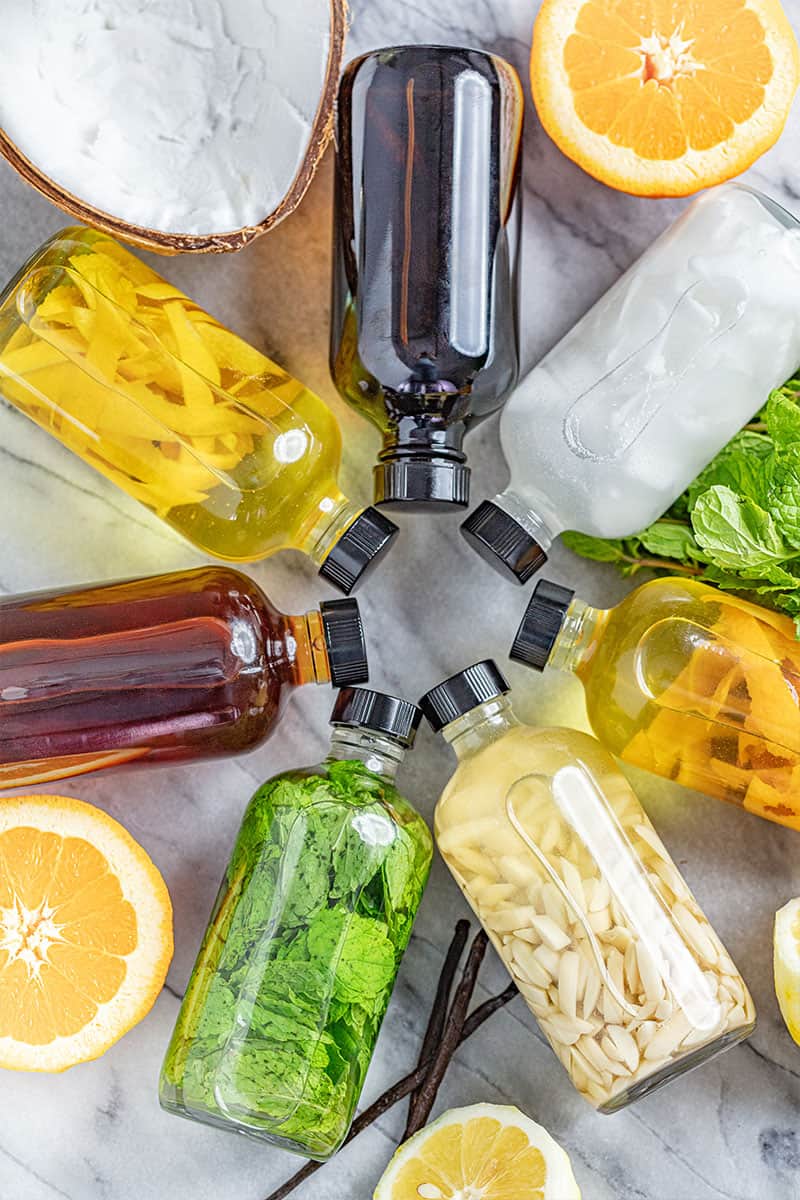 Storage Instructions:
Extracts don't go bad due to the high alcohol content. Keep them sealed, in a cupboard, and away from light and heat and they should keep indefinitely.
If you like this recipe, you may also be interested in these other recipes for things you didn't know you could make at home:
Watch the video below where Rachel will walk you through every step of this recipe. Sometimes it helps to have a visual, and we've always got you covered with our cooking show. You can find the complete collection of recipes on YouTube, Facebook Watch, or our Facebook Page, or right here on our website with their corresponding recipes.