Learn how to make Homemade Butter in a Mason Jar in this fun pioneer activity for kids and adults alike! It's easy to churn your own butter and make your own buttermilk!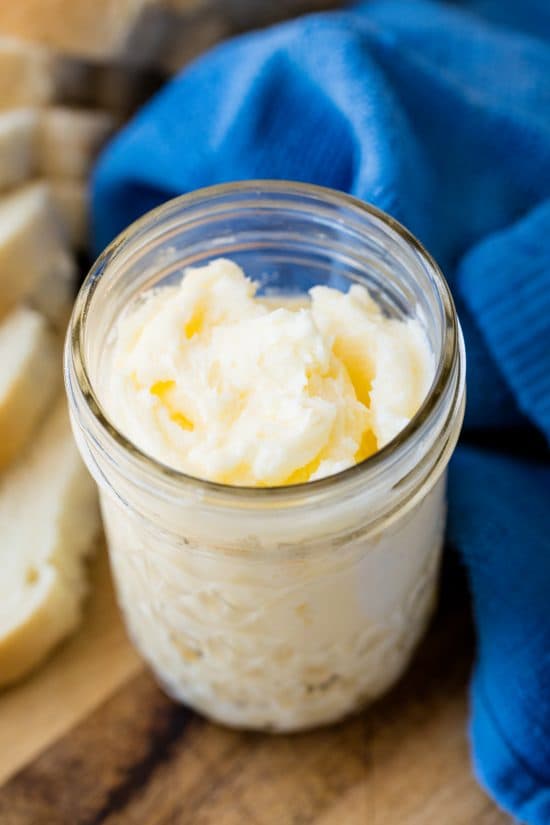 I grew up in the Western United States and there's a lot of celebration of the heritage of the American West and the pioneer heritage that populated and developed the area into what it is today. One of the activities that we seemed to always do in pioneer celebrations in the community and at school was to make our own butte using mason jars.
Homemade butter can be made a variety of different ways, but a mason jar makes a fun, and accessible activity for people of any age and skill level. All you need is a jar and some heavy cream.

MY OTHER RECIPES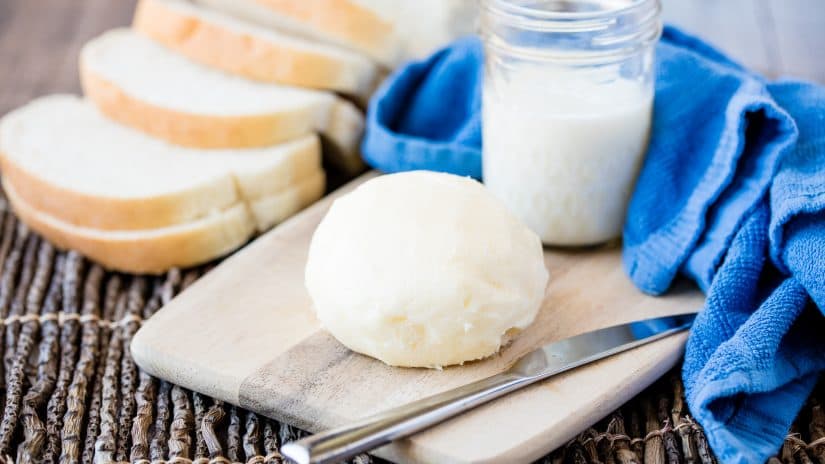 You can use any size of jar you want. When I was little I often did this activity using clean baby food jars. Baby food jars are a bit easier for little hands to work with so consider using them if you are doing this activity with smaller children. The recipe is altered depending on the size of jar you use. You only want to fill the jar half-way with heavy cream. You need space in the jar for the cream to be able to churn into butter.
Want salted butter? Add a bit of salt to the cream before shaking. Once your butter is churned you can also add in herbs, honey, and other flavorings for some gourmet butter options.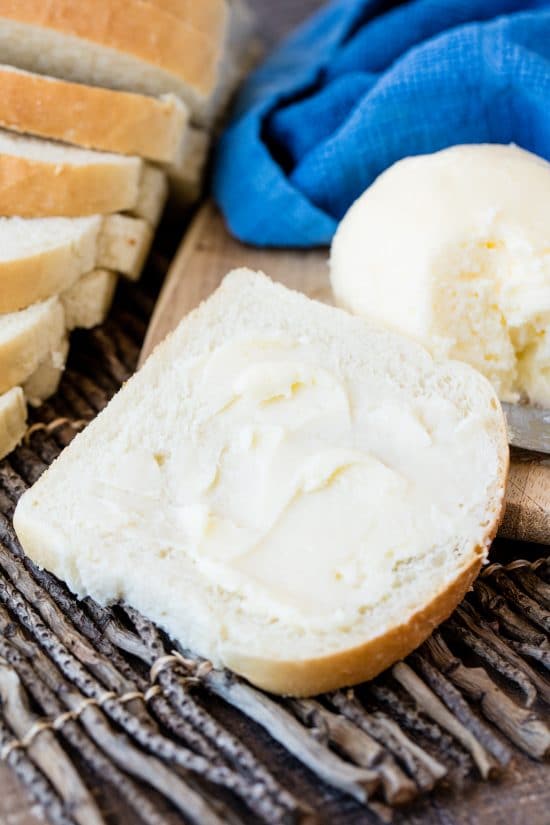 The butter will stay good for 3-5 days at room temperature, and about 7-10 days refrigerated. Store it with the lid on. The liquid leftover after the butter forms is buttermilk! You can also store this in the fridge for about a week for later use. I highly recommend using it in my Chocolate Cake recipe.
PRO TIP: if you want to speed up the churning process, add a clean marble to your jar. This will work as an agitator and help churn the butter a bit faster.
Watch the video below where I give a step by step demonstration of how to make mason jar butter. I've included great tips and tricks to help you along your way.
Homemade Butter in a Mason Jar
How to Make Homemade Butter in a Mason Jar
Author:
Rachel Farnsworth
Ingredients
1 pint sized (16 oz) mason jar
1 cup heavy cream (38% fat content)
cold water
Instructions
Pour heavy cream into the mason jar, filling it half-way full. Screw the lid on.
Shake mason jar for approximately 5-7 minutes. After the first 2 minutes you'll have whipped cream. Keep shaking until you hear that a lump has formed inside, and shake an additional 30-60 seconds after that.
Remove the solids from the jar. The remaining liquid is buttermilk. You can save that for other recipes, or discard it.
Place the solids into a small bowl. Pour cold water over the butter and use your hands to squish it into a ball. Discard water and repeat rinsing 2 times more.
At this point you have butter. You can add in things like salt, honey, and herbs to create flavored butters, or serve in its pure form as is.
Get New Recipes Sent To Your Inbox 😃
Join my newsletter and get new mouth watering recipes sent directly to you weekly!