Crab legs are one of the easiest things to make at home. Skip the expensive restaurant mark-ups and enjoy this gourmet treat at home. We'll show you how to boil, steam, or broil in the oven as well as show you how to eat crab legs too!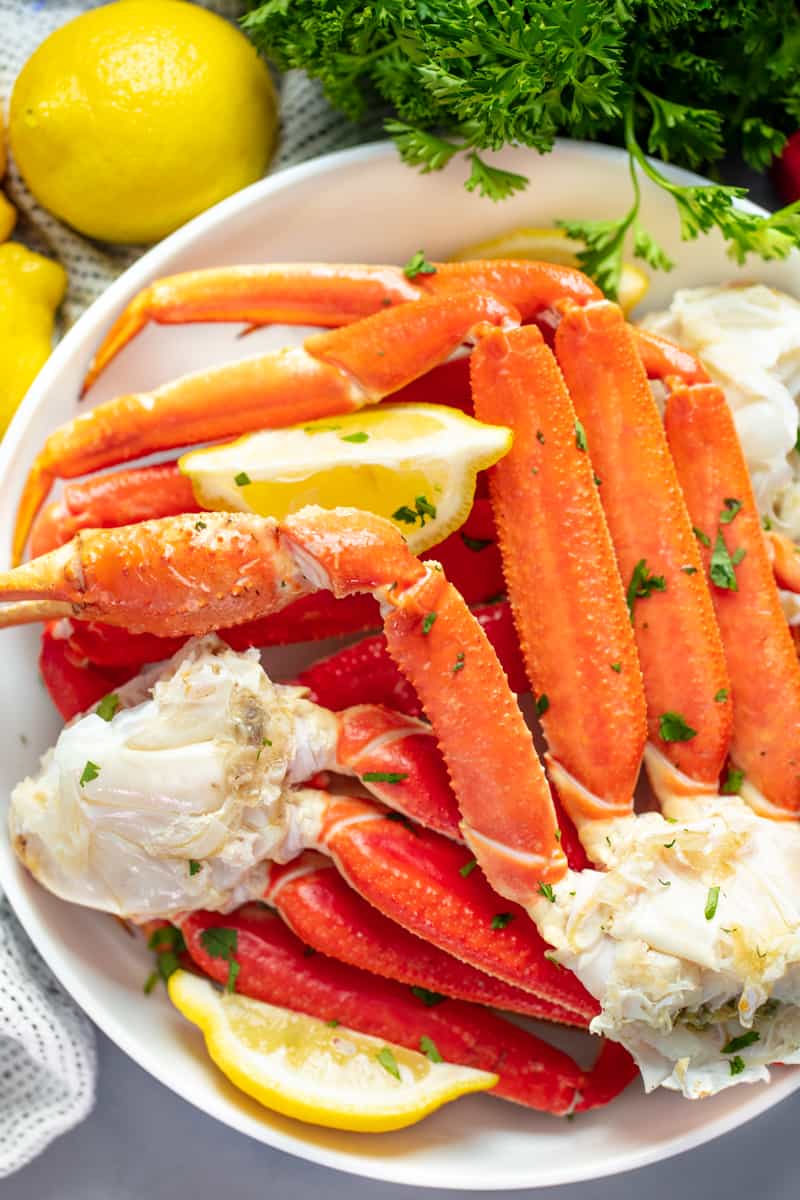 When it comes to cooking crab legs at home, it really couldn't get much easier. Even the most novice of cooks can easily cook up some delicious and perfect crab legs. There are three different popular methods for cooking crab legs: oven broiling, steaming, and boiling. We'll cover all three methods and discuss the pros and cons of each one. And on top of that, we'll even show you how to eat them, which is probably the hardest part of all.
What kind of crab legs should I buy?
There are two main kinds of crab legs that are sold in American grocery stores. You can buy snow crab legs, or King crab legs. Snow crab legs are sold in clusters so you'll have several legs and maybe even a claw clustered together. King crab legs are much larger and are sold by the individual leg. Snow crab legs are significantly cheaper than king crab so you'll have to choose which works best within your budget.
How to eat Crab Legs
For King crab legs, take a pair of kitchen scissors and simple cut down the shell of a leg lengthwise. Fold it open to expose the meat inside.
For Snow Crab legs:
Start by removing each individual leg from the cluster by snapping it off at the cluster.
Break each leg into two parts by snapping at the joint.
For each leg part use two hands on each end to gently bend back and forth until the shell breaks. The meat should slide out easily from the shell.
For claws, use a cracker or your teeth to break open the shell. Do not apply too much pressure or you'll crush the meat inside. Peel back the shell until you can easily slide the meat out.
For the cluster, crack it gently with your hands and fold it open. The meat is found on the inside. Use a small fork to remove all the pockets of meat.
How to serve Crab Legs
Crab legs are most often served with melted butter and lemon wedges on the side. Once your meat is removed from the shells you can squeeze the lemon juice over and dip in melted butter.
Another popular serving option in the New England area is to serve crab meat with Old Bay seasoning which is a proprietary mix of herbs and spices that compliments seafood well. Sprinkle a little of the seasoning onto a plate. You can squeeze lemon juice over and dip in butter, and then dip in the Old Bay seasoning to finish before eating.
If you like this recipe, you may also be interested in learning how to cook lobster tails.