Honey Garlic Barbecue Chicken Drumsticks are finger-licking good! A homemade honey garlic barbecue sauce smothered on chicken drumsticks with a cooking hack that makes it incredibly easy!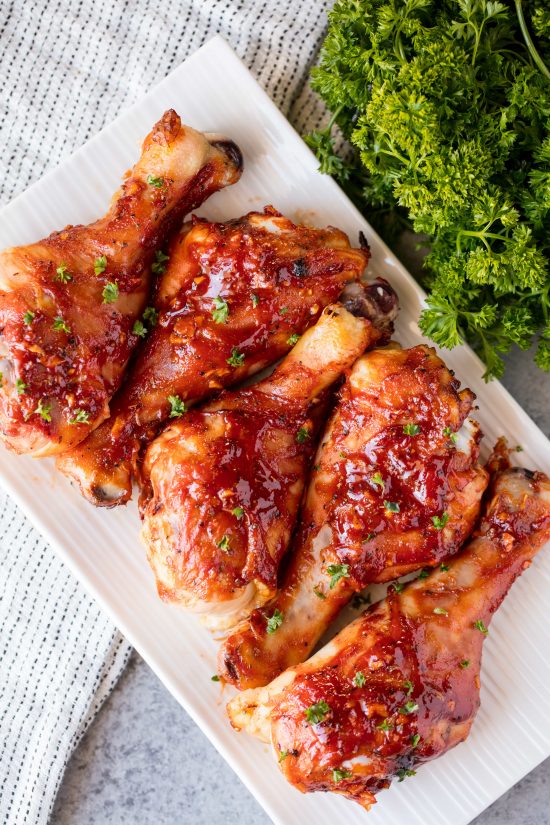 You gotta love a finger-licking good drumstick, especially when it is lathered in barbecue sauce. You get to eat with your hands, rip your teeth into some meat, tear it from the bones, and all the while sport a barbecue sauce mustache. It is primal and delicious. Nothing like eating meat off the bones to remind you where you fall on the food chain, am I right? Yes, this comes from the girl who only eats meat a couple times a week. It's like those giant turkey legs sold at county fairs or amusement parks like Disneyland. They always look delicious and you always feel like a indulgent slob while gnawing away at the delicious meat. This recipe is no exception.
A variation on this barbecue sauce can be found in my Slow Cooker cookbook   Yes, you can order it now and yes, it is awesome. All of my taste testers who ate their way through the writing of the book were eagerly anticipating it and now you can too! End of shameless plug.
Back to the recipe at hand. Drumsticks are one of my go-to easy meals. They are as easy as season, bake, eat. This time I have you whisking up a quick homemade barbecue sauce. A little extra love and lathering goes a long ways so I have you doing a second coat of sauce mid-bake. So we'll call them as easy as lather, bake, lather, bake, eat. Did that even make sense? This sauce will have everyone at the table eating primal and licking their fingers all along the way. Serve with napkins, of course! Unless you were raised in a barn and then more power to you!

MY OTHER RECIPES
Watch the video below where I walk you through every step of the recipe. I have over 250 video recipes on YouTube. That's a lot of recipes to drool over so it could keep you busy for quite a while!
Honey Garlic Barbecue Chicken Drumsticks
Honey-Garlic Barbecue Chicken Drumsticks
Print
Pin
Rate
Ingredients
1

cup

ketchup

6

cloves

garlic

peeled and minced

1

tablespoon

Frank's hot sauce

2

tablespoons

honey

1

tablespoon

brown sugar

2

teaspoons

liquid smoke

2

teaspoons.

cornstarch

1

teaspoon

Worcestershire sauce

1/2

teaspoon

soy sauce

1/2

teaspoon

salt

1/2

teaspoon

onion powder

1/2

teaspoon

dried oregano

1/2

teaspoon

dried basil

1/2

teaspoon

paprika

1/4

teaspoon

black pepper

1/8

teaspoon

cayenne pepper

optional

4

pounds

chicken drumsticks
Instructions
Preheat oven to 375 degrees.

In a small mixing bowl, whisk together ketchup, garlic, hot sauce, honey, brown sugar, liquid smoke, cornstarch, worcestershire sauce, soy sauce, salt, onion powder, oregano, basil, paprika, black pepper, and cayenne pepper. Whisk until smooth.

Spray a 4 sided baking sheet or 9x13 pan with nonstick cooking spray. Lay the drumsticks out on the pan and brush with the barbecue sauce.

Bake in the 375 degree oven for about 45 minutes, brushing with additional barbecue sauce halfway through.
Nutrition
Calories:
409
kcal
|
Carbohydrates:
21
g
|
Protein:
36
g
|
Fat:
18
g
|
Saturated Fat:
4
g
|
Cholesterol:
186
mg
|
Sodium:
887
mg
|
Potassium:
597
mg
|
Sugar:
16
g
|
Vitamin A:
8
%
|
Vitamin C:
3.1
%
|
Calcium:
3.7
%
|
Iron:
9.5
%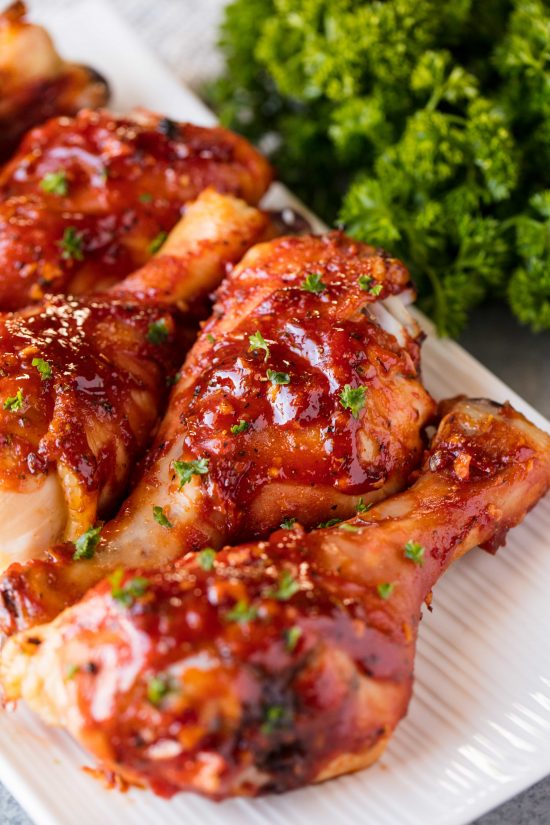 When you buy chicken with the skin on it often comes all jumbled up like this: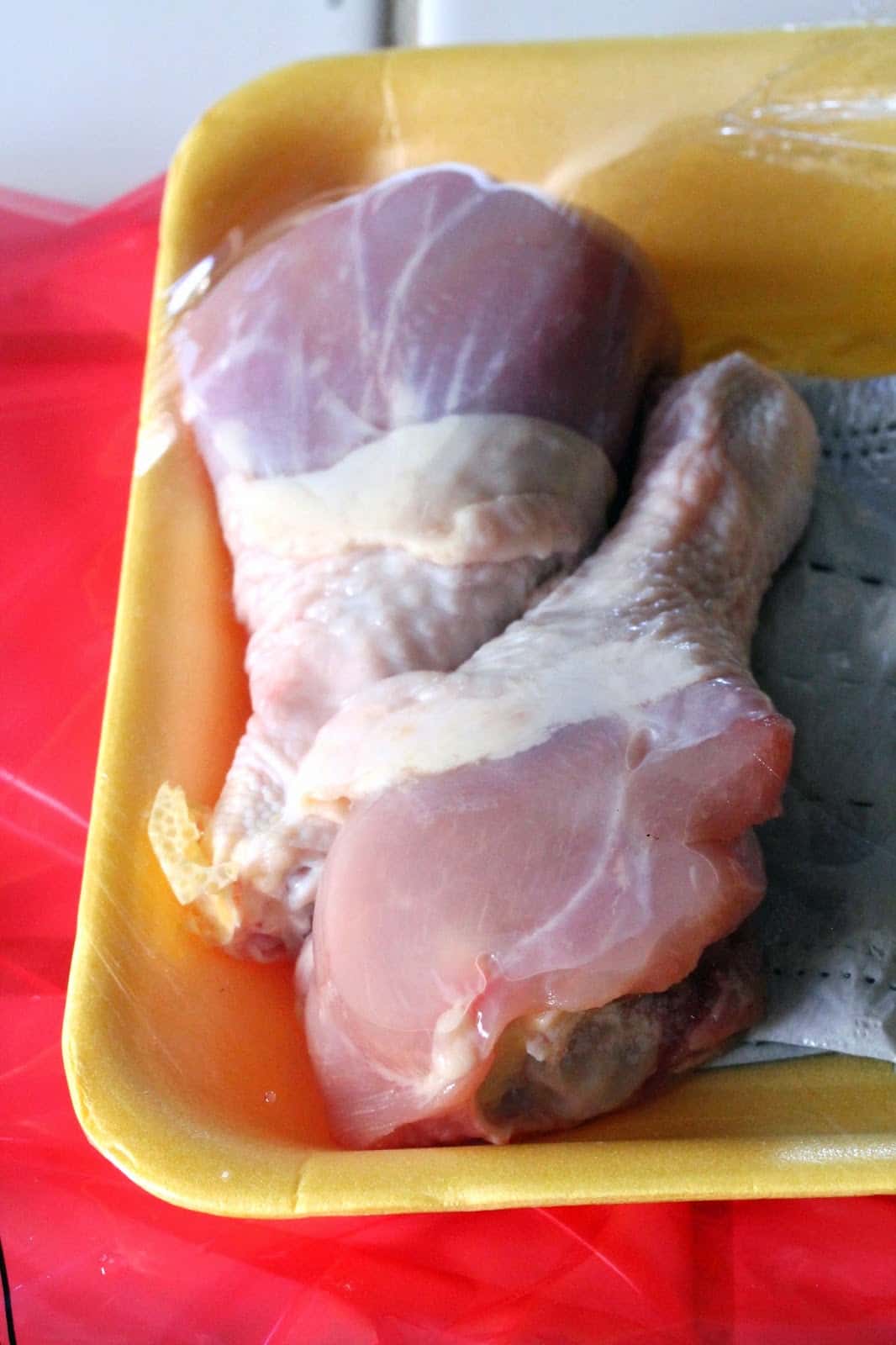 But if you want to get that great chicken skin that is crispy and full of flavor you need to pull that skin back over the meat. This also helps keep in the moisture which prevents your chicken from drying out. It's easy. Just pull the skin up over the meat so the skin is taut again.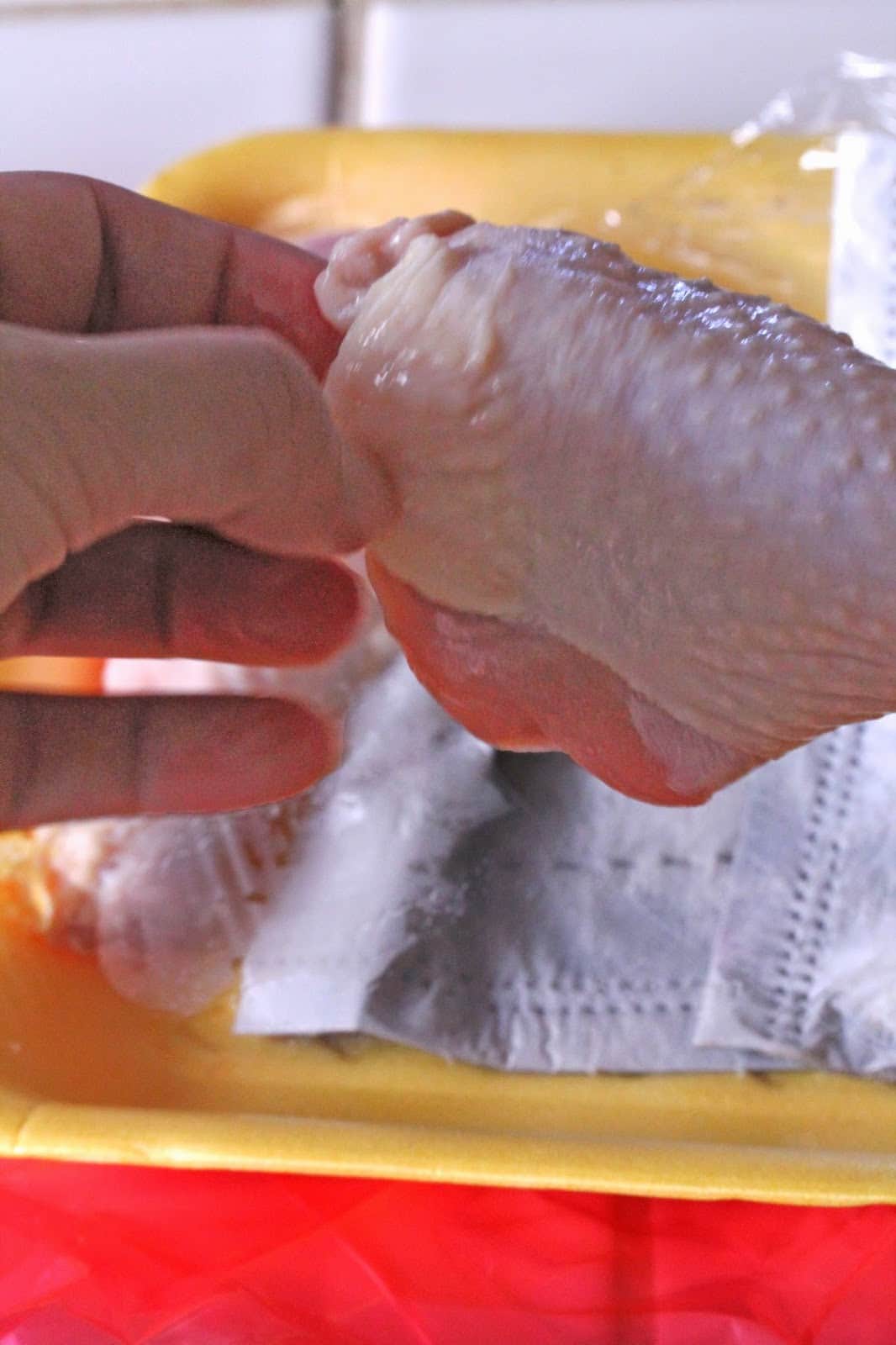 Then you can lay your chicken out and it looks all nice and neat and purty and ready to season and cook! The same thing applies to any skin-on chicken. Pull that skin back up over the meat!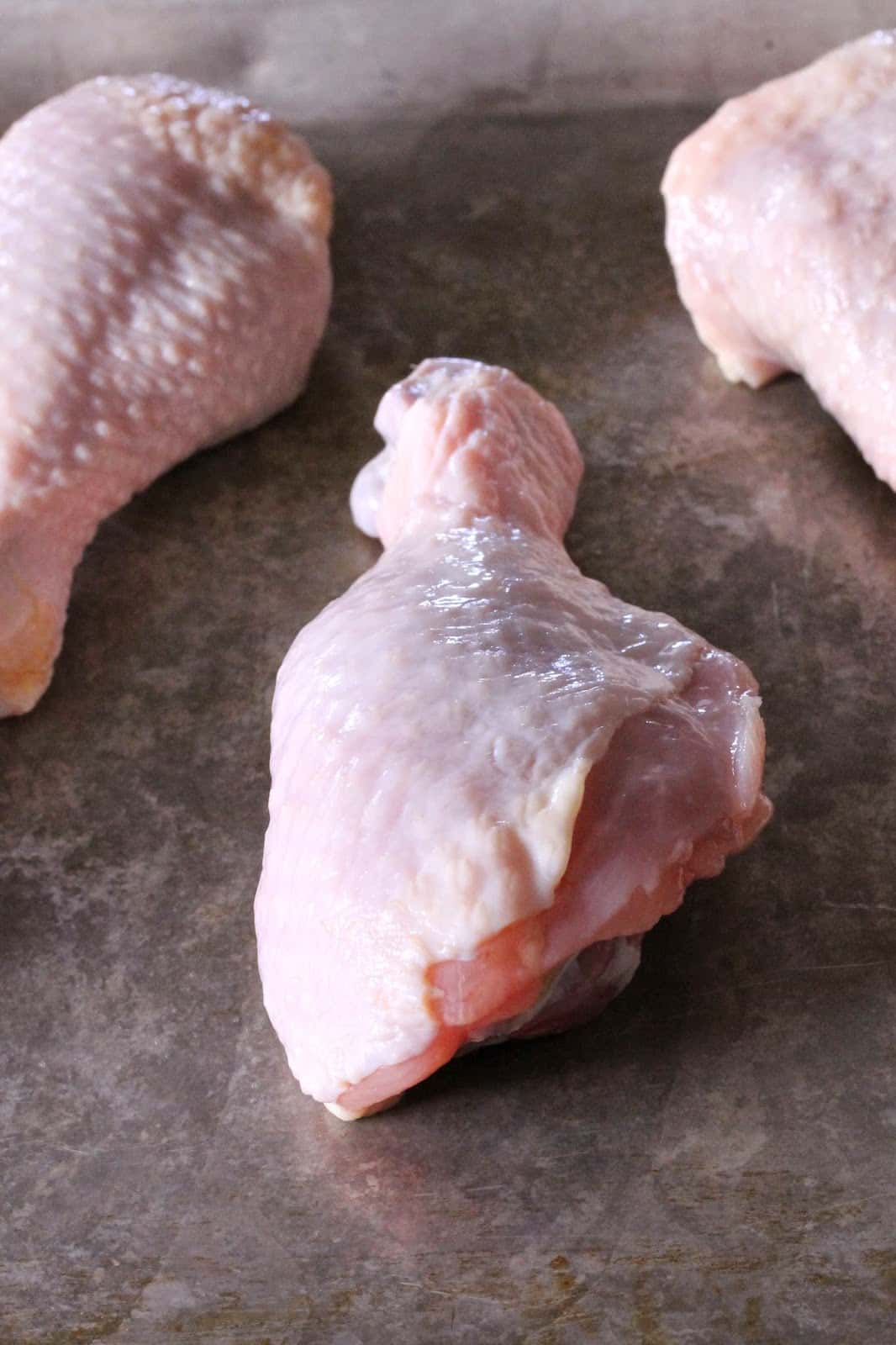 This recipe first appeared on The Stay At Home Chef on May 8, 2014
Get New Recipes Sent To Your Inbox 😃
Join my newsletter and get new mouth watering recipes sent directly to you weekly!