These Garlic Lime Grilled Chicken Tacos are so delicious and savory! Chicken is marinated in a juicy lime garlic sauce, grilled and then served on warm tortillas for a taco treat everyone will love!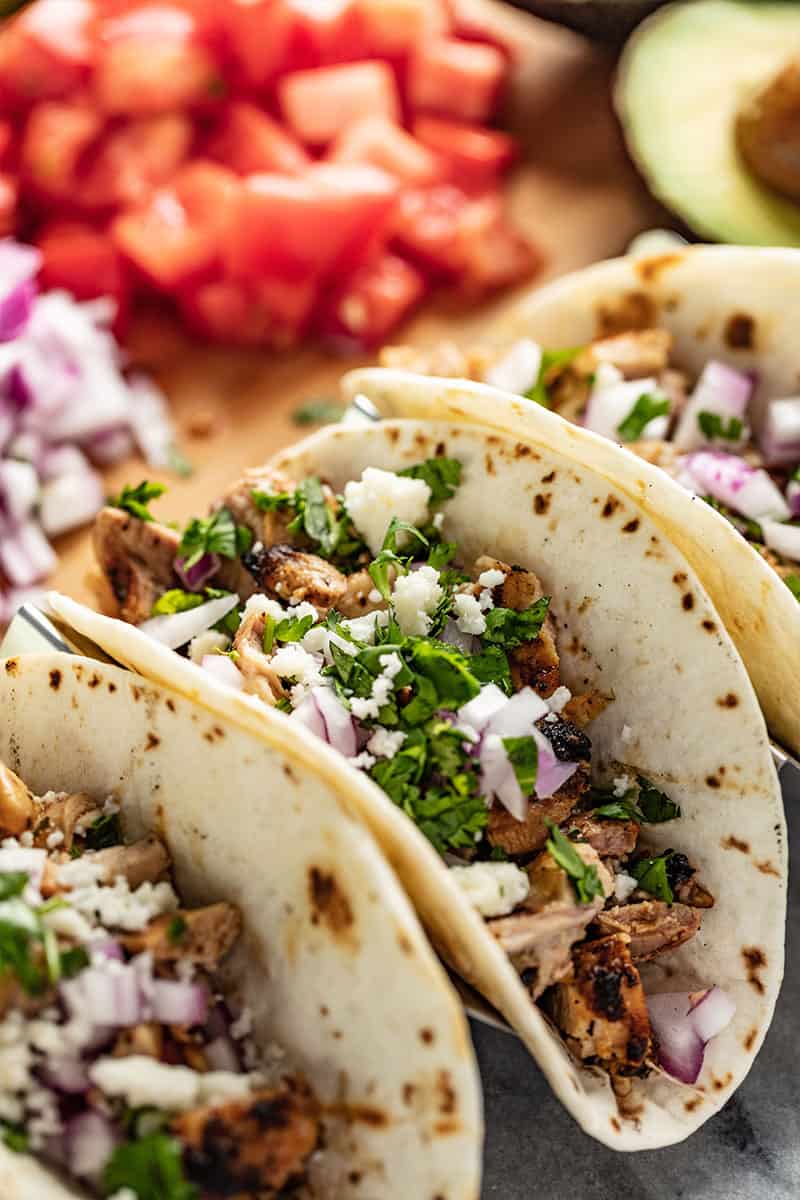 Grilled garlic lime tacos are so delicious, you will want to make them all the time—and why not? If you're having company, these are super fun because they are casual and inviting, but completely delicious! If you're grilling for an outdoor or summer gathering, why not swap out the burgers for a gourmet taco? Need to make them indoors? It's easy to swap out the grill for a skillet. These chicken tacos are super fresh and simple to make, but still pack in a ton of flavor! The combination of tangy lime and savory garlic together transforms plain chicken into something amazing! You can serve them with the ingredients here in the recipe, or any of your favorite taco toppings.
What is the best way to warm up tortillas for tacos?
If you like your tortillas more moist and flexible, you can microwave them in small batches for 30 seconds at a time and then make sure they are placed in a container with a lid. If, on the other hand, you prefer a drier, crispier tortilla, you can either flip them on a grill or stove top griddle until the edges turn brown. I like them warmed over a grill. Whichever way you prefer, I recommend that you wrap them in tin foil or make sure you place them in a container to keep them warm while you eat.
Can I make the meat in advance?
Yes. I definitely prefer the meat fresh off the grill, but it you are pressed for time, the meat can be made in advance and reheated. Reheating in the oven is best. Wrap the chicken in foil so it doesn't dry out. Place in oven at 250 degrees Fahrenheit until the internal temperature reaches 165 degrees Fahrenheit.
Can I use chicken breasts instead of chicken thighs for chicken tacos?
We recommend using chicken thighs when making chicken tacos due to the flavor and moisture of the dark meat. When grilling, chicken thighs are also much harder to dry out. You can use boneless skinless chicken breasts in place of the chicken thighs. To retain moisture, be sure to use a meat thermometer so you don't overcook your meat which will dry it out. Chicken breasts also cook more quickly than chicken thighs so be sure to keep an eye on them and adjust the cooking time accordingly.
Does the chicken have to be grilled? Can I make it on the stove instead?
No. The chicken can easily be cooked on a stove top. If preparing on a stove top, heat a heavy skillet over medium high heat. Cook the chicken for about 5-7 minutes per side or until the internal temperature reaches 165 degrees Fahrenheit.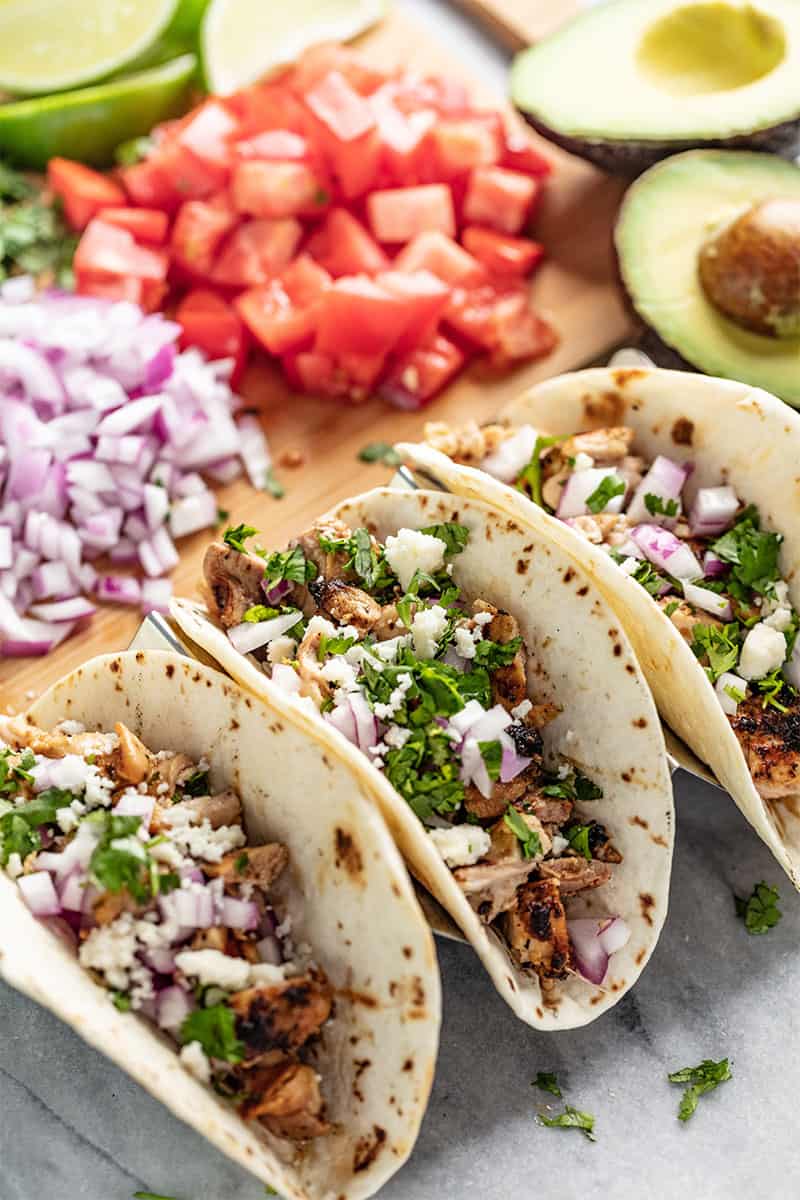 Storage and Reheating Instructions:
Store any leftover chicken filling in an airtight container in the refrigerator for up to 4 days. Reheat in a skillet on the stovetop over medium-low heat, or in a microwave in 30-second increments until warmed through.
If you like awesome variations on the beloved taco, here are some others you might like:
Watch the video below where Rachel will walk you through every step of this recipe. Sometimes it helps to have a visual, and we've always got you covered with our cooking show. You can find the complete collection of recipes on YouTube, Facebook Watch, or our Facebook Page, or right here on our website with their corresponding recipes.