This Authentic German Schnitzel Recipe has been passed down for generations. Use this same method for pork schnitzel, veal schnitzel (weiner schnitzel), or chicken schnitzel.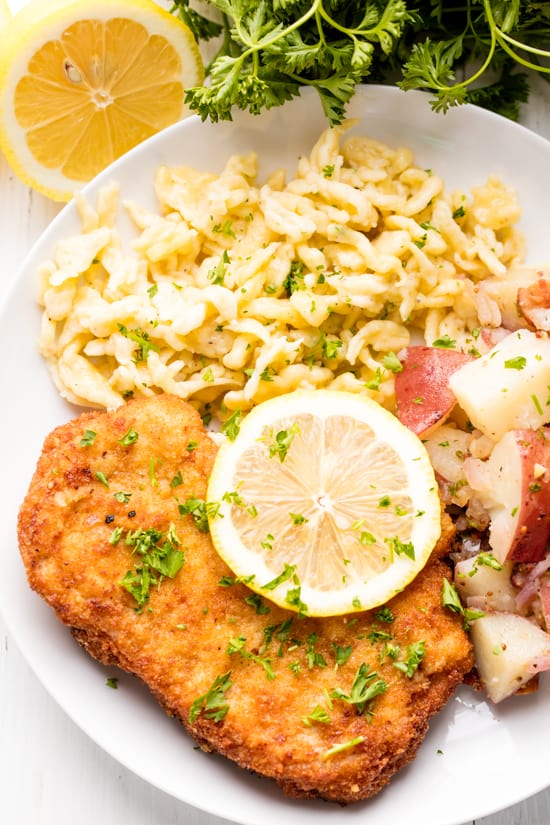 Schnitzel is a traditional German dish where meat is pounded out thin, breaded, and fried. The breading is very simple, but creates a wonderfully crunch shell around the meat. Schnitzel is best enjoyed fresh and hot from the pan.
What kind of meat is used for schnitzel?
Schnitzel is always made from a boneless cut of meat. For weiner schnitzel, use boneless veal chops. For pork schnitzel, use boneless pork chops. And for a chicken schnitzel (less common), use boneless skinless chicken breasts.
How do you make a chicken schnitzel?
Chicken schnitzel is less common than its traditional veal and pork counterparts, but can still be used nonetheless. Chicken schnitzel is made in the same way. Pound the chicken out thin, about 1/4 inch thick, and bread and coat the meat. It is then fried until it reaches an internal temperature of 165 degrees F, which may requires a slightly longer frying time.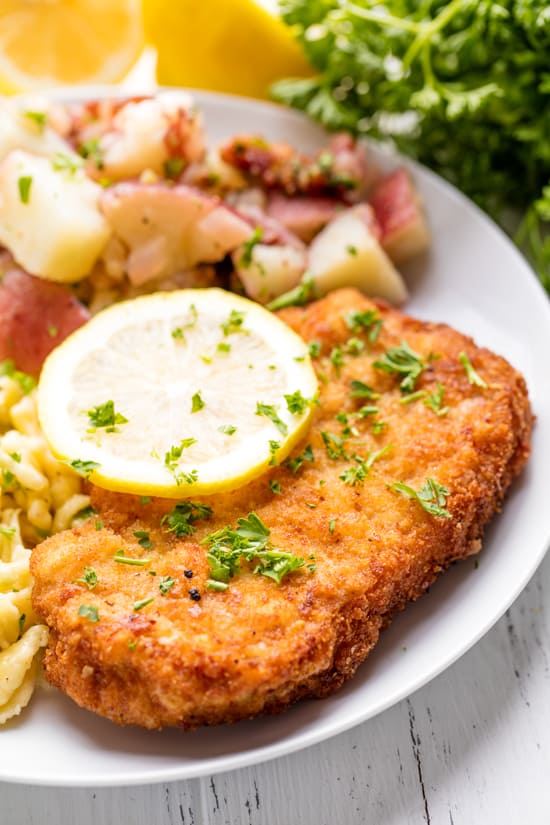 What sauce goes well with schnitzel?
Schnitzel is often eaten plain with just a bit of freshly squeezed lemon juice, but can also be served with a sauce. One of the most common sauces is a creamy mushroom gravy. To make, melt 2 tablespoons of butter in a saucepan. Add in 8 ounces sliced mushrooms and saute 3 to 5 minutes over medium high heat until mushrooms are soft. Stir in 2 tablespoons flour until white specks disappear. Pour in 2 cups chicken broth and bring to a simmer to thicken. Remove from heat and serve.
What sides goes well with schnitzel?
Watch the video below where Rachel will walk you through every step of this recipe. Sometimes it helps to have a visual, and we've always got you covered with our cooking show. You can find the complete collection of recipes on YouTube, Facebook Watch, or our Facebook Page, or right here on our website with their corresponding recipes.