This super moist Cinnamon Roll Swirl Coffee Cake is worth making from scratch! Rich, moist coffee cake is swirled with a cinnamon roll filling and topped off with a simple glaze. This cake is to die for!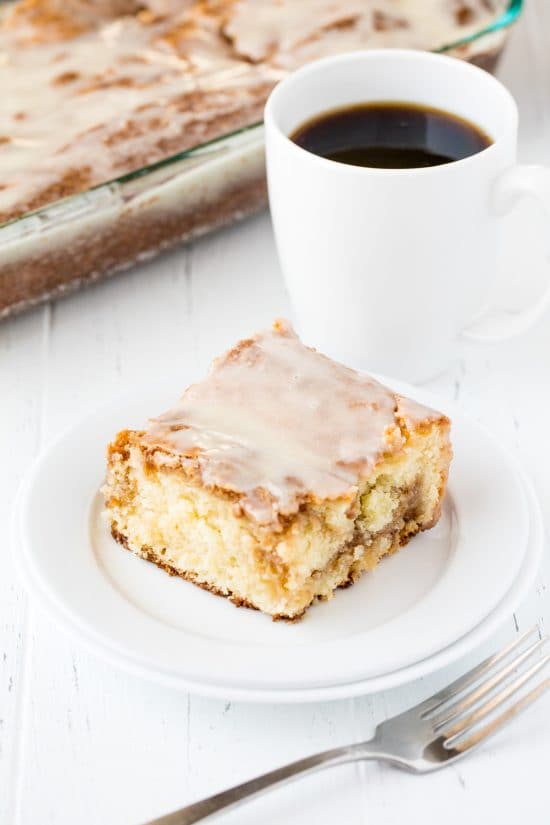 The first time I made a cinnamon swirl coffee cake was years ago. My sister has posted a recipe she called Honey Bun Cake on her blog. (That's right, blogging is a family thing for us!). It was absolutely delicious, just like she said. I've made it several times since. Hers uses a cake mix and I wanted to give you a "from scratch" version since that's more my style. This cake is amazing! It is super moist, and thick, and decadent….everything a coffee cake should be. The batter is quite thick, much thicker than a cake mix so don't be surprised by that. That's exactly how it is supposed to be.
If you like this recipe, you may also enjoy some of my other cinnamon recipes like my Sour Cream Coffee Cake Muffins or my Cinnamon Roll Twist Bread. You may also enjoy some of my other cake recipes like my Most Amazing Chocolate Cake or my Most Amazing White Cake.  Both of those are super popular, and for good reason!
SWIRL OPTIONS: You have a couple of different options for the cinnamon swirl. You can simple swirl it in up top like I've done here, or you can layer it by pouring half the batter into the pan, doing a swirl layer, then the remaining half of the batter and another swirl layer. Feel free to do whichever works best for you.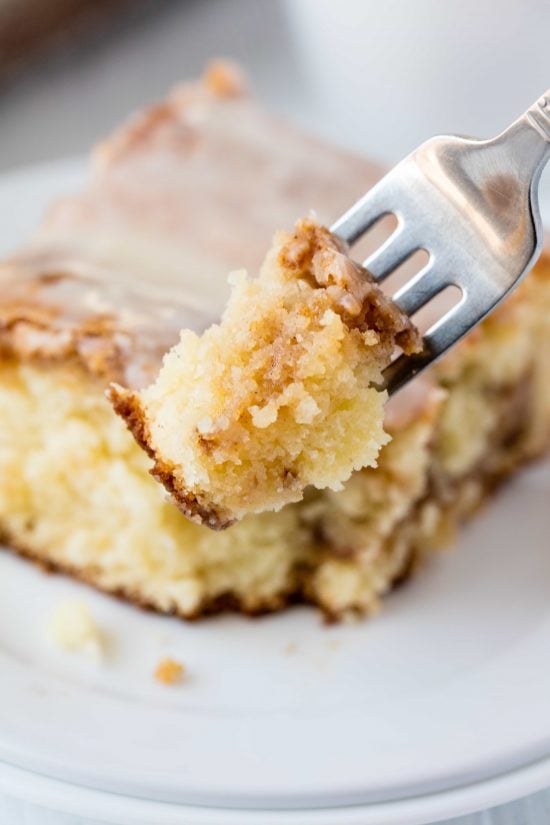 How long does this cake stay good?
This cake stays good for about 3 days before it starts to dry out. Make sure you cover it after it has been sliced into, otherwise it will dry out immediately. Store at room temperature.
Why doesn't it have any coffee in it? Why do they call it a coffee cake?
Now, before anyone gets mad about me calling it a coffee cake, let's get one thing straight: coffee cake doesn't have any coffee in it and it isn't supposed to! It's called coffee cake because it is meant to be served up with coffee. I'm not a coffee drinker, but the sweetness of the cake is supposed to be a good balance to the dark flavors of coffee.
Watch the video below where Rachel will walk you through every step of this recipe. Sometimes it helps to have a visual, and we've always got you covered with our cooking show. You can find the complete collection of recipes on YouTube, Facebook Watch, or our Facebook Page, or right here on our website with their corresponding recipes.