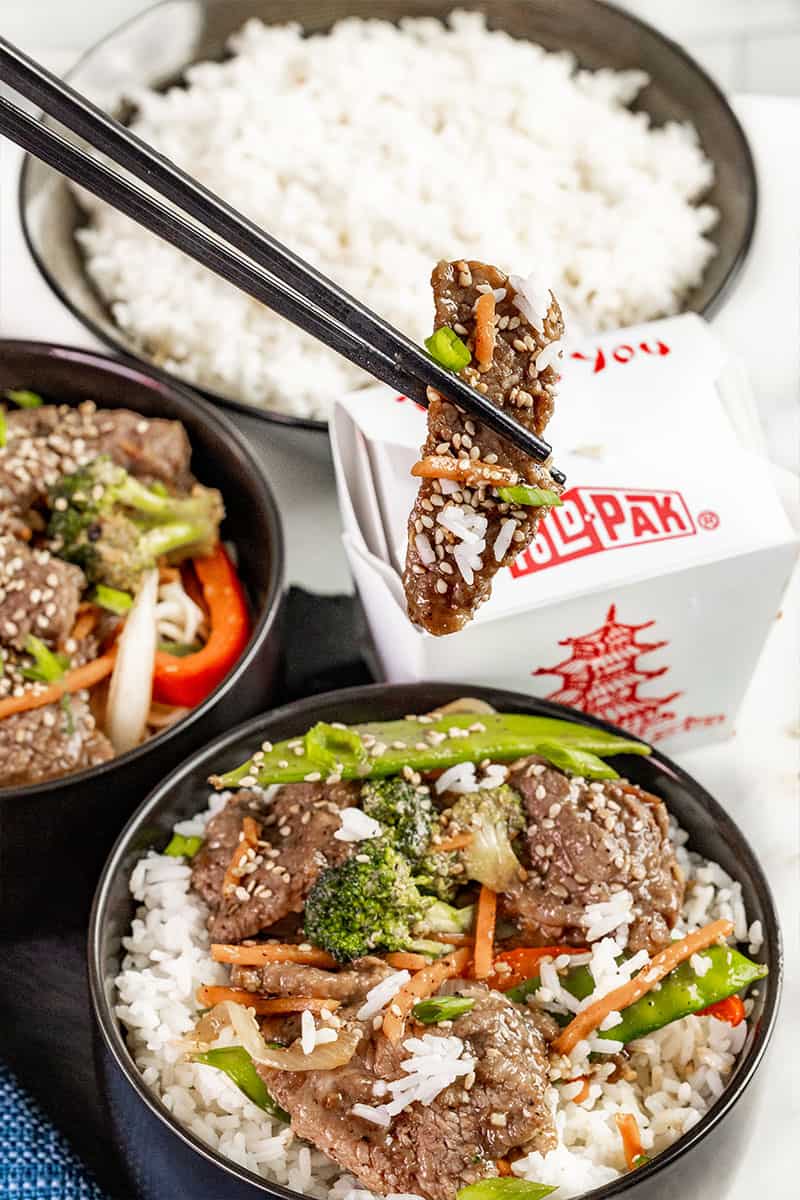 Beef stir fry is simple to make, and the results are so delicious! Between the flavors, textures, and saucy goodness…it's just begging to be gobbled up. It's a family favorite dinner you can whip up faster than you can pick up takeout!
It's no secret that we love to cook here at The Stay at Home Chef. We're constantly inspired by the meals we eat at restaurants, and takeout food holds a special place in our hearts. When we discover something we love, it's always fun to recreate it in our kitchen. Not only do we love to experiment, but it's also reassuring to know exactly what ingredients are used. No more mystery meat or too much salt. This beef stir fry recipe is one of our favorite takeout meals to recreate. We like to start with the sauce. It is the perfect balance of sweet and savory and it marries perfectly with the tender beef and veggies. Serve this stir fry over rice and you can't go wrong! Next time you're tempted to order in, why not make this instead? It takes about the same time as it would for a delivery order to make it to your doorstep. And our homemade version is so much better!
Beef Options
The star of the show in this recipe is (of course) beef! We like to use flank steak best, as it slices beautifully into strips without the fuss of sinew or fatty spots. It has a deep, rich, beefy flavor that we can't get enough of! You can also use:
Beef round
Sirloin
Tri-tip
One important tip to remember as you cut — go against the grain!
Vegetable Options
You can keep things simple and use bell peppers, broccoli, snow peas, and carrots as indicated on the recipe card below. Or, if you want to make your stir fry beef recipe a bit heavier on the veggies, feel free to add in:
Mushrooms
Cabbage
Zucchini
Eggplant
Water chestnuts
Bok choy
Frequently Asked Questions
Do I need a wok?
The best pan for beef stir fry is by far a wok. It has a rounded bottom and is deep enough to load up with lots of ingredients at a time. If you don't already have one at home, we definitely suggest that you invest in one! If you don't, you can simply use a large skillet.
What Oil Should I Use For Stir Fry?
We recommend that you use vegetable or canola oil for your beef stir fry recipe. They have a neutral flavor and higher smoke point than olive oil.
Troubleshooting: Chewy Beef
The key is in the size of the beef pieces! The thinner you slice the meat, the more tender it will be. We like to cut ours into ¼-inch to ½-inch thick pieces. When you keep the beef slices thin, you won't have to cook it longer. Overcooked beef tends to be chewy, and you want to avoid that!
Serving Suggestions
We like to keep things simple and serve our stir fry beef recipe over a bed of rice or noodles. Here are some options if you're not sure what to choose:
Jasmine rice
Brown rice
Soba noodles
Udon noodles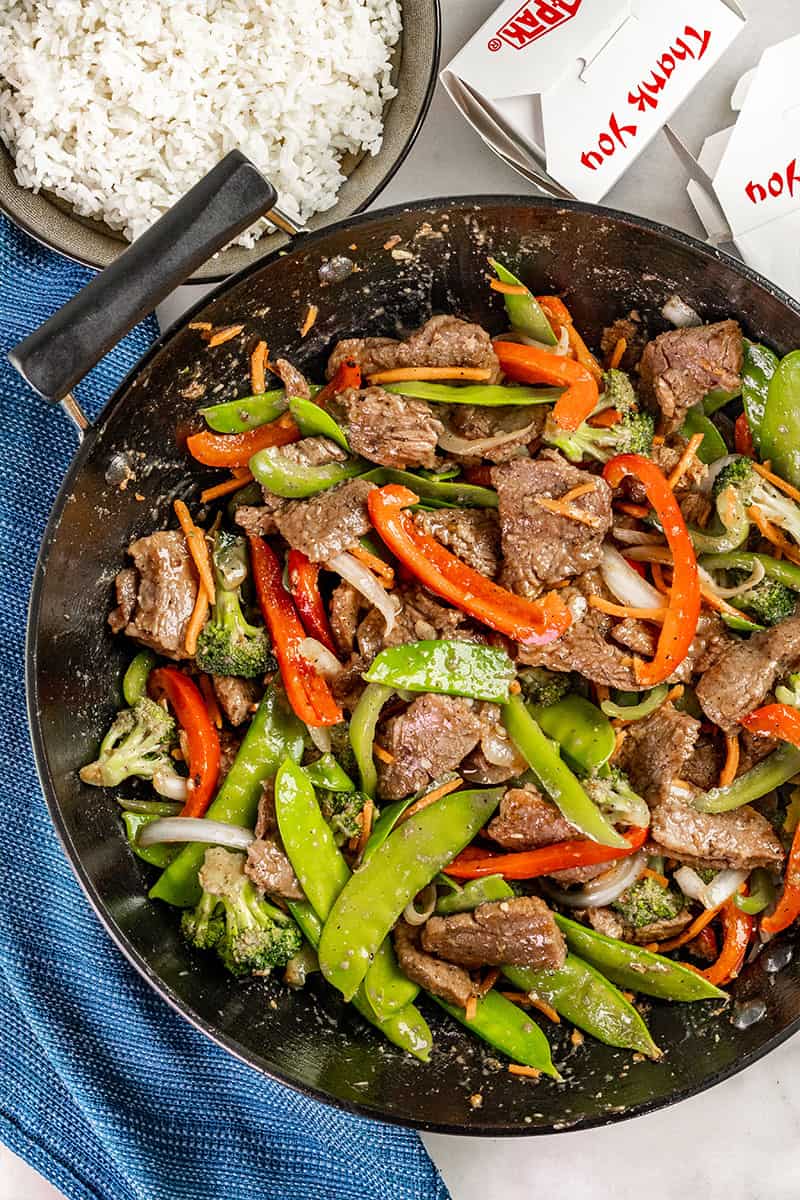 Storage & Reheating Instructions
You can store your leftover beef stir fry in an airtight container in the fridge, where it will keep for 3-4 days. To reheat, microwave at 30-second intervals until it is completely warmed through. It shouldn't take more than a few minutes.
Watch the video below where Caytlin will walk you through every step of this recipe. Sometimes it helps to have a visual, and we've always got you covered with our cooking show. You can find the complete collection of recipes on YouTube, Facebook Watch, or our Facebook Page, or right here on our website with their corresponding recipes.