Beef Satay with Peanut Dipping Sauce starts with an amazing beef marinade, is grilled to perfection, and then dipped in the most delightful peanut sauce. It is sweet, spicy, and oh so delicious. Serve as an appetizer or as part of the main course!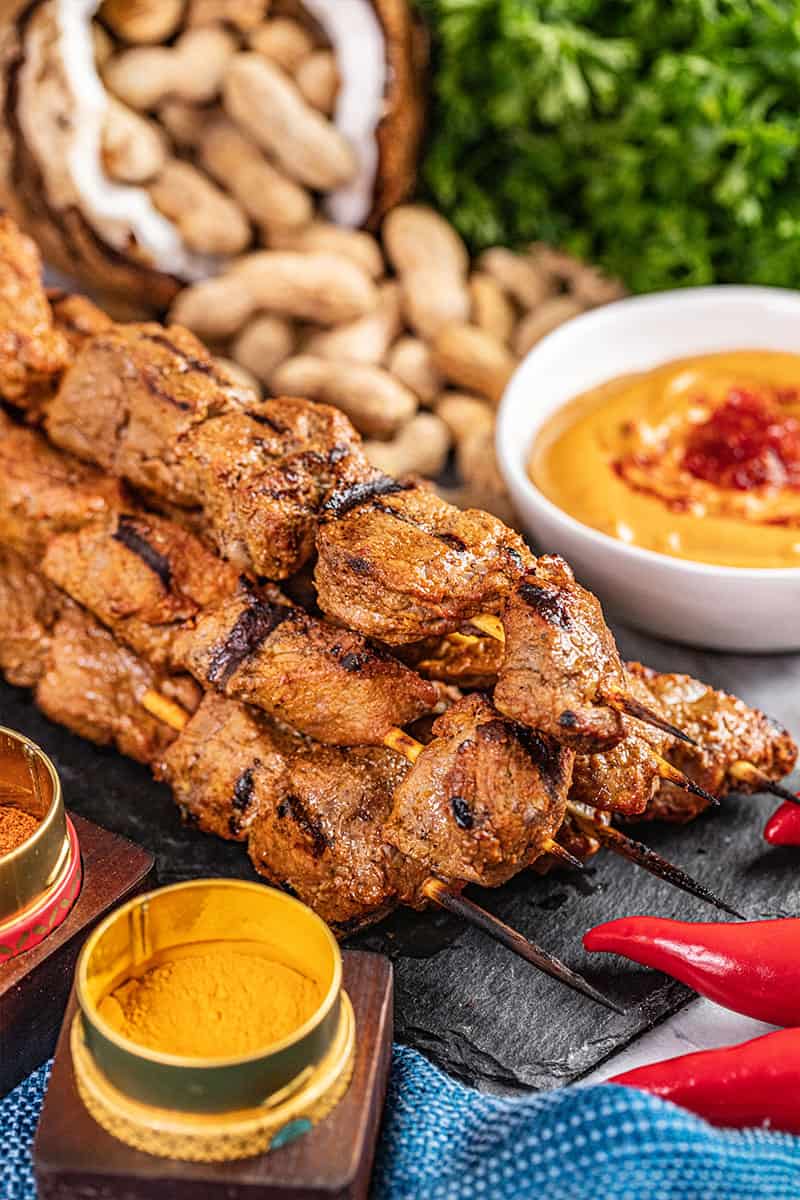 Bored with grilling the same things over and over again? Sometimes it feels like the kids just go with what they know: burgers and hot dogs. Meanwhile, us adults want something new and exciting. Beef satay gives us just that with such flavorful marinated beef and that to-die-for dipping sauce. We highly recommend you keep extra dipping sauce on hand because it is just that fantastic. We could put it on anything! 
Beef Satay with Peanut Dipping Sauce is not an authentic Indonesian recipe, but rather a typical American version of Indonesian-American takeout restaurants. The Stay At Home Chef uses ingredients that are easily accessible for most people in the United States and Canada so that anyone can easily celebrate world cuisines even if their opportunities for travel or access to regional ingredients are limited.
Fish Sauce:
We know, not everyone is a fan of fish sauce. If needed, you can simply omit it. No replacement is necessary.
Peanut Butter Substitute:
If you have peanut butter allergies, feel free to substitute with your favorite allergen-free nut butter.
Beef Cut Options:
There are a few other cuts of beef that would work great in beef satay! Sirloin, Filet Mignon, Tenderloin, Tri-tip, and Flat Iron are all excellent choices. If you have a favorite, use that!
Peanut Butter Tip:
Peanut butter can sometimes be difficult to whisk in with your other sauce ingredients, especially if you're using natural peanut butter. Simply pop your bowl with peanut butter in the microwave for 30 seconds before adding in your other ingredients for easier whisking.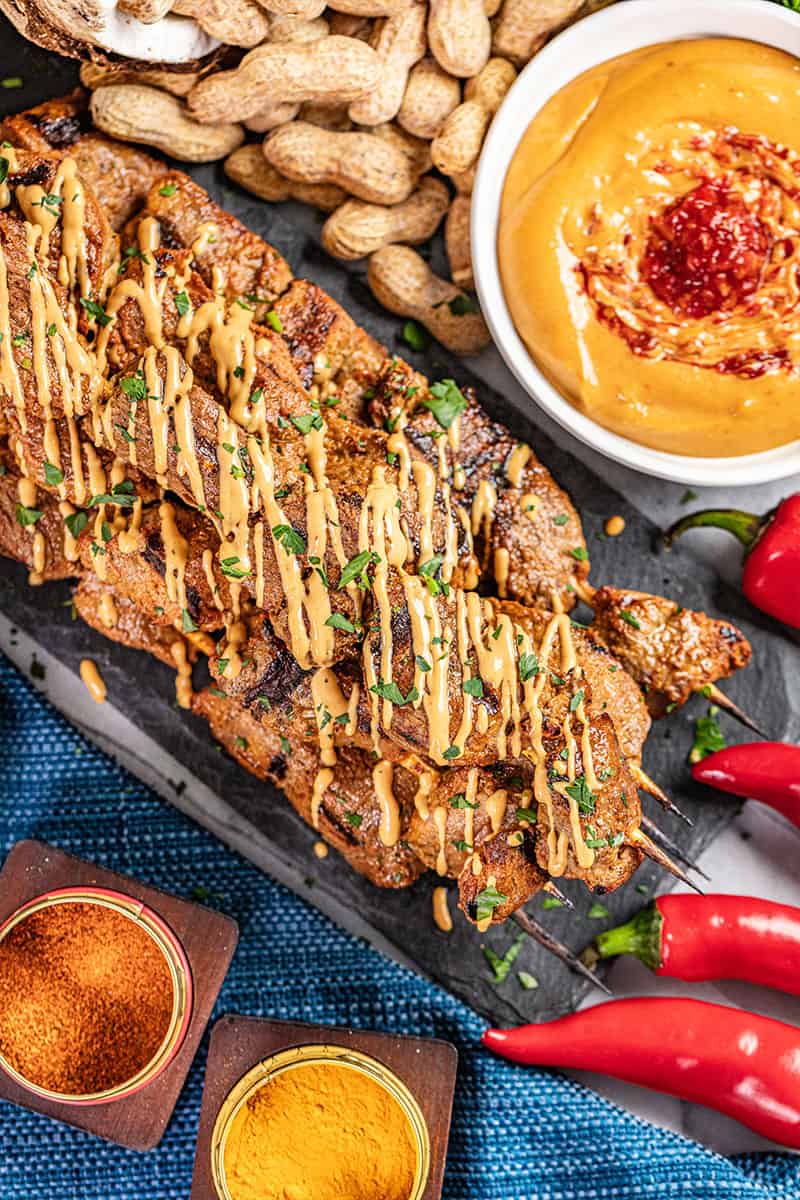 Stovetop Instructions:
We love beef satay grilled on an outdoor grill, but you can always grill in a grill pan on the stove. Preheat a heavy skillet or grill pan over medium-high heat. Place the skewers onto the skillet and cook until you have reached your desire doneness, about 4 to 8 minutes for medium-rare to medium-well. Rotate every 1 to 2 minutes. Actual cooking time may vary based on the temperature of your pan.
Freezer Instructions:
This sauce is so good, we like to freeze extra so we never run out! If you like, make an extra batch of peanut sauce, pour into a resealable plastic freezer-safe bag, and freeze flat for easy stacking and storing.
Storage and Reheating Instructions:
Store any leftovers in an airtight container in the fridge for up to 4 days. To reheat, cover in foil and bake at 300 degrees Fahrenheit until warmed through.
If you like this recipe, you may be interested in these other delicious grilling recipes: