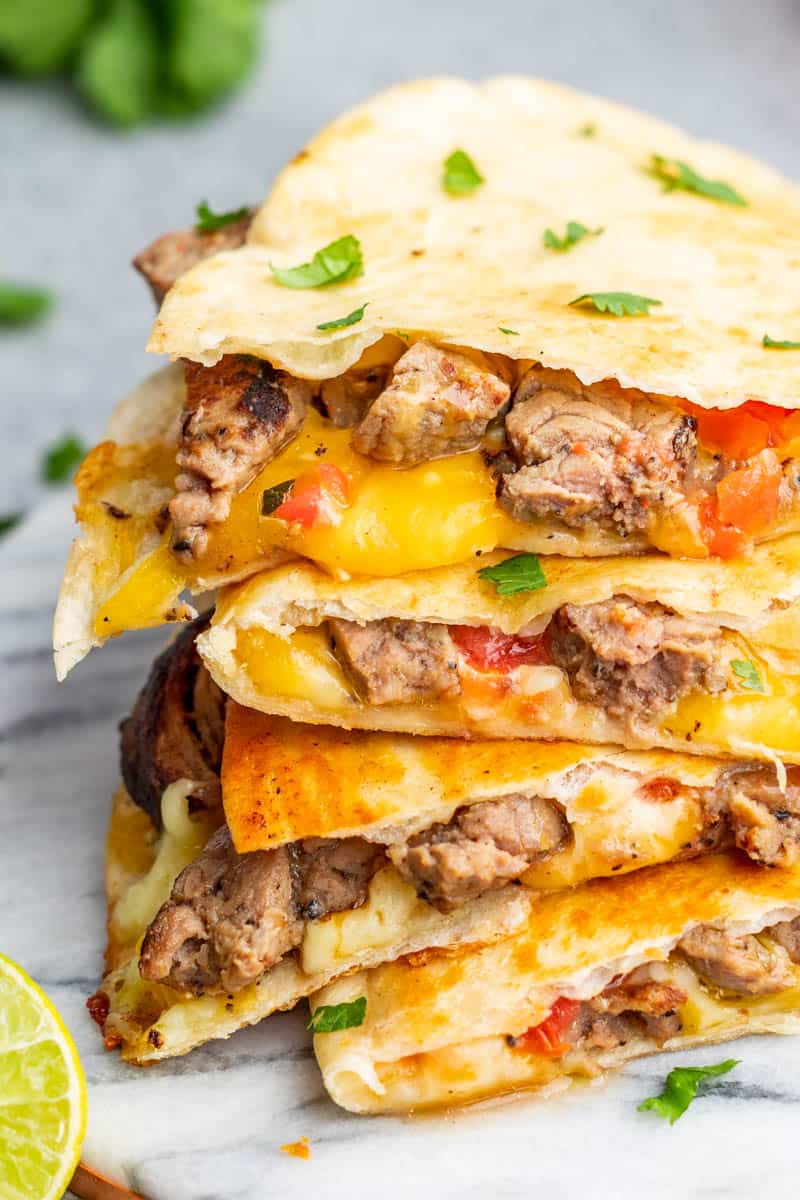 Savor the rich flavors of these steak quesadillas – a blend of tender steak and melted cheese in a crispy tortilla. Your next favorite meal is just a sizzle away!
Brimming with juicy steak and melted cheese encased within crispy tortillas, steak quesadillas are truly a delight to relish. This delightful fusion of textures and flavors can transform any meal into a festive occasion. Whether it's a casual dinner with your loved ones or a weekend gathering, this versatile dish always hits the spot. Plus, its customizable nature allows you to personalize it according to your preferences.
Frequently Asked Questions
Can I use different types of cheese in my quesadilla?
Yes, the beauty of quesadillas lies in their versatility. Monterey Jack or Pepper Jack cheeses can create an ooey-gooey texture.
Can I add other vegetables or proteins to this dish?
Absolutely! You can customize your quesadilla with a variety of vegetables or proteins to cater to your preferences.
Can this recipe be made ahead of time?
Yes, you can prep your quesadillas and refrigerate them before cooking. However, for the best texture, it is recommended to cook them just before serving.
Substitutions
Cheese: Try Pepper Jack for a spicy kick, or Monterey Jack for a smooth, mild flavor.
Steak: While steak is the star protein here, you could also use grilled chicken or even sautéed vegetables for a vegetarian version.
Tips for Making Steak Quesadillas
The steak is best cooked to medium-rare, which keeps it tender and juicy.
Always cook your quesadilla over medium heat. High heat might cause the tortilla to burn before the cheese has a chance to melt.
Let the steak rest after cooking to ensure juiciness.
Slicing the steak against the grain helps maintain its tenderness.
The Perfect Steak for Your Quesadillas
For those looking for a flavorful and straightforward steak recipe for your quesadillas, try the following:
Ingredients:
1/4 cup orange juice
1/8 cup lime juice
1/2 tablespoon white vinegar
1/2 tablespoon extra virgin olive oil
1/2 tablespoon minced jalapeno
2 cloves crushed garlic
1/4 teaspoon salt
1/8 teaspoon black pepper
1 pound flank steak, cut into pieces
Instructions:
In a small bowl, whisk together the orange juice, lime juice, white vinegar, olive oil, jalapeno, garlic, salt, and pepper.
Place the steak in a shallow dish, and pour the marinade over it. Cover the dish and refrigerate, allowing the steak to marinate for 30 to 60 minutes.
Heat a large, heavy skillet over high heat. Add the marinated steak and cook it for 4 to 5 minutes per side, until it reaches medium-rare.
Turn off the heat and let the steak rest in the skillet for 5 minutes. This allows the juices to redistribute throughout the steak, making it even more flavorful and tender.
Finally, remove the steak from the skillet and slice it against the grain.
The resulting steak is tender, flavorful, and ready to be enjoyed in your quesadillas. The marinade imparts a bright, tangy flavor to the steak that perfectly complements the richness of the cheese and the crunch of the tortilla. It's an excellent way to elevate your steak quesadilla experience.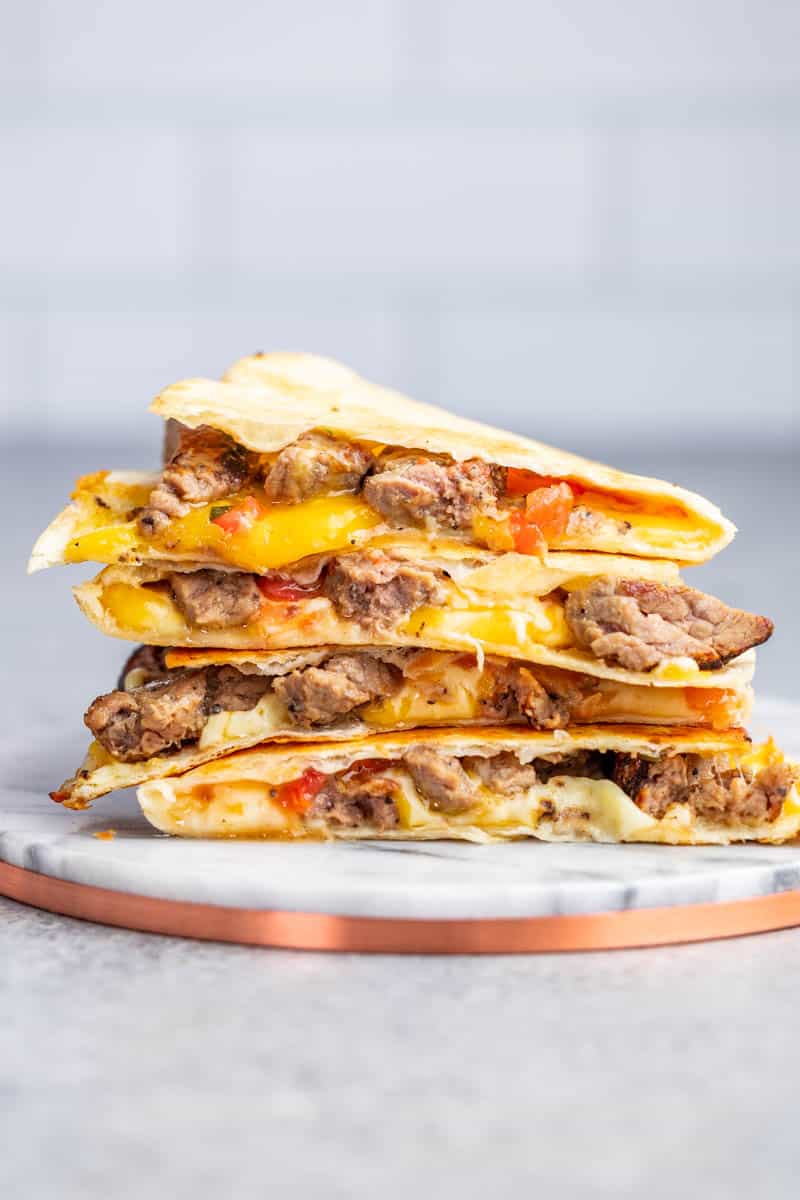 Storage and Reheating Instructions
Steak quesadillas can be stored in the fridge for up to 3 days. Wrap them tightly in foil or store in an airtight container. To reheat, place in a pan over medium heat until the cheese is melted and the tortilla is crisp. Quesadillas can also be frozen for up to a month. To reheat, thaw in the fridge overnight and reheat as previously described.