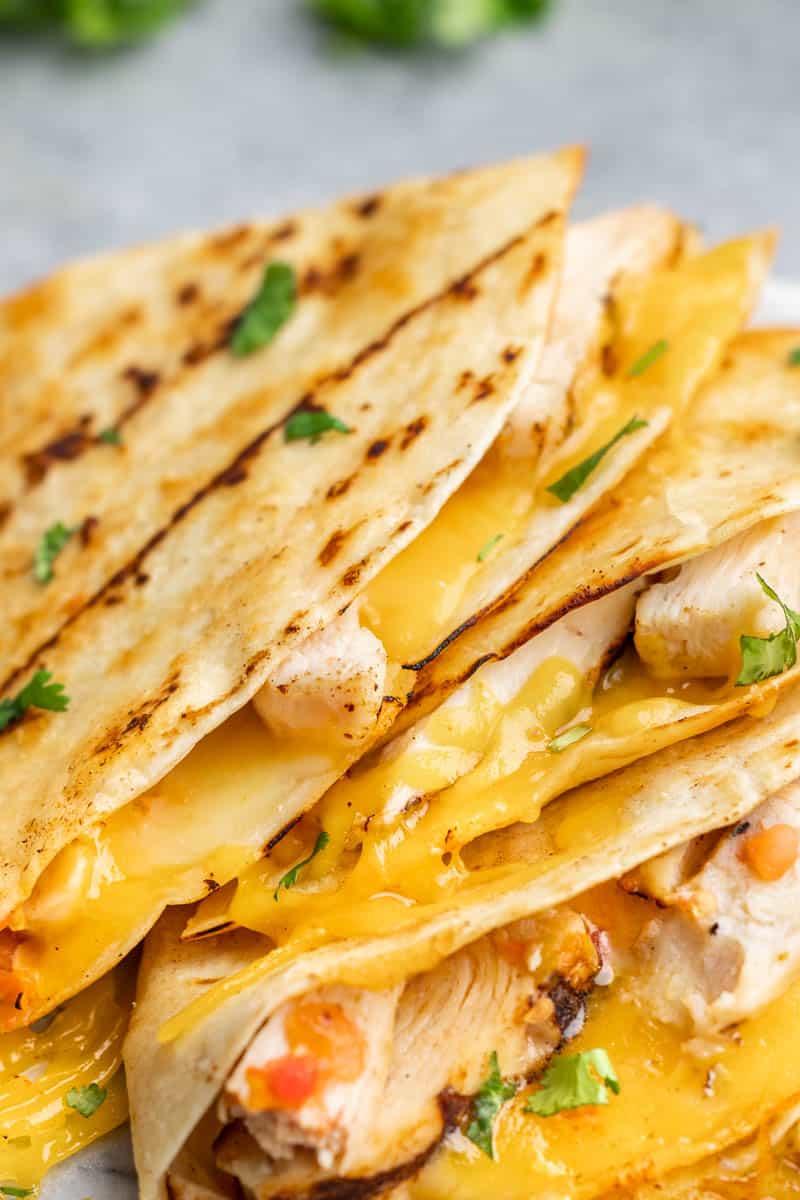 Savor the deliciousness of these cheesy chicken quesadillas, a perfect blend of melty cheese, juicy marinated chicken, and a touch of spice. Bring the taste of Mexican cuisine to your dinner table tonight!
Our cheesy chicken quesadillas recipe is an inviting fusion of savory marinated chicken, ooey-gooey cheese, and a touch of spice that transports you to the heart of Mexican cuisine. Inspired by traditional Mexican quesadillas, this dish offers a flavorful combination of ingredients that is both comforting and satisfying. With its roots in the diverse culinary traditions of Mexico, the quesadilla has become a popular and beloved dish across the globe.
Frequently Asked Questions
Can I use corn tortillas instead of flour tortillas?
Yes, you can use corn tortillas for a gluten-free option or if you prefer their taste and texture. Just keep in mind that corn tortillas are often smaller and less pliable than flour tortillas, so you may need to adjust the amount of filling accordingly.
Can I use pre-cooked or rotisserie chicken
Absolutely! Using pre-cooked or rotisserie chicken is a great time-saver. Just be sure to shred the chicken and toss it with some of the marinade ingredients for added flavor before assembling the quesadillas.
Can I use other types of cheese?
Yes! You can customize your quesadillas with Monterey Jack or Pepper Jack cheese, which both provide a great ooey-gooey texture.
How can I make my quesadillas spicier
To add more heat to your quesadillas, you can use spicier cheese like Pepper Jack, add more cayenne pepper or hot sauce to the chicken marinade, or serve the quesadillas with a spicy salsa or hot sauce on the side.
Can I cook these in the oven instead of on the stovetop?
Yes, you can bake the quesadillas in the oven. Preheat the oven to 425°F and place the assembled quesadillas on a baking sheet lined with parchment paper. Bake for about 8-10 minutes or until the tortillas are crispy and the cheese is melted. Keep an eye on them to prevent overcooking.
Can I make this quesadilla vegetarian?
Yes, you can easily make vegetarian quesadillas by substituting the chicken with a variety of vegetables, such as sautéed bell peppers, onions, mushrooms, or even cooked black beans. You can also use a meat alternative like soy-based crumbles or plant-based chicken strips.
Substitutions & Serving Suggestions
In addition to using Monterey Jack or Pepper Jack cheese, you can also incorporate other ingredients such as:
sautéed bell peppers
onions
mushrooms
Serve them with a side of guacamole, sour cream, and extra salsa for a complete and flavorful meal.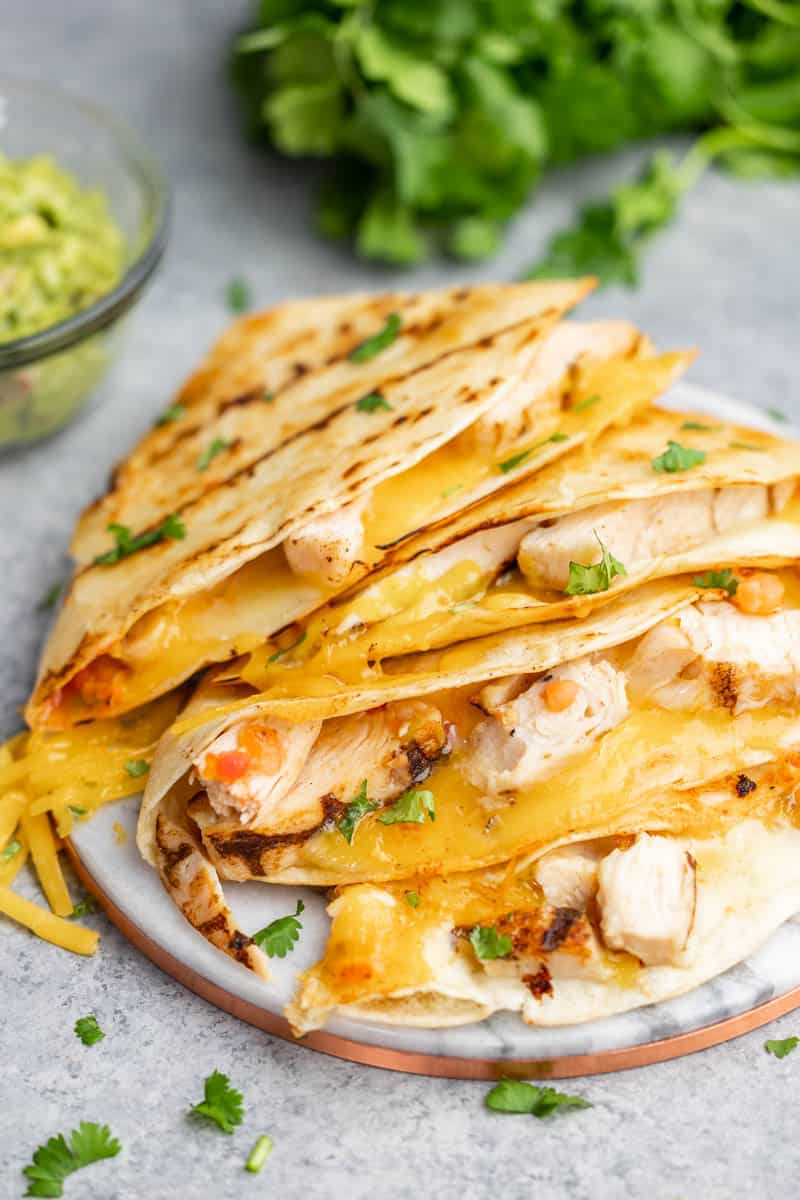 Storage & Reheating Instructions
To store leftover quesadillas, wrap them in aluminum foil or place them in an airtight container and refrigerate for up to three days. To reheat, simply warm them in an oven or toaster oven at 350°F for just a few minutes, until heated through.
If you like this recipe, you may be interested in these other delicious quick quesadilla recipes:
Watch the Video
Watch the video below where Caytlin will walk you through every step of this recipe. Sometimes it helps to have a visual, and we've always got you covered with our cooking show. You can find the complete collection of recipes on YouTube, Facebook Watch, or our Facebook Page, or right here on our website with their corresponding recipes.