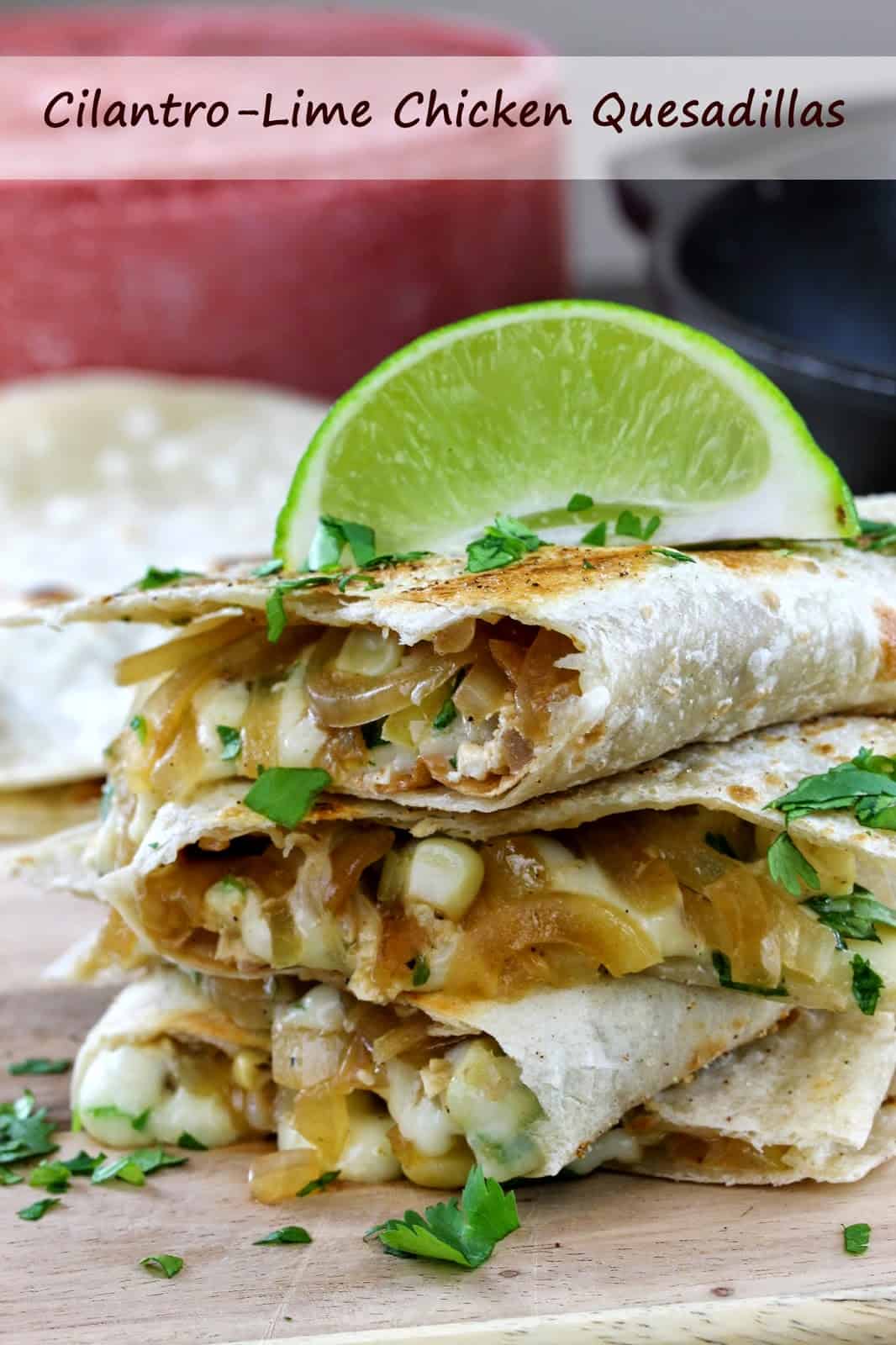 The post "Cilantro-Lime Chicken Quesadillas" first appeared on The Stay At Home Chef on February 4, 2013″
When I was in college I used to frequent a quaint little restaurant called Guru's that served these great cilantro-lime quesadillas. Over the years I've come up with my own version that is quick, and wonderfully tasty. Stuffed with chicken breast, monterey jack cheese, onions, and flavored with cilantro and lime, it makes for a mouth-watering quesadilla. The tortillas are seasoned themselves with a little season salt that balances out the acidity of the lime, and makes for an overall amazing bite. Serve with a little sour cream on the side. Enjoy!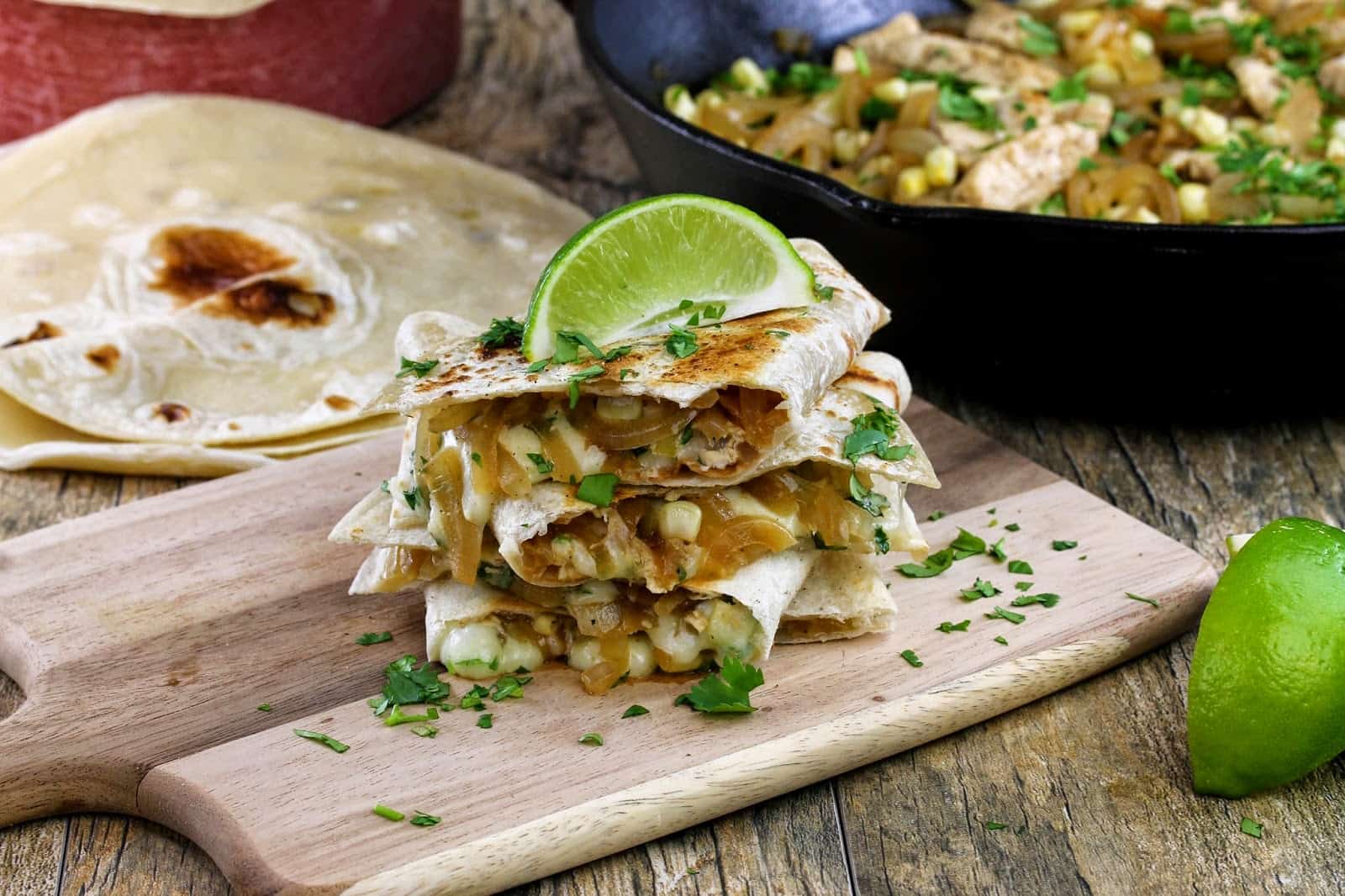 Time to Make It: 30 minutes
Yield: Serves 4 to 6
Ingredients
1 large boneless, skinless chicken breast
1 tsp cumin
1/4 tsp salt
1/4 tsp pepper
2 tablespoons olive oil
1 onion, halved and sliced
1/2 cup frozen corn kernels
1 bunch cilantro, chopped
1 lime, juiced
8 tortillas
2 cups mozzarella cheese
Season Salt
Non-stick cooking spray
Instructions
1. Pound out the chicken breast a little so that it is more even in thickness. Season both sides of the chicken breast with cumin, salt, and pepper.
2. Heat the olive oil in a pan over medium-high heat. Swirl the olive oil around to coat the pan and place the chicken into the skillet, watch out for oil splatter, and cook 5-8 minutes per side (depending on the thickness). Set aside to rest for about 10 minutes before slicing it into 1/4 inch thick strips.
3. Wipe out the skillet and reheat another tablespoon of olive oil and saute your onions in it for about 8 minutes. Add the corn during the last 2 minutes of cooking. Remove into a small bowl and add in cilantro and lime juice.
4. Heat a cast iron skillet (or just the heaviest you've got) to medium heat. Assemble your tortillas by placing 1/4 cup cheese on a tortilla, topping with 1/4 of the onion mixture, laying 1/4 of the chicken strips on top of that, topping with another 1/4 cup of cheese, and finally sandwiching it all with another tortilla on top. Assemble 4 huge quesadillas.
5. Carefully slide your quesadilla into the heated skillet. Cook for 2-3 minutes. Before flipping, spray the top tortilla lightly with non-stick cooking spray and immediately sprinkle with a little season salt. Flip it over and cook the other side for another 2-3 minutes until all the cheese is melted through. You can quickly spray the now-showing tortilla and sprinkle with more season salt, but be sure to flip it over and sear it really quick on the pan for added crispness.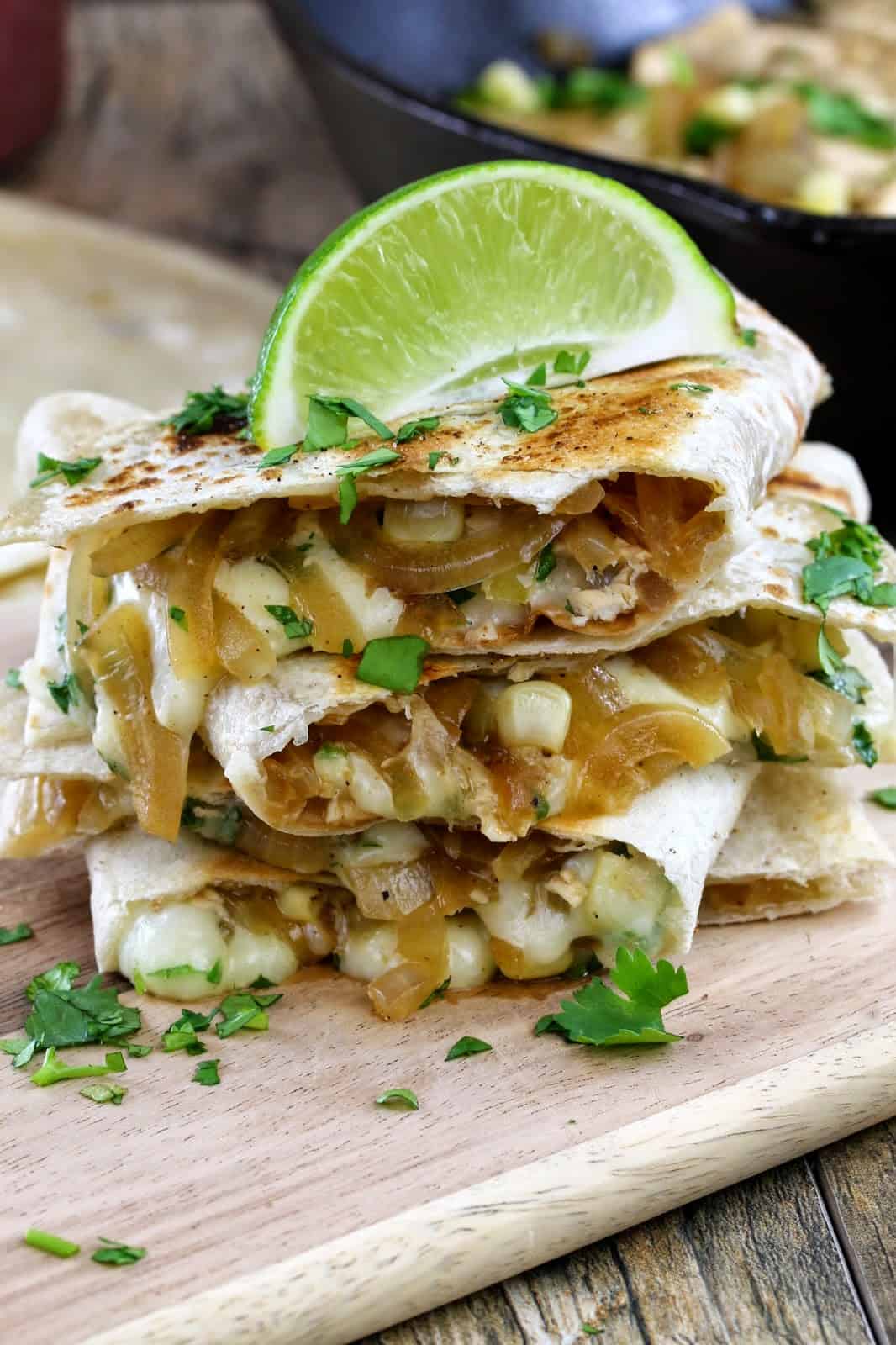 How to pan-fry a chicken breast:
Chicken breast dries out easily, especially when it is boneless and skinless. But let's face it, that is what a lot of us are eating nowadays. When cooking chicken breast over a direct source of heat, like a skillet, it will help tremendously if the breast is of a more even thickness. I often just use the bottom of my hand, right where that nice big bone is that connects to your wrist, and pound my chicken breast with it until that big, thick end, is a more even thickness with the thinner side. You could also use a meat mallet, or other hard object. Once even, you can cook it over medium-high heat in olive oil as in the above recipe.
How do you know when your chicken breast is cooked through? Overcooking your breast leads to try, chewy meat. You could use a meat thermometer for perfect accuracy, cut into it and let all of the juices run out (drying it out in the process), or I like to just use the finger test. Press the thickest part of your breast with two fingers. If it is firm and springs back a little, it is most likely done. If you are new to the finger test, try it early on in the cooking process when you know it isn't done so you can feel the softness of the meat. You'll be able to feel the difference once it is cooked through.
Allow your breast to rest for at least 5 minutes before serving or cutting into it. During the resting process it will continue cooking and the juices will be evenly drawn back into the meat.
Ta-da! Enjoy your juicy chicken breast!