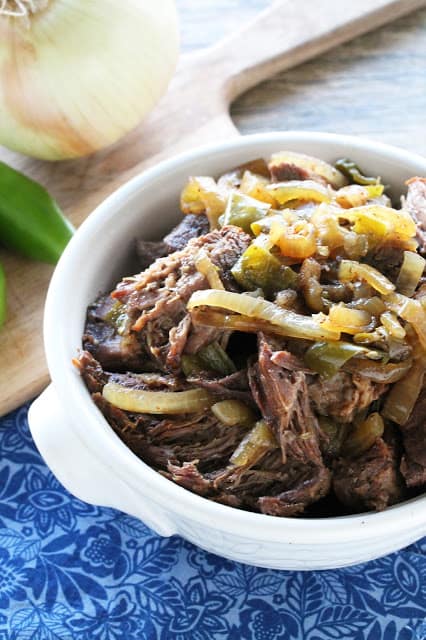 Slow cookers are the best aren't they? This recipe uses fresh green chile peppers to create a mouthwatering shredded beef that can be used in a dozen different ways. Eat it plain, toss it in burritos, quesadillas, tacos, enchiladas, serve it over rice or pasta or come up with your own fantastic creation. My family absolutely loves this recipe. We always eat it plain and use the leftovers to make our own frozen burritos. The fresh green chiles give it that special touch. Trust me, you'll love it! Look for anaheim or hatch chiles in the produce section of your grocery store. They'll be somewhere near the jalapenos.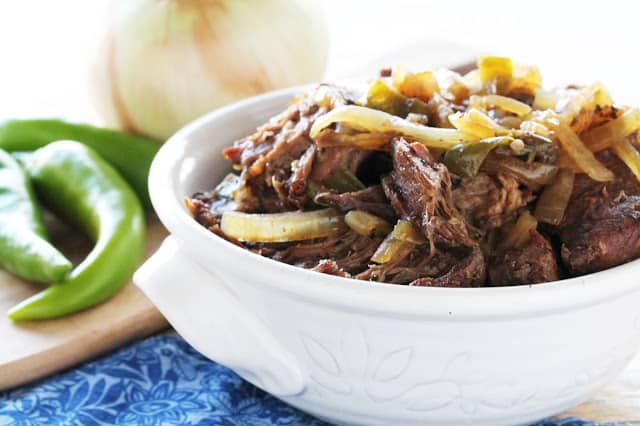 Prep Time: 5 minutes
Slow Cooker Time: 8 hours, low
Yield: Serves about 8
Ingredients

MY OTHER RECIPES
1 (3 to 4 pound) beef chuck roast
1 1/2 teaspoons salt
1 teaspoon ground cumin
1 teaspoon chili powder
1 onion, sliced
4 fresh Anaheim or Hatch chile peppers, roughly chopped
Instructions
1. Place the chuck roast in the bottom of a large slow cooker
. Season with salt, cumin, and chili powder. Scatter onion slices and chile peppers over the top.
2. Cook on low 8 hours. Let the smell drive your tastebuds crazy all day.
3. Serve plain, in burritos, quesadillas, tacos, enchiladas or whatever delight your heart desires.